Home / News & Events / The Marians
Father Thaddaeus answers your questions about the faith.
Meet Br. Justin, MIC, the newest Marian who professed his first vows.
Blessed George Matulaitis (1871-1927) was the renovator of the Marian Fathers of the Immaculate Conception. We celebrate his feast day on Jan. 27. Watch a short video about him here.
Even before he was a professed brother, Fr. Chris Alar, MIC, helped the Marian Fathers deliver the message of Divine Mercy to parishes.
Find out how Deacon Joseph Lappe, MIC, first discerned a call to the religious life and how he just took a definitive step toward becoming a priest. See the video from his ordination and first homily.
Soon to be ordained a deacon, Br. Joe shares how he was influenced by his family's life of faith.
Begin the New Year by consecrating yourself to the Blessed Virgin Mary. But what does it mean to entrust oneself to Jesus through Mary?
Got a minute? Find out what makes a Marian
Got a minute? Find out what makes a Marian.
This once in a lifetime historic event takes place on Friday, Oct. 13.
What are the virtues of Our Lady and how do we live them in our daily lives? Hear a beautiful talk from Br. John Luth, MIC, on the 10 virtues of Our Lady which was given on the Feast of Our Lady of the Rosary as the conclusion to our First Saturday Devotion Series for the 100th Anniversary of Our Lady of Fatima.
Newly released by Marian Press on the Feast of St. Faustina, Stepping on the Serpent: The Journey of Trust with Mary by Fr. Thaddaeus Lancton, MIC is now available on shopmercy.org. See a short message from the author here!
How can we trust God through all of our trials and sufferings? Father Thaddaeus speaks on the Cross in the final part of "Stepping on the Serpent: A Parish Mission."
The Gospels are full of examples of how to trust in Jesus. Father Thaddaeus gives some examples in part 3 of "Stepping on the Serpent: A Parish Mission."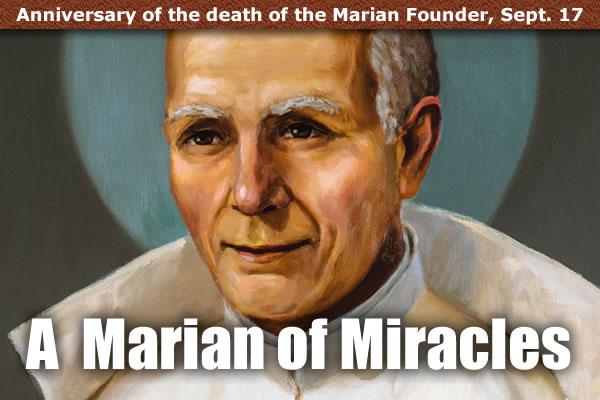 The Founder of the Marian Fathers, St. Stanislaus Papczynski, died 316 years ago on Sept. 17, 1701. Outstanding for his filial devotion to Our Lady, St. Stanislaus continues his miraculous intercession to the present day.
Next Page | Last Page