Home / News & Events / Mary Immaculate
We need such virtues because, as the Gospels say, "the kingdom of heaven suffers violence" as a result of evil in the world (Mt 11:12).
October marks a month-long celebration of the definitive "Mary prayer."
Pope Benedict delivers a message of mercy in Lourdes, France, on the 150th anniversary of the Marian apparitions.
Find out why Sept. 8 is one of only three birthdays celebrated by the Church.
We celebrate the Feast of the Queenship of Mary on Friday, Aug. 22. What's that feast day all about?
From near and far — from just down the road in Stockbridge and all the way from India — pilgrims paid homage to the Blessed Mother's crowning as Queen of Heaven.
Of all her titles, which do you think is the definitive title of Our Lady?
The famous apparitions began 91 years ago this month.
Mary's immunity from sin holds the seeds of redemption.
Saint Faustina viewed the Blessed Mother as a "lesson in trusting God."
How a town dump became the site of Catholicism's most popular pilgrimage destination.
The Marians reflect on Mary's self-ascribed appellation.
How the Lourdes apparitions find authenticity in Mary's own words.
The seminal Marian apparition site brings peace to 'virtual pilgrims' on Eden Hill.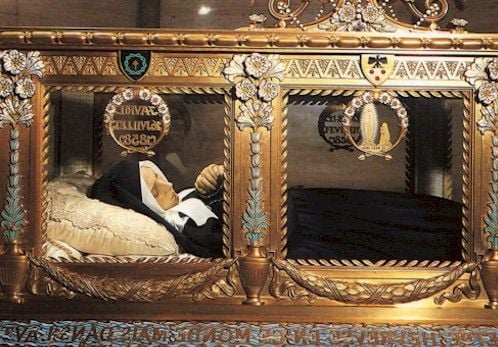 Today, the body of St. Bernadette, still incorrupt, lies in the main chapel of the Convent of St. Gildard in Nevers, France.
First Page | Previous Page | Next Page | Last Page