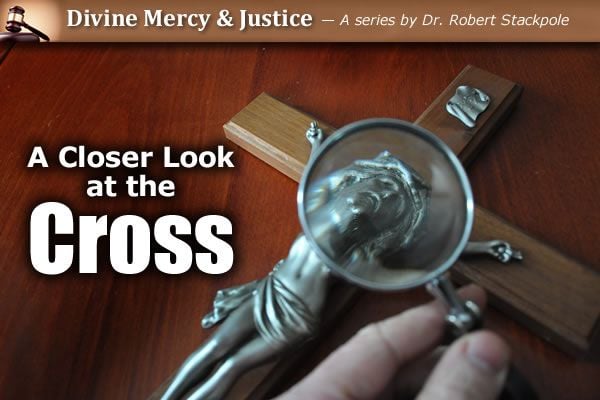 Part 5: A Closer Look at the Cross
By Dr. Robert Stackpole, STD (Jan 8, 2015)
The following is the fifth installment of a 15-part series on Divine Mercy and Divine Justice. Read the series to date.

In the previous instalment of this series, I explained why it's unfair to say that the traditional teaching about our Lord's Passion and death on the Cross is "merely transactional." If by that people mean "merely impersonal" or "merely about God's justice and not also about His personal love for us," then it is not a fair description of the doctrine.

We need to remember that in His infinite holiness, God cannot just ignore our mortal sins or pretend that they are unimportant, and "let bygones be bygones." In human relationships, too, we see this clearly. When someone seriously wrongs or injures you, don't they owe you something? A sincere, heartfelt apology, at least? And, in more extreme cases, some kind of compensatory gift or restitution — or a just punishment, where there is no remorse or restitution at all? A personal relationship or friendship cannot truly be restored without that moral debt being acknowledged and made up.

Consider the parable of the Prodigal Son. The merciful father in the story did not simply pretend that no serious offence had been committed. He saw that his son's repentance was sincere and that his son had already suffered grievously for his misdeeds, for the young man came home half-starved and in rags. His heart, therefore, went out to him with forgiveness and love.

Moreover, when we ourselves do wrong to others, our conscience convicts us and pronounces an inner sentence of "guilty" and "worthy of punishment." It was the Russian novelist Fyodor Dostoyevsky in his book Crime and Punishment who showed that this echo of the demands of justice lies so deep within the human heart that when we do something grievously wrong, even if we "get away with it," in the sense that we don't get "caught," we end up punishing ourselves anyway. Bit by bit we destroy ourselves, for we are eaten away deep within by guilt and self-hatred, no matter how much we may refuse to admit that truth to ourselves. The same truth is expressed in another way in the old proverb: "The wicked man flees when no one pursues him." Deep inside, we know our moral debts well enough — and we know what we really deserve.

The most grievous moral wrong that we can commit is when we betray someone we love — especially if the person we betray is innocent of all wrongdoing. Now, human sin is a betrayal of our heavenly Father's infinite love for us. His infinite love created us, gave us the gift of life, and offers us the possibility of eternal life with Him in Heaven. By our sins, we betray that infinite love. And that surely leaves us in a state of serious moral debt to God. We really now owe Him something that we can never pay — namely, a life of totally faithful service spent achieving the good purposes for which He made us. Having misspent our past, we have nothing extra to offer to God to make up for it, and now we owe an infinite penalty to His justice for having so seriously let Him down. But Jesus Christ, the divine Son, makes up for it all on our behalf, by His obedient life and His death on a Cross.

Let's unpack all this a bit more.

First, having betrayed His infinite love by our mortal sins, we owe Him an infinite penalty. The only thing that could even approach such a penalty would be our death: both the irrevocable punishment of bodily death and the everlasting punishment of spiritual death (in other words, the everlasting loss from our hearts of the life-giving Holy Spirit). That is why the Bible says "the wages of sin is death" (Rom 6:23). The uncomfortable truth is: This is what we really deserve!

Second, in the Garden of Gethsemane, Jesus asked His heavenly Father that, if possible, the "cup" may be taken from Him. Here, the term "cup" no doubt has several layers of meaning, but one layer surely refers to the "cup" of divine "wrath" for sin (that is, divine commutative justice) — a "cup" mentioned at least 10 times in Holy Scripture (see Job 21:20; Ezek 23:32-34; Is 51:17-22; Ps 75:8; Jer 25:15-29; Hab 2:16 and 49:12; Rev 14:10, 16:1ff, and 18:6).

Third, if Jesus Christ chose to take upon Himself the penalty we deserve, then this helps explain why He was permitted to experience on the Cross even the loss of the sense of the presence of the Holy Spirit, the Comforter. For our sake, therefore, He descended into the very depths of the experience of "God-forsakeness" as He was dying: "My God, My God, why have You forsaken Me?" (Mk 15:34).

Fourth, when Jesus cried out on the Cross, "It is finished" (Jn 19:30), it may be that He was deliberately quoting the phrase used in Roman law to mark a document once a debt had been cleared. In the Roman world, "it is finished" meant "the debt has been paid."

Saint Paul put it best in Romans 5:6-8: "For Christ, while we were still helpless, yet died at the appointed time for the ungodly. Indeed, only with difficulty does one die for a just person, though perhaps for a good person one might even find courage to die. But God proves his love for us in that while we were still sinners Christ died for us."

And remember, as we showed in previous articles in this series, Jesus did not only die for our sins: He offered to His heavenly Father a whole life of loving obedience, from cradle to grave. All in all, this was an offering to Divine Justice that more than made up for our sins. It was a "superabundant" sacrifice for our sins that merited for us a whole ocean of graces. This was the aspect of the mystery of the Cross that so astounded St. Faustina:
O Jesus, be mindful of Your own bitter Passion, and do not permit the loss of souls redeemed at so dear a price of Your most precious Blood. ...

[Jesus said to her]: My mercy is greater than your sins, and those of the entire world. ... I let My Sacred Heart be pierced with a lance, thus opening wide the source of mercy for you. Come then with trust to draw graces from this fountain. (Diary, 72 and 1485)

To put it all another way, at its root, human sin always involves the prideful attempt to "play God" — to do things our own way and rely on our own strength and cleverness, rather than trusting in the Lord. The Evangelical John Stott, therefore, explained that the Cross is the perfect reparation for this offence (in His book, The Cross of Christ, p.160):
The concept of substitution may be said to lie at the heart of both sin and salvation. For the essence of sin is man substituting for God, while the essence of salvation is God substituting for man. Man asserts himself against God and puts himself where only God deserves to be; God sacrifices Himself for man and puts Himself where only man deserves to be. Man claims prerogatives that belong to God alone; God accepts penalties that belong to man alone. The biblical gospel of atonement is of God satisfying himself by substituting Himself for us.
In short, Jesus made up for our misspent past, and He bore the penalty that we deserve on the Cross. He also merited for us by His life and death all the sanctifying graces that can heal us and set us free from sin's power in our lives. That's not just some cold, impersonal, judicial transaction. It's a wonderful gift of His mercy that sets us free from the penalty and power of sin! All we need to do to receive that gift is to open our hearts to Jesus more and more by repentance and faith.

To be sure, Christ's saving work is a multi-dimensional mystery, which means it cannot be expressed or understood solely in terms of "satisfaction" or "penal substitution." There are many other dimensions of what Jesus Christ did in His life and death to save us. Charles Gore, the famous Anglican Bishop of Oxford early in the 20th century, summed it up this way:
There are, in fact, three relations in which our Lord stands to us in the New Testament. There is Christ in front of us, who sets before us the standard of the new life — in whom we see the true meaning of manhood. That is to kindle our desire. There is Christ for us — our propitiation or atonement — winning for us, at the price of His blood-shedding, freedom from all the guilt and bondage of the past, assurance of the free forgiveness and a fresh start. Then there is Christ in us — our new life by the Spirit, molding us inwardly into His likeness, and conforming us to His character. And the three are one. Each is unintelligible without the others. The redeeming work of Christ lies in all together.
Moreover, there are several different ways to work out the details even of the "satisfaction" and "penal substitution" dimensions of Christ's saving work. The way St. Thomas Aquinas worked it out was not exactly the same way that St. Anselm, St. Bernard or John Calvin understood this mystery. Nevertheless, I am convinced that common to them all is a central, gospel truth: that Jesus, the divine Son of God, paid the penalty for our sins on the Cross (i.e., He compensated or satisfied divine commutative justice for our sins) so that when we are united with Him through repentance and faith (nurtured in us especially by Baptism, sacramental Confession, and Holy Communion), then the merits of His sacrifice are fully applied to us. As St. Paul said in Romans (8:1, 6:22): "There is therefore now no condemnation for those who are in Christ Jesus. ... But now that you have been set free from sin and have become [servants] of God, the return you get is sanctification, and its end, eternal life."

It seems to me a tragic development that so many Catholic theologians today cannot clearly express this central truth at the very heart of the gospel. Perhaps it is ecumenical dialogue with our Evangelical brothers and sisters in Christ that will wake us up, cure us of our amnesia, and remind us of the importance of this aspect of the doctrine of salvation. After all, it used to be — and ought to be — common ground between us. Again, Evangelical theologian John Stott put it so well in his classic book on the subject, The Cross of Christ (p. 161, 159):
It is the Judge who in this passion takes the place of those who ought to be judged, who in His passion allows Himself to be judged in their place. The passion of Jesus Christ is the judgement of God, in which the Judge Himself was judged. ...

For in giving His Son He was giving Himself. This being so, it is the Judge Himself who in holy love assumed the role of innocent victim, for in and through the person of His Son He Himself bore the penalty which He Himself inflicted. ... For in order to save us in such a way as to satisfy Himself, God through Christ substituted Himself for us. ... The cross was simultaneously an act of punishment and amnesty, severity and grace, justice and mercy.

Seen thus, objections to substitutionary atonement evaporate. There is nothing even remotely immoral here, since the substitute for the law-breakers is none other than the divine Lawmaker Himself. There is no mechanical transaction either, since the self-sacrifice of love is the most personal of all actions. And what is achieved through the cross is no merely external exchange of legal status, since those who see God's love there, and are united in Christ by His Spirit, become radically transformed in outlook and character. ...
Next up: What Happened to the Doctrine of Hell?

Read the series to date.

Robert Stackpole, STD, is director of the John Paul II Institute of Divine Mercy, an apostolate of the Marian Fathers of the Immaculate Conception.