Follow the path of Faustina on her journey to sainthood! Discover new... Read more
$19.95
Buy Now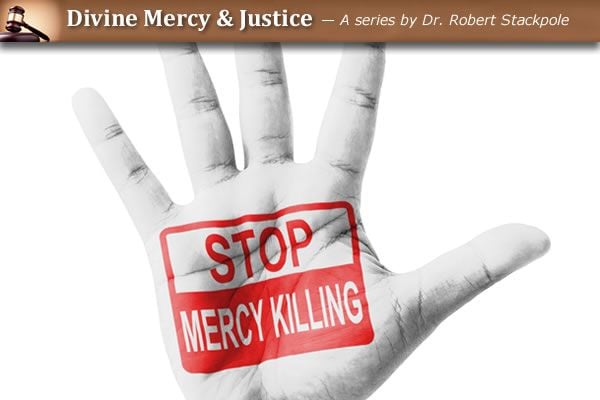 Part 10: Why 'Mercy Killing' Is Not Merciful
The following is the tenth installment of a 15-part series on Divine Mercy and Divine Justice. Read the series to date.

We certainly do not have the space in this web series to cover all the policies that now threaten the dignity of human life in western, developed countries. Here we shall just look at one example, because support for it is mounting across North America, and it is so often "dressed up" as a way to be "merciful." I am referring, of course, to euthanasia and physician-assisted suicide.

Increasingly in the United States and in other countries, it is now legal to stop providing food and water to a patient who is terminally ill or in a seemingly irreversible comatose or vegetative state. This is called "passive euthanasia": a serious moral evil that the Church has repeatedly condemned.

Do not be deceived by the way in which the secular media falsely presents the options here. All too often the media portrays the dynamic as a choice between two options. On the one hand is keeping people alive as long as possible, no matter how "far gone" they are or how painful and burdensome their treatment may be. On the other hand is so-called "mercy killing."

It is one thing to cease painful and expensive medical treatment that has little chance of significantly improving the condition of the patient. The Church has always recognized that there is a point at which such medical intervention becomes pointless and burdensome, and that in such cases a person should be permitted to die a dignified death, with the assistance of appropriate pain-reducing medications and the prayers and loving support of family members, friends, and parish communities. All this is included in what is called "palliative care."

Food and water, however, do not constitute medical "treatment" of illness. Rather, they are part of basic human care, simple things that all of us need at every stage of our lives. A person's life journey certainly has not reached its "natural end" in God's Providence if that person can still survive with the basic care of adequate food and water. Catholics must be aware of this distinction between "medical treatment" and the "basic care" of those terminally ill and how important it is that we do not seek to hasten the process of dying through a deliberate failure to provide that basic care. To put it simply, we cannot allow patients to die of thirst or starvation.

Equally alarming is the spread of support for "active euthanasia," also known as physician-assisted suicide. In physician-assisted suicide, the physician acts directly to take a person's life when the patient judges (or, if he or she is mentally incapacitated, their relatives judge) that the patient's life is "no longer worth living." The Catholic Church teaches that there is a profound moral distinction between killing an innocent human being in such a situation (with or without their consent) and letting a person die with a degree of comfort and dignity, through effective palliative care, when that person's life is drawing to its natural end.

In other words, "mercy killing" is not merciful! It is a deliberate taking of an innocent human life, and it therefore is a violation of the dignity and unalienable rights of those who are gravely ill.

Even if it is done with the patient's consent, it is still gravely wrong. Just because something "belongs" to you does not mean you have the moral right to destroy it. For example, a man may be a private art collector and own Renoirs and Picassos. Does that mean he has the moral right to destroy them when he feels they no longer bring him happiness? Of course not. Those works of art are of special value to humanity, no matter what the art collector may think of them. In a similar way, the earthly life of each one of us is precious to the one whose "artwork" we are — namely our merciful Father and Creator. He entrusted that earthly life to us, and He has a plan for when it is best to leave it for each one of us.

Jesus taught us to "Be merciful as your Father is merciful" (Lk 6:36). To be merciful in such a situation is not to take the power of life and death completely away from Him and into our own hands (by either passive or active euthanasia), nor to presume to judge when a person's life is no longer worth living — not even our own. That's His call, not ours. Who are we to say what kind of struggle for deeper surrender to the Holy Spirit is going on in the depths of the human soul of someone who is in a comatose or persistent vegetative state? Who are we to short-circuit that process by letting such people die of thirst or starvation? And who are we to say that all conscious suffering of those terminally ill is pointless, to be avoided at all costs — even by deliberately causing their death? And by the way, bringing a patient's pain down to a tolerable level is part of "basic human care," according to the Church. It is something that every person needs at every stage of the human journey; it is certainly not medical "treatment" for curing illness. Thus, essential pain relief can be pursued with the right pain-relieving drugs, even if heavy doses of such anesthetics might hasten the person's death. This is not euthanasia; it is not deliberately seeking to kill a terminally ill patient. Rather, the intent is to provide basic human care of the patient, even if a foreseen, but unintended, side effect is that their lifespan will be shorter.

In centuries past, the cross of terminal illness was seen as an opportunity for works of compassion for the sick and works of penance and the "offering up" of suffering for the good of others by the sick. In short, in many cases tremendous moral and spiritual good can be found along this Way of the Cross as our life draws to its close.

The devil wants us above all to give into feelings of depression that can overwhelm us when we become terminally ill, and feelings of grief and sorrow when we see our loved ones afflicted by terminal illness. "Just put them down ... or put yourself down with your doctor's help; it would be better for everybody ... ." To be sure, situations of terminal illness can be emotionally difficult, at least initially, for everyone involved. But feelings are not always a fully accurate gauge of reality. There is a vital process of "letting go" and entrustment to God by everyone in the situation that needs to happen, a process that must not be short-circuited or side-stepped by euthanasia or physician-assisted suicide. And in many cases the moral and spiritual goods that we mentioned above can be attained as well. That's what everyone really needs most in the situation, not the "quick-fix" of putting someone down.

The truth is that the terminally ill are still children of God, infinitely loved by Jesus our Savior who bought them with the price of His own Blood (1 Cor 6:20; 7:23) and worthy of every legitimate form of comfort, companionship, care, pain-relief, prayer, and encouragement that we can provide for them. That is the true path of "mercy" at the end of life's journey.

Again, do not be deceived by the media: The Church's position on this issue is not "keep the person alive for as long as possible, at whatever cost in pain and misery." Rather, the Church's position is: Always provide basic human care for every patient, for each one is a child of God, made in His image. If medical treatment beyond that has little chance of significantly improving the patient's condition and/or would be exceptionally painful and burdensome, then such treatment can legitimately be refused — for the person is approaching life's natural end and, therefore, should be given all essential palliative care for the final stage of their life's journey. That is what mercy looks like: It's mercy-dying, not mercy-killing.

When we follow Christ's path of mercy, we make room for Him to bring hidden blessings out of the sufferings and trials of terminal illness. For example, on Oct. 19, 2007, Fr. Mark Garrow, MIC, provincial superior of the Blessed Virgin Mary, Mother of Mercy Province of the Marian Fathers of the Immaculate Conception, died at the age of 52 from cancer. Yet his decline and passing was surrounded by divine grace and brought spiritual strength to all those who knew him. One of his brethren in the Congregation wrote after his death: "How many things did Mark have to contend with losing this year? His health, his ability to speak clearly, to swallow, to taste, his freedom, his time, his energy, among other things. What became central for him was what he could do — pray his Breviary, recite the Rosary, concelebrate Holy Mass, read and meditate, witness to his faith to other cancer patients and to his nurses, doctors, his caretakers, and his visitors. Mark had to die to his own will many times before Oct. 19. He loved his life and tried to live it to the full, but he was also willing to surrender his life to the Lord, in order to inherit eternal life. ... [Fr. Mark's] acceptance of his sufferings has already borne great fruit. ... I think we have yet to see the fruit that is to come."

The next in this series: "The Preferential Option for the Poor — and for Voluntary, Local Ways to Help"

Read the series to date.

Robert Stackpole, STD, is director of the John Paul II Institute of Divine Mercy, an apostolate of the Marian Fathers of the Immaculate Conception.