Home / News & Events /
On the Feast Day of St. Stanislaus Papczynski, founder of the Marian Fathers of the Immaculate Conception, Provincial Superior the Very Rev. Fr. Kaz Chwalek, MIC, gave a homily on the life and witness of this dear saint.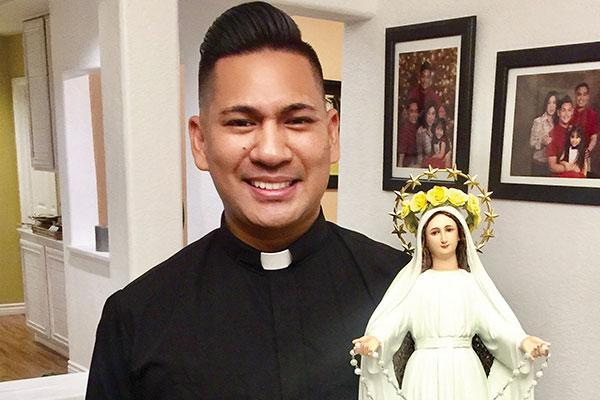 He asked the Blessed Virgin Mary for a sign if he should join the Marian Fathers. She more than delivered in a most peculiar way. Read the vocation story of Br. Michael, MIC.
First, he abused marijuana. Then LSD. Finally, Jesus Christ and the Immaculate Virgin Mary changed his life. Read about the conversion and calling of Fr. David Gunter, MIC.
As we observe the annual World Day of Prayer for Vocations, how can we help our brothers and sisters in Christ follow God's call to the priesthood and religious life?
Brother David, MIC, made his faith his own as a teenager when he started going to Mass by himself. Find out what led him to discern the priesthood, join the Marian Fathers, and come to understand the importance the grace of the Immaculate Conception.
Find out what Fr. Donald Calloway, MIC, had to say about the Blessed Virgin Mary to thousands of youth at SEEK2019.
Bishop Elliot Thomas, retired bishop of the U.S. Virgin Islands, recently passed away. Marian Fr. Jim McCormack shares about this faithful servant.
How can we help get Marian Renovator Blessed George Matulaitis-Matulewicz canonized? Read more to find out.
What is the significance of the Rosary beads near the altar at the National Shrine of The Divine Mercy, and how did they find a home here? Find out.
It's the 10th anniversary of the groundbreaking book by Fr. Donald Calloway, MIC. How has his story, from a life of drugs and crime to the Catholic priesthood, influenced vocations to the Marian Fathers? How does Fr. Donald stay grounded despite his notoriety in the Catholic world? Find out in this interview.
Next Page | Last Page