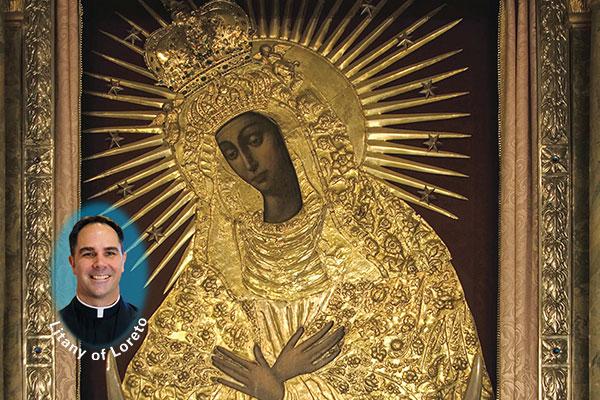 The Latest on Our Lady's Litany of Loreto
By Fr. Donald Calloway, MIC (Apr 6, 2019)
This is the eighth article in a series on the Litany of Loreto. Every month, I will explain this popular prayer line by line, providing you with spiritual and theological insights.

View the previous article in this series.

By Fr. Donald Calloway, MIC

Virgin Most Merciful, pray for us.

Of course, this title does not mean that Mary is more merciful than God. But she is the most merciful of all creatures. Mary had to watch her Son be crucified before her eyes. Even though we're all responsible for His death, she continues to pour out God's mercy on us sinners. Any other man or woman would have grown sick of humanity's sinfulness and said something like, "I'm done. I've tried. I've given you so many opportunities." We keep sinning, and yet Mary, the Refuge of Sinners, continues to bring us to the throne of God to receive His forgiveness. She wants nothing more than for us to receive God's mercy and live in His grace.

Virgin Most Faithful, pray for us.

People might mistakenly think that because Mary lived with Jesus, that she didn't need to have faith. After all, she knew who Christ was better than anyone. Who could have had a closer, more intimate experience of Him? But Mary wasn't God, so she didn't have omniscience. She wasn't all knowing. She had to walk by faith like the rest of us. I'm sure she had no knowledge that they were going to be moving to Egypt. That must have come as a total surprise. When Jesus was lost in the Temple, she was anxious. After Christ's death, she had faith that He would rise again. She didn't know this from her five senses, or by means of rational evidence. She knew it through profound trust in God's promises —a trust which had deepened throughout her life, of which many popes have called "a pilgrimage of faith."

Mirror of Justice, pray for us.

Though she's not God, Mary perfectly reflects the goodness and truth of God. Throughout Scripture, "justice" often refers to great moral virtue. Being called the "Mirror of Justice" refers to the perfect state of her soul, which had the fullness of virtue. Her justice also reminds us that she's not merciful to a fault — she doesn't throw out the rule book when it comes to sin. Just the opposite. She knows the rules of justice, and she plays by them. But since she's so merciful, she finds the quickest, most efficient ways to satisfy the righteous demands of God's justice. Mirroring God's justice, she embodies a more palatable, more tender form of it.

Seat of Wisdom, pray for us.

When you think of a seat, you think of a throne, which belongs to a king or a queen. Mary is the royal carrier of wisdom. A lot of wisdom literature like the Psalms and Proverbs have been interpreted in a very Marian way throughout history. If you seek her, you obtain wisdom. If you abandon her, then you lose out on wisdom. The classic image of the Seat of Wisdom always shows the Blessed Virgin Mary either seated or standing, holding the Child Jesus in a royal posture. Jesus, wisdom Incarnate, sits on Mary's lap. So, if you want to find wisdom, if you want to find Christ, then you need to draw close to her.

Spiritual Vessel, pray for us.

A vessel is made to contain something. It's not made for itself. First, Mary was the vessel of Christ's Incarnation, a bodily vessel by giving herself to the Holy Spirit. In return, God gave her His Son. Through receiving Christ in her body, Mary became not only a physical vessel, but a spiritual vessel as well. Ultimately, her Immaculate Conception, as well as her "yes" to God, kept her devoid of sin, enabling her to perfectly pour out His spiritual gifts on us.

View the next article in this series.