"How can you still be Catholic?" Cradle... Read more
$14.95
Buy Now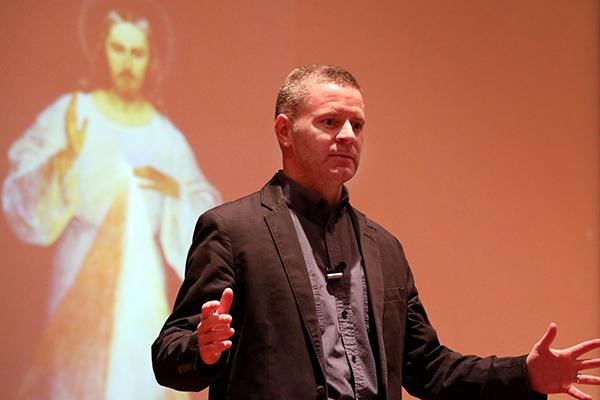 13th Annual Divine Mercy Conference
By Marc Massery (Apr 30, 2018)
Before taking the stage at the 13th Annual Divine Mercy Conference this past Saturday, Christopher West, the most well-known teacher of St. Pope John Paul II's popular theology of the body, explained how his devotion to the Divine Mercy Chaplet charted the direction for his relationship with his wife, Wendy, starting from their very first date.

West discovered the Pope's novel teaching on human sexuality in the midst of a reversion to his Catholic faith in the early 1990s.

"I've been striving to live [the theology of the body] ever since," he said. "And what happens when you strive to live something like this? You run smack dab, hard into your need for Divine Mercy."

After finding healing in Pope John Paul's teaching, he started watching EWTN, specifically the daily airing of the Divine Mercy Chaplet in song.

"On our first date in March of 1995, I had never heard of the Divine Mercy Chaplet," his wife, Wendy, remembers. "He took me to a church and taught me to pray [it and] that was a big moment on our very first date. I can't pray the Chaplet without remembering that and how I learned it."

West delivered his talk this past weekend at Cardinal Spellman High School in Bronx, New York, expounding upon the indissoluble connection between Divine Mercy and the theology of the body. The conference, cosponsored by the Marian Fathers of the Immaculate Conception and the Franciscan Friars of the Renewal, attracted more than 500 attendees. It featured six speakers, including Ralph Martin, author of the popular book on Catholic spirituality, Fulfillment of All Desire.

Check out videos from the conference.

"[M]ercy isn't only poured out, mercy also has to be perfectly received," West said. "This is the spousal reality, the bridegroom pours out the mercy, but the bride must receive it. We are made male and female precisely to reveal the theological mystery of mercy."

Through his slightly zany humor and animated demeanor, West connects with Catholics eager to understand how something as taboo as human sexuality can play such a central role in understanding the story of our salvation.

Attendees Bernadette and Gary Kozak, who have been married for 32 years, found out about the conference through their parish, Our Lady of Victories in Hillsdale, New Jersey. They jumped at the chance to hear West speak about a topic dear to their hearts.

"[I came] because I have such a love of John Paul II, and I have a certification in [teaching] the theology of the body," Bernadette said. "[West's talk] was outstanding."

"[The conference was] laser sharp," Gary said. "There was no fat to be cut. It was very good. Excellent speakers and to the point, and they kept your attention in my opinion."

Sister Monica Ward, CFR, broke up the lectures of the afternoon with the story of her own personal testimony to the effects of the Divine Mercy Chaplet in her life.

After a near-death experience during her first few weeks away at college, she bought into the lie that God must not love her. "[So] I ran headlong into the world and all the things of the world," she said. After graduating from college, she worked for a successful investment firm in Boston, making a substantial salary.

When she was 29, she had a reversion to her Catholic faith after going on a pilgrimage with her father. When she returned to work, she slowly began to think that there must be more to life than having a successful career. So her father suggested that she ask the Lord for His will to be done in her life.

"[Then] I read somewhere that if I prayed [the Chaplet of Divine Mercy] in honor of the Lord's Passion, and I asked for something within His will, that He couldn't deny it," she said. Sister Monica would surreptitiously leave her corporate office every day around 3 p.m. — the Hour of Great Mercy, when Jesus died on the Cross — to spend time in the nearby chapel to pray the Chaplet.

After several months of this daily practice, she was watching an episode of "Oprah" interviewing missionaries who ministered to orphans. Alone in her apartment, she heard the Lord say in her heart, "I want you to do something like this. I want you to serve the poor, and I want you to give up your money ... follow Me in a radical way."

After a chance encounter with Fr. Benedict Groeschel, CFR, she was inspired to join the Franciscan Friars of the Renewal. In 2005, she entered the community, and in 2012 made her final vows. "I'll tell you that this vocation is the greatest gift of my life," she said. "That it is the Lord's mercy to me, and there is nothing that I have given up or given away that He hasn't given back to me 100-fold."

Another CFR, Br. Simon Dankoski, also spoke. He gave a remembrance of the life of Fr. Andrew Apostoli, CFR, well-known author and speaker who died on Dec. 13, 2017 after a lifetime teaching about Our Lady. Brother Simon said that, just as St. Francis was called the "Troubadour for the Lord," Fr. Andrew earned the nickname, "Troubadour for Our Lady."

Brother Simon played a video of Fr. Andrew leading a decade of the Rosary, and all the attendees joined the late priest in prayer.

Attendees also had the chance to go to Confession and Adoration throughout the day. They purchased Books, DVDs, and CDs, and had the opportunity to have them autographed by the authors present.

After the morning and afternoon talks, the conference ended with the Very Rev. Fr. Kaz Chwalek, MIC, Fr. Joe Roesch, MIC, and Sr. Monica Ward on a panel answering questions submitted by the attendants.

"[Sometimes] we think that we can do it all ourselves without the Lord. We need to recognize ... that we need the Lord," Fr. Joe said. "He came to save sinners, so we all qualify for mercy since we're all sinners, we're all weak and we need him. Let's surrender to the Lord, make room for Him in our hearts, and He'll do the rest."