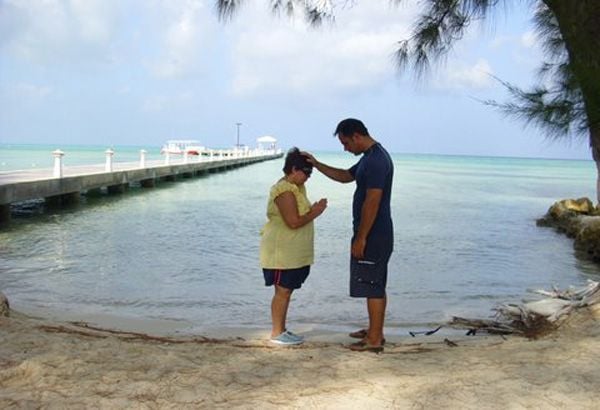 A Mother's Faith, a Son's Conversion
On the day of his priestly ordination, Fr. Donald gives thanks to his mother.
Even though the Church's Year for Priests is over, we are continually called to pray for and remember those whom our Lord has called to be His representatives on earth. We continue our series of conversations with the mothers of Marian priests, with Mrs. LaChita Calloway, the mother of Fr. Donald Calloway, MIC, the Marians' vocation director. Father Donald has spent the last several years traveling and speaking about his amazing conversion from run-away teen to Marian priest.

By Sarah Chichester

As I read Fr. Donald's book, No Turning Back: A Witness to Mercy, I kept wondering about his mom. The teenage Donald Calloway was a defiant runaway who abused drugs, was promiscuous, was jailed, was thrown out of a foreign country. ... In other words, he was a mess. During those painful years, how did his mother cope? How much longer would she keep taking him back?

Just recently, Fr. Donald shared with me that in those tumultuous years as his mother drew strength from her new Catholic faith, he actually got worse. He writes about this in his book:


During my Deadhead phase, I often found myself in the unfortunate position of having no money and no place to stay. Sometimes there was simply no one available that I could "use" for food and shelter. In that situation, I had no choice but to return home, just so I'd have something to eat and a place to sleep. Somehow, my parents always found it in themselves to take me back, although they were usually furious with me for running off, and rightly so. But I never could stand being home for long. The minute I lined up a new place to stay or a friend to bum around with, I would be back out on the road.

It was during one of those brief stays at home that my mother approached me and said, "Donnie, why don't you go to church with us?" I just looked at her with my usual blank stare and replied, "Are you nuts? Have you completely lost your mind? Me, go to church? No way. Church is for the weak. It's for the losers who are looking for some false hope when there is none. Church is a joke and a lie. I can't believe you and Dad have been suckered into believing this nonsense."

The truth is, I wasn't interested in any organized religion. The Grateful Dead was my religion. The Deadheads were my family, and Jerry Garcia was my leader. I didn't need anything else.

To this day, I'm amazed and humbled that even though I had for all practical purposes renounced my parents and wouldn't stay at home unless I absolutely had to, my mom and dad didn't stop providing for me.


Countless people who have read his book have been moved by Fr. Donald's parents and the continual forgiveness they extended to their son. Even when he was clearly just using them for shelter and food, they never lost hope that someday, that seemingly ever-distance, illusive "someday," Fr. Don would change.

Theirs was not an empty hope; it was a hope grounded in the mercy of God, and in the intercession of the Blessed Mother and the saints; it was a hope grounded in the truth of God's omnipotence, in His power to heal a wounded heart and bring a druggie/hippie/slacker to Himself (and eventually to the divinely instituted priesthood).

Theirs was also a hope that was tried through suffering.

When their family moved to Norfolk, Va., Mr. Calloway's position in the Navy called him to sea for many months, leaving Fr. Donald's mom at home with her sons — Donald and his younger brother Matthew. Mrs. Calloway continually turned to the Lord and Our Lady for help in the face of her trials.

"I'm just like so many other moms," she said in a recent interview. "I remember missing my husband a lot and crying myself to sleep, always asking Jesus, Our Blessed Mother Mary, and St. Joseph to keep my children and our family safe and under their loving guidance and protection every night before I closed my eyes, a practice I continue to this day."

Yet, she is quick to add that her family persevered together: "I honestly would be remiss if I did not include my whole family when speaking about God's mercy and Our Lady's intercession. We hung in there, stuck it out together, prayed a lot, practiced our faith, and trusted."

Their trust was not in vain. One night in March 1992, Donald was hit with what he calls a "Divine 2x4." In an uncharacteristic move, he declined overtures from his friends to go out partying, deciding to stay in his room instead. But after a while the stillness drove him to seek distraction. He perused a hallway bookshelf, where he grabbed a book that changed his life: The Queen of Peace Visits Medjugorie.

He began to flip through it behind his locked bedroom door (it being a book about religion, after all). It was full of foreign-sounding words like "Eucharist," "Blessed Virgin Mary," "Rosary," and "scapular." Something about this "Blessed Virgin" intrigued him, as did her message that she was sent by God as a mother to all, especially to sinners.

He also found a card in the book that read, "You don't have to change to love me; loving me will change you." And it did. He fell in love with this heavenly mother who captivated him with her love and her tenderness. He writes:


As I read, I knew I had to give myself to this thing Mary called "church." She always seemed to be leading or pointing towards it. I always imagined church as being oppressive, something that dominated your life and sucked all the fun out of life. I believed that was the role of the Church, so naturally I hated church, just like I hated Jesus. But if I was going to surrender to Mary, I had to believe her and give myself to Jesus and the Church. And even though I didn't verbalize it or speak it internally, somehow I knew I had to surrender to this Blessed Virgin Mary. She would help me to understand the real Jesus, the Jesus whom I never knew.

Early in the morning, when I closed the book, I said, "The message in this book is life-changing. I have never ever heard anything so amazing and convincing and so needed in my life." One might say that this was my first prayer. Whoever this Virgin Mary was, I believed what she was saying — that she was my mother and came from heaven for me.

It was around 5:30 in the morning when I finally closed The Queen of Peace Visits Medjugorje. Knowing that my mother would soon be coming downstairs for her morning coffee, I made the decision to stay awake until I could talk to her. Not that there was a chance I could go to sleep. My mind was racing with all that I had read and felt. When I heard her rustling around upstairs, I went to the bottom of the stairwell to meet her.

As soon as she came down the stairs, I said, "Mom, I've got to talk to a ... ." My voice trailed off. I couldn't say it. I was like pride incarnate. I simply could not make myself say the words. Again, I said, "Mom, I've got to talk to a Cath ... ." I just could not say it. I could not get the words out. It was like the ultimate humiliation, a sign of need, and a religious one at that.

My mom looked at me quizzically and said, "Donnie, what are you trying to tell me?"

Finally, I blurted out, "Look, Mom, I have to talk to a Catholic priest, okay?" I remember feeling so humiliated. I couldn't believe I just said those words. I felt like the Wicked Witch of the West from The Wizard of Oz after Dorothy splashed water on her.

In my mind, I started shrinking. I suddenly felt very small.

My mom's response? "Yeah, right," she said, as she brushed by me on the way to the kitchen. God bless her. She probably assumed I was trying to manipulate her. It was certainly a reasonable response, considering my long history of lies and deceit.

But this time I was serious. I said, "No, Mom. You don't understand. I read a book last night. That book is tripping me out!"

"Which book?" she said, raising an eyebrow at me.

I quickly retrieved The Queen of Peace from my room and asked her point blank: "Who is this Blessed Virgin Mary? What is this all about?"

At that point, my mom's jaw just about hit the floor. She didn't say another word. She ran to the phone in the living room and began dialing. I overheard snippets of a conversation between her and a priest, one who she had apparently awakened.

She said, "Yes, Father ... . I know ... . I apologize. I didn't mean to wake you. But you have to talk to my son. Can I bring my son over in a half an hour? She must have met resistance because she continued pleading, "Father, you don't know my son. You don't know my son. You have to talk to him right away."

But the priest did not comprehend the urgency of the situation — the need for a meeting at 6:30 a.m., with no prior notice. In his mind, what could be so important that it couldn't wait a couple of hours? Unwilling to give up so easily, my mother called a second priest but got much the same response. "Can we put off the meeting until 8:30 or 9:00 a.m.?" he asked.

As she was dialing a third priest, I interrupted and said, "Mom, isn't there one of those ... ." My voice trailing off much as it did before. I didn't even know what to call it. We were living at Norfolk Naval Air Station, and I didn't know if the place I was thinking of was called a church or a chapel. I said, "Isn't there one of those things just inside the main gate?"

Understanding what I was referring to, she looked me right in the eye and said, "Yes, Donnie. Run!"


Disbelief? Shock? Surprise? What was running through Mrs. Calloway's mind at that moment?

"When Fr. Donald announced he wanted to talk to a priest, I was shaken at first," admitted Mrs. Calloway. "But not really surprised. I never once gave up hope and faith in our Lord. I have loved both of my children more than life itself from the very moment I was blessed to have children. So for me, it was as if I was shielded by mercy and grace in practicing my faith daily, knowing in my heart that we were all, as a family, going to be okay."

And indeed, Fr. Donald's journey, while not free from difficulties or crosses, rests in the peace that only God in His mercy can bring. Father Donald persevered through a period of preparation before he could join the Catholic Church, followed by discernment to join a religious order, being accepted into the Congregation of Marian Fathers of the Immaculate Conception, and years of formation and education before being ordained a priest in 2003 at the National Shrine of The Divine Mercy, in Stockbridge, Mass.

"The road [for Fr. Donald] has been long, with many a winding turns. But out of the darkness there was always the light of the Lord holding out His arms," Mrs. Calloway said. "We must always hope in the promises of Christ and His unfathomable mercy. Blessed be God forever!"

So this is the sound of a motherly heart. It weeps over her children as they stray and breaks over their confusion and rejection, but how it rejoices when they find the true Way and give up all they have to follow it. And how this mother's heart sings in praise of the Merciful Lord for all that He has done for her son, the priest.

For more information on Fr. Donald, visit www.fathercalloway.com.