"In You Did It to Me, Fr. Michael Gaitley [MIC] has a genius for bringing... Read more
$14.95
Buy Now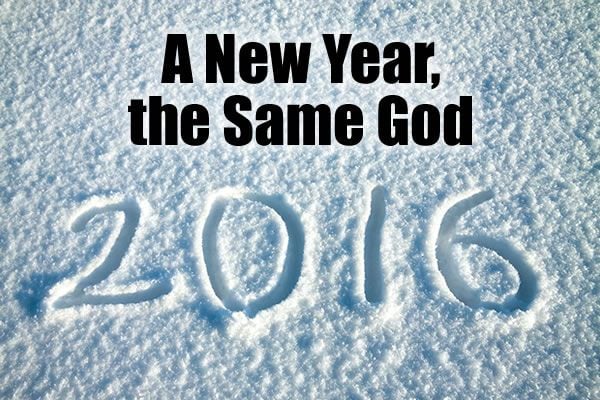 A New Year, the Same God
By Marian Friedrichs (Jan 1, 2016)
Until we moved out West, my husband and I would drive to Stockbridge, Massachusetts, for my birthday at the end of November. Atop Eden Hill, we would wander the grounds of the National Shrine of The Divine Mercy.

Often, there was snow on the ground during these late-autumn visits, so we trace a lacy path with our footprints, winding our way from the statue of St. Francis of Assisi with his outdoor altar, to the Little Flower who is almost hidden in her small grove of evergreens, to St. Joseph beside a small fountain — still and dry now in the cold weather — to St. Bernadette kneeling before Our Lady in the replicated grotto of Lourdes, and finally to the magnificent Sacred Heart with His arms outstretched as if to embrace all of the Berkshires.

But of course, most of our time was spent inside the Shrine itself, where we joined the Marians and the Marian Helpers, the local faithful, and some fellow pilgrims in the daily Rosary, Mass, Confessions, and Divine Mercy Chaplet. For anyone who makes similar visits, the afternoons here are introspective ones, hushed by prayer and the approach of winter. I would reflect on the year I've just completed and, best of all, begin the new one with the Sacraments of Reconciliation and Eucharist.

I'll admit I miss my annual renewal at the Shrine. But I am edified to read the passage in St. Faustina's Diary that describes how she welcomed the New Year of 1935.


The sisters at St. Faustina's convent had a "custom ... of drawing by lot, on New Year's Day, special Patrons ... for the whole year" (Diary, 360). As 1935 began, Faustina's secret wish was to have the same patron she had had the previous year: the Eucharistic Jesus. When she drew the holy card that bore her patron's name and did not read it right away, she "heard a voice in [her] soul: I am your patron. Read" (Diary, 360). Faustina obeyed and saw the words, "Patron for the Year 1935 — the Most Blessed Eucharist" (Diary, 360). Filled with joy, she hurried to the chapel, but during her prayer "Jesus sweetly admonished [her] that [she] should be at that moment together with the sisters" (Diary, 360).

For me, this story's beauty lies in its tender proof of St. Faustina's claim, "Jesus likes to intervene in the smallest details of our [lives]" (Diary, 360). What an awareness with which to start a brand new year: There is nothing we can think, feel, do, say, or experience that Jesus considers too small to be worth His notice. Just as His arms seem to reach for the whole world from Eden Hill, His heart cherishes every breath we take.

I was particularly struck by Jesus' gentle insistence that St. Faustina was called to be in community, not in solitary prayer, on that New Year's morning. It might be surprising to imagine that God would actually tell someone to leave a church or chapel, but as the Book of Ecclesiastes tells us, there is a time for everything. This year, the weekend when my husband and I would have gone to Stockbridge, was a time to spend with family in Kansas. And these days after Christmas are a time to be with my loved ones. Although visiting Eden Hill would have been a good thing, God had other good things planned for me, and as St. Faustina testifies, He really does care about how each moment of my life is used.

January 1, is the Solemnity of Mary, Mother of God. At the Mass for Mary's feast day, I will think about the New Year's gift that Catholics receive.

Our Church calls us to come together and begin the year by receiving the Eucharist and remembering the motherly care that Our Lady lavishes on us: care that is as focused and faithful as the special patronage Jesus gave to St. Faustina. And although a convent chapel or a mountaintop shrine might seem like the ideal settings for prayer and reflection about these wonders, we are not always called to be in those places. We are blessed, however, to find a source of renewal, strength, and peace whenever we enter any church. The purifying and unifying powers of the confessional and tabernacle are there for us, ready to give us the retreat we need, even if only for an hour.

When we leave, we have all we need to face the day and every day to come: communion with the Eucharistic Lord and His Mother, who are our patrons and protectors this year as last year and all the years ahead.