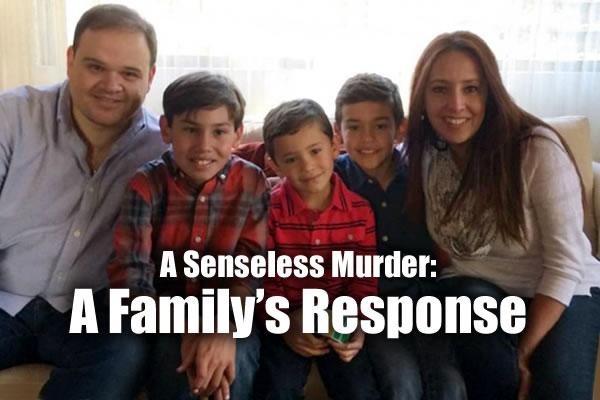 A Senseless Murder: A Family's Response
By Br. Kevin Gregorek

"Kevin, do you want to come with Hans and me to an afternoon retreat this Saturday? There will be Mass and Confession available there, as well as some talks and some time to pray."

That was my friend Werner Ascoli inviting me to my first "day of recollection" at a men's retreat house in South Florida, where I was born and raised. I was 16 years old at the time, as was he. Werner and his younger brother, Hans, had moved to Florida with their family from Guatemala City less than two years earlier.

Hans was two years younger than us, but the three of us were buddies. I got to know their parents — José (Chepe) and Irma (Chiqui) — and their younger siblings, Christian and Hellen, and they soon got to know my family well. Having been an only child, I was thrilled to be welcomed by this warm and gracious family. They opened up a new world of Catholic faith to me, simply by being themselves and living their faith in simple but noticeable ways — praying together before meals, attending Mass every Sunday, going to monthly retreats and weekly formation meetings for young Catholic men, and especially by being unafraid to profess their faith publicly and proudly.

All these years later, I discover they still have things to teach me.

Hans was shot and killed in July by two "hired guns" as he sat in traffic in Guatemala City on his way home from work. He died at the scene. He leaves behind his wife, Isabel, and three young sons. Authorities and the family are not yet certain why Hans was killed, but they speculate it may have been a "business hit," ordered and paid for by some unscrupulous businessperson who may have considered Hans a rival.

As I have prayed for Hans and remembered him fondly, shedding a few angry and bitter tears along the way, God has tremendously blessed me and all who know his family. Any parent or sibling would be responding normally to such a horrific tragedy if they were angry and wanted revenge. From day one, Chepe, Chiqui, Werner, Christian, Hellen, and Isabel have — quite publicly — demonstrated tremendous trust in God's will and grace towards the still-unknown men who killed Hans that night.

"God knows more and knows what is best," Chepe told me.

How powerfully God has chosen to use the Ascoli family to demonstrate everything Pope Francis has asked Christians to do — to be! — in this Jubilee Year of Mercy!

In the immediate aftermath of the killing, there I was — a Marian brother and religious seminarian for nearly five years — feeling a combination of sadness, anger, and vengeance in my raw grief, in spite of the numerous times I had spoken publicly and privately to pilgrims and prayer warriors about the Divine Mercy and how no sin is beyond God's forgiveness. Yet Hans' own father was showing me what true mercy and trust in Jesus look like!

Just four days after Hans had been killed, Chepe penned a moving column for the local Guatemala City newspaper. In it, he lovingly eulogized his son and then begged that Hans' death not be in vain, that it be a moment for forgiveness, healing, and mercy, and that it may mark the end of street violence in Guatemala. Eloquently, Chepe prayed that the killers would repent of their crime and be open to God's infinite mercy. His words conveyed sadness without anger and compassion without self-righteousness. What more could a father do to demonstrate his trust in the Lord than to publicly live out his faith in a loving God who is infinitely merciful?

May the Lord grant Hans eternal rest in Him and peace to his loving and devastated family.