"In You Did It to Me, Fr. Michael Gaitley [MIC] has a genius for bringing... Read more
$14.95
Buy Now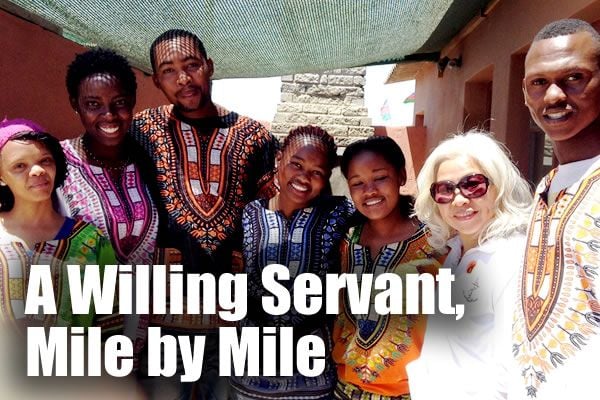 Eloisa Worrell, during a recent trip to Nambia, where her efforts to spread Divine Mercy received a friendly welcome.
A Willing Servant, Mile by Mile
At one point in her whirlwind worldwide travels to spread the message of Divine Mercy, Eloisa Worrell found herself walking in the middle of the night after working in a hospital. A powerful hurricane had been brewing. The streets were deserted. It was both eerie and peaceful. The skies were calm. She was praying to the Lord when she suddenly realized why things were so calm: She was walking within the eye of the storm.

"God was reassuring me, 'I am with you. It's OK,'" she says.

The imaginary couldn't be more fitting in defining the missionary life of Eloisa. She puts herself in the center of calamities — sickness, poverty, violence, political upheaval, natural disasters — and she remains unscathed and undaunted, shielded by her trust in Jesus. Hers is a life of risk-taking. And maybe someday it will kill her. She knows this.

"God is the Source of everything we need in our family lives and in our relationships with friends and neighbors and nations," she says. "I am constantly reminded of the five-billion souls who still need to hear of his message of salvation and who need to be reconciled to God's mercy, as the Lord makes clear through the revelations of St. Faustina and through the Holy Spirit working through the Church."

A Philippine native, Eloisa lives with her husband, Joe, in Panama City, Florida. They have a grown son. She's a retired nurse. Joe is a retired Air Force colonel. Eloisa gives thanks to the Lord that she has the financial means to do her ministry work. She can be gone for weeks, even months at a time. Sometimes she travels with pilgrimages. Often she travels alone. Her husband, of course, worries for her safety.

Since 2009 till now, Eloisa has travelled in 51 nations — in Africa, Asia, Europe, Oceana, and the Americas. In city slums, isolated villages, hospitals, churches — wherever the Holy Spirit leads her — she distributes free of charge Marian Press materials such as Divine Mercy pamphlets, prayercards, booklets, and rosaries.

She's gotten into some tight situations. A run-in with hostile Russian border officials left her rattled. ("As always, Russia needs a lot of prayer," she says.) Her heart has been broken by the scars of humanity — the extent of moral decay, economic and social injustice, neglect of the poor, the suffering of the disenfranchised, tribal wars, and outbreaks of preventable diseases. Yet she's been equally buoyed through observing the still soft voice of the Lord working in the hearts of people from East to West and pole to pole.

Introduced to the Divine Mercy revelations of St. Faustina in 2004, Eloisa says she was soon inspired to step out in faith. She prayed before the tomb of St. John Paul II in 2006 and felt in her heart that he was calling upon her to evangelize.

She attended the 2nd World Apostolic Congress on Mercy in Krakow, Poland, in 2011, where she joined in a Marian pilgrimage led by renowned Divine Mercy experts Fr. Seraphim Michalenko, MIC, and Fr. Michael Gaitley, MIC. "They were a great help to me in my spiritual formation," she said.

In the message of Divine Mercy, she says she is particularly touched by the Lord's love for suffering and sinful souls and by St. Faustina's closeness with the Lord — by the reality that "He is not far away. He is with us," she says.

She often endures rejection. Still, she has witnessed how her efforts have planted the seeds that lead to conversions.

"Others may not ever come to know of the Lord's mercy unless a willing servant goes to them without counting the cost," she says. "Inspired by the Blessed Mother, I try to say 'yes.'"