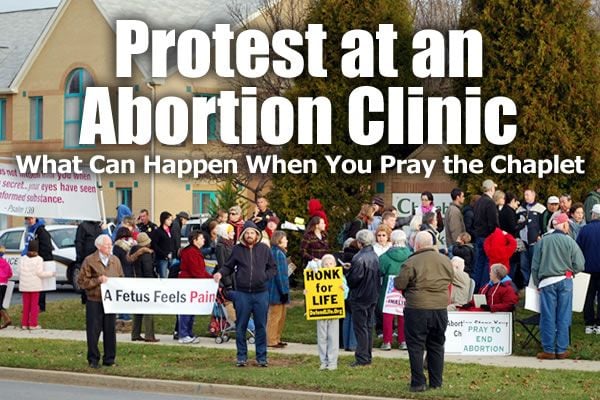 Chaplet Miracles Outside an Abortion Clinic
By Ellen Castellano

As a sidewalk counselor in front of one of the few late-term abortion clinics left in the country, I know I need to be spiritually prepared to be an effective tool for the Holy Spirit. Most of us out there attend daily Mass, pray before the Blessed Sacrament, fast, and pray the Rosary as part of our preparation to confront the women going in for abortions. We pray for the women before we get there on Monday mornings, we pray before we start, we pray while we are out there waiting for women, and we pray after they go inside the clinic. Praying undergirds our presence there and the conversations we have with them as they are going into the abortion clinic. There is a large crowd that prays there regularly every Monday as well. Because of these prayers we see women change their minds almost every week and decide to keep their babies. But we face a huge evil, and much mercy is needed to fight it.

I was sitting in the prolife office right across from the same late-term abortionist, Leroy Carhart in Germantown, Md., a couple weeks ago reflecting on the horror of the many late-term abortions he had already done that week, and thought, "This needs the mercy of God! I'll pray the Divine Mercy Chaplet. Since I had never prayed it alone before, I looked it up online and began. It was about 3 p.m. Halfway through, a 17-year-old girl walked into our office thinking she's at the abortion clinic. Her period was late. She wanted information on the abortion pill, so we start to talk. Long story short — by the time she left, she decided she would keep the baby if she was pregnant. She learned a bit about Natural Family Planning, and she thought it might be a good idea to stop having sex with her boyfriend! She never did realize she wasn't at the abortion clinic! After she left, I finished the Divine Mercy Chaplet in a state of shock and awe over the power of the prayer.

The next Sunday, my son Paul and I were in front of the clinic to counsel the Sunday appointments, but we missed the first patient going in. So we said the Divine Mercy Chaplet and specifically asked St. Faustina to intercede for the woman inside. We prayed that she would have a strong negative reaction to the information she would hear about the abortion. Interestingly, just after we prayed, Paul heard a baby crying in the mainly empty parking lot. Then I heard it, too, and saw a man carrying a crying infant down the steps right next to the clinic. We both wondered if they could hear the baby inside and hoped that was the case. The abortionist came, and a few minutes later, out comes a couple from New Jersey. She was well into her third trimester of pregnancy, and I asked her if she had the abortion (the first step of a late-term abortion is a lethal injection, which kills the baby.). She said she changed her mind, and then she left in a hurry and never came back to the clinic that week!

Thank you, St. Faustina! How much we need the mercy of God! The Divine Mercy Chaplet is now part of our standard arsenal in this battle for life that we fight each week. To learn more about what we're up against, visit PrayForGermantown.com.