The Diary of Saint Maria Faustina Kowalska: Divine Mercy in My Soul is... Read more
$29.95
Buy Now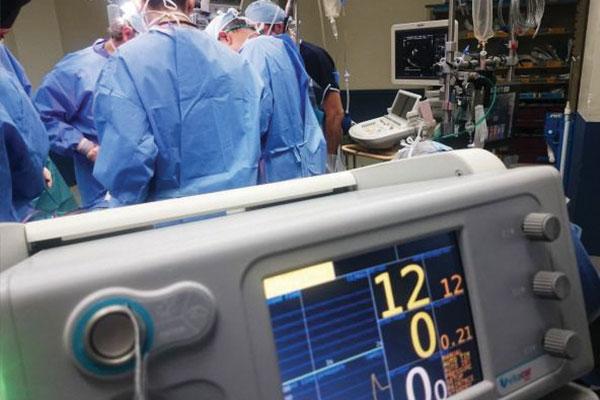 Divine Mercy Wakes Woman from Coma
By Erma Jean Beil

Since 1986, when I discovered St. Faustina and the Divine Mercy Chaplet, I have been praying for a close friend, M.B., whom I consider like a sister. For the last two years especially, I've been praying that she would return to the Church. On the evening of Nov. 2, 2018, I was compelled to pray as never before and mourned for her soul, though I had no reason to believe she was deathly ill.

On the morning of Nov. 3, 2018, M.B.'s neighbor wanted to borrow an item from her. She told her neighbor to wait 30 minutes, because she was not feeling well. Thirty minutes later, the neighbor went over to find her terribly ill, incapable of moving her legs or standing on her feet. When the ambulance took her to the hospital, her lungs began to fill with fluids.

Doctors induced her into a coma. Her blood sugar was extremely high, her blood oxygen low, and her heart rate was poor. I rushed to
the hospital. A sonogram revealed that M.B. had a cancerous tumor inside her heart about 4 inches long and as round as my fist.

They operated on her the next morning, but I stayed with my dear friend all night in the intensive care unit. I prayed the Divine Mercy Chaplet continually. The day after M.B.'s surgery, the doctors said it went well, but they had to wait for her to wake up. Turns out she wouldn't wake up. Doctors explained that she was in a permanent vegetative state, and they didn't expect her to come out of it. I was horrified thinking that she would die without having the benefit of Confession and Holy Communion after being away from the Church for 40 years.

All night long, I begged God to save her soul. The next day, I found M.B. somewhat awake. Her body was moving, but her mind was not there. She often thrashed about, her eyes rolled, her mouth gaped, and she supposedly knew none of this was going on. She was tied down because her thrashings were so violent.

At 3 p.m., a priest visited. He anointed her, and we prayed over her.

The doctors set up a meeting for the next day to discuss what to do with M.B. now that she couldn't communicate. In other words, they wanted to discuss whether she should remain on life support.

Before I went to research the Church's teachings on this issue, I went to my friend and whispered in her ear, "You won't understand this, but I am praying for you, and Jesus is standing between you and God the Father, not as Just Judge but as Divine Mercy." I stroked her forehead. Though they said it was just automatic responses, at one point she gazed into my eyes for a few seconds. I just said to her, "Jesus is with you. Trust Jesus." A tear ran out of her eye.

The next morning, they called me and said, "M.B. woke up and is asking for you. It's truly a miracle." No one told the doctor, and when he arrived to her room for our meeting and saw me standing there talking with her as though nothing had ever happened, he also said, "It's a miracle."

M.B. later told me, "I heard you tell me you were praying for me and that Jesus was here." She also told me she felt me praying for her the night before (but in reality, that was four or five nights ago), and that she sensed me there in the room pacing back and forth. Being handicapped using a cane, I don't typically pace, so it is not something she would imagine of me. But, indeed, I did pace back and forth that night praying the Divine Mercy Chaplet. She also told me she was awake and in a nightmare trying to move and scream. This is exactly what she looked like to me.

Despite the original prognosis, more than a year later, she continues to defy the doctors' expectations with her progress. All thanks to God's mercy. Please pray for my dear friend's continued conversion and health.