Photo: MPT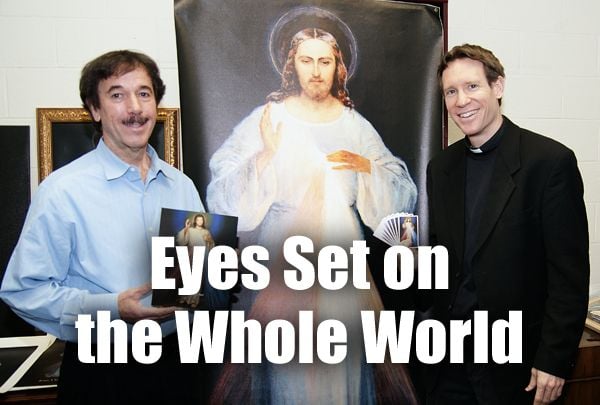 Phil Skikos, left, and Fr. Michael Gaitley, MIC, the director of the Association of Marian Helpers, show some of the Divine Mercy materials that Phil's Divine Mercy Team is shipping to customers worldwide as it partners with the Marians.
From Childhood Wonder to Ministry
By Felix Carroll (Jul 15, 2013)
Like nearly everyone in the 1950s and 60s, Phil Skikos knew nothing about the Polish nun named Faustina, whose revelations in the 1930s would help lead the world to a richer understanding of Jesus Christ.

But unlike nearly everyone in the world, his mother kept a certain picture of Jesus on the wall that depicted the Merciful Savior resplendently stepping from darkness. Phil liked the picture — a lot. He figured that if that's what Jesus really looked like, it was no wonder His disciples dropped everything to follow Him.

Phil didn't know at the time that that picture was a reproduction of a painting done under the direction of that Polish nun, Faustina, a future saint chosen by Christ to record His message of Divine Mercy for modern times. Certainly, he had no clue Jesus, through Faustina, commanded that this image be spread throughout the world, promising many graces to those who gaze upon it with their hearts open to His presence and power.

Fast-forward half a century, and that image of Jesus the Merciful Savior has become among the top three most famous holy images in the world, along with the Holy Shroud of Turin and the image of Our Lady of Guadalupe.

Phil, himself, has played no small role in making known that image, which we recognize today as the image of Divine Mercy.

Since 2005, his not-for-profit organization in Santa Rosa, Calif., called Divine Mercy Team, co-founded with Barbara Wold, has been responsible for gathering, packing, and shipping some 40 million Divine Mercy images for customers around the world — all done from an office space smaller than your average studio apartment, and all through a staff of half a dozen volunteers. When Phil tallies his endeavor's extraordinary successes, he prefaces that all credit goes to Christ.

Indeed, he uses the word "Team" in his ministry's moniker for good reason: There is no "I" in team. Through God's graces, the "team effort" has just exponentially expanded, with Divine Mercy Team's mammoth efforts now cross-pollinating with the mammoth efforts of the Marian Congregation, for whom Divine Mercy evangelization has been a central ministry since 1941. In March, Divine Mercy Team and the Marians officially joined forces.

What does this mean? A lot. That is to say, a lot of images going out into the world, just as Christ intended.

"Divine Mercy Team has been distributing about 5 million prayercards a year — despite no advertising and no marketing," marvels Fr. Michael Gaitley, MIC, the director of the Association of Marian Helpers. "With our outreach added, we'll be shipping upwards of 20 million a year.

"This partnership," continues Fr. Michael, "represents one of the largest initiatives in the history of Divine Mercy movement, because we're getting the image out at unbelievably low prices to people who will pass them on to others who, in turn, will spread Divine Mercy."

(For example, a box of 1,000 Divine Mercy prayercards cost $15, including shipping. Learn more by visiting the Marians' website DivineMercyArt.com.)

As much as the Divine Mercy image is rich in meaning — i.e., it speaks of baptism and reconciliation and Jesus as the High Priest — Christ makes it clear it was never meant merely as a doctrinal curiosity. Rather, He had it created to awaken mankind's deepest yearnings. In the image, Jesus doesn't merely beckon us to return to Him; rather, He is shown taking the initiative, stepping forward from the darkness as if to rescue us. Moreover, He doesn't point fingers; rather, He blesses us, whether we're ready to repent or not.

"The image touches so many lives, so many people," says Phil. "We see that. Father Michael sees that. Jesus promises us through St. Faustina 'that the soul that will venerate this image will not perish' (Diary of St. Faustina, 47). That's why we're making such an effort to get this image out into the world."

Since the beginning of his ministry, Phil understood that the best way to spread the image was by getting prayercards into the churches. To that end, most of his customers buy the prayercards in bulk and place them in church entrances free to all. Divine Mercy Team, at its own expense, also sends prayercards to hospitals, military bases, nursing homes, suicide prevention centers, prisons, and drug rehabilitation centers.

It's worth noting, Phil makes no money from his ministry. He makes his living selling window covers and shutters, which is rather ironical for a man whose eyes are trained on the wide world and beyond — spiritually speaking. Partnering with the Marians has been his goal for years. When he met Fr. Michael at a conference in California last year, a friendship and partnership were formed.

Under terms of their agreement, Divine Mercy Team is now reproducing and distributing Marian artwork — especially the Marians' latest restored Divine Mercy images — in the form of prayercards and larger sizes. The Marians pay all printing and shipping costs. The small margin of profit all goes toward helping to fund the Marians' Divine Mercy evangelization efforts.

It's Phil's hope that the name Divine Mercy Team will eventually be forgotten as his ministry is subsumed under the Marians.

Gearing up for the upsurge in orders, Divine Mercy Team has moved its operations to a 2,500-square-foot office space owned by his brother Pete, who runs an adjacent trucking company. The new space will house printing presses. Until now, Divine Mercy Team's printing was done through an outside company.

During a visit with Phil earlier this year, Fr. Michael and he were nearly giddy from the opportunity God has given them.

Things are going to get very, very busy, very quickly.

"Are you going to be ready?" Fr. Michael asked Phil, smiling.

"We'll be ready."