Discover the Prayer of The Divine Mercy and The Divine Mercy Novena given... Read more
$0.16
Buy Now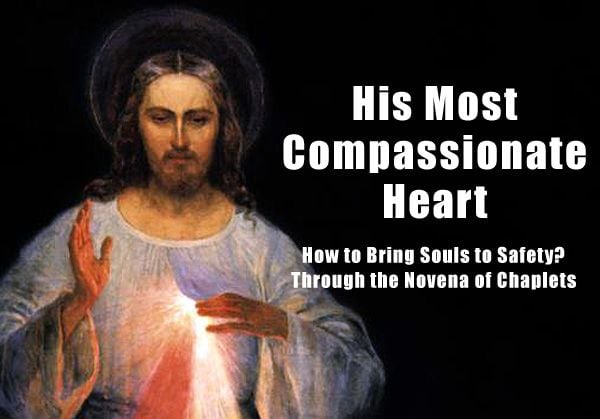 His Most Compassionate Heart
Bringing all Souls to Safety Through the Novena of Chaplets
By Marian Friedrichs (Aug 30, 2011)

A few months ago, a friend of mine told me about something that had happened to her son, a college freshman, at the restaurant where he works as a waiter. When he had offered to take the dinner order of a husband and wife, the pair had made a shocking proposition to him. Deeply embarrassed, my friend's son mumbled his refusal but didn't tell anyone what had happened until he got home.

I was grieved and angry to hear that this couple had been willing to degrade their own God-given human dignity and that of my friend's son. My friend, a woman of great faith, spoke about it calmly, but the incident must have been a painful reminder to her and her husband that they can't protect their children from all of the evil that may singe the edges of their lives or even blaze right through the center of them.

The story also made me think, a little selfishly, about my own child: the one who is safe in my womb now but will soon come out and begin his or her journey in the world. What can I say or do to help keep my child safe from that kind of darkness?

God, who promised us that if we seek we will find, didn't let me flounder for long. On the morning after my conversation with my friend, I opened St. Faustina's Diary and read this passage: "Rejoice, all you creatures, for you are closer to God in His infinite mercy than a baby to its mother's heart" (Diary, 423). Then I opened my Handbook of Devotion to Divine Mercy and read that day's novena intention: "Today bring to Me the souls of those who have separated from My Church and immerse them in the ocean of My mercy."

I thought about the couple from the restaurant. I didn't know if they had separated from Christ's Church or if they had never been members of it to begin with, but I included them in that novena prayer. I knew that Jesus wouldn't refuse to offer them as many graces as He was willing to offer those who had "[torn] at [His] Body and heart, that is, [His] church." I also felt that I was praying for every poor faithless soul who would encounter my own child during his or her life; rather than hope to shield my baby completely from secularism and worldliness, I begged our merciful God to free His children who were being held prisoner by these errors.

I also noticed the next day's intention on the opposite page: "Today bring to Me the meek and humble souls and the souls of little children and immerse them in My mercy." My friend's son is not a little child anymore, but at 19 years old, there is still a bit of childhood left in him, and he is indeed a meek and humble soul, so the next day when I continued the novena, I prayed for him and for my baby. The anxiety I had felt began to fade as I pictured their souls "immersed" in the light of the rays from Jesus' heart.

Since that experience, I've marveled at the power and comfort we can find in the novena of chaplets that our Lord gave to St. Faustina. A refrain of the novena prayers is the petition that Christ will bring the intended souls "into the abode of [His] most compassionate Heart"; in praying the novena, therefore, we help Jesus to shepherd the souls we pray for into the only truly safe place — His Heart — where even the darkest evil cannot touch them.

At Mass one Sunday, I reflected during the Penitential Rite how parishioners, the celebrant, and visitors at my church ask me to pray for them. How often do I remember to do that? Almost never. But through the novena, I "bring to [Jesus]" all mankind, sinners, devout souls, the souls of religious, lukewarm souls, souls without faith, and every other soul I encounter — whether in church, within my circle of family and friends, or among strangers — including every soul I will not meet in this life and the souls in purgatory. Including myself.

I can't find that couple in the restaurant and force them to stop desecrating themselves and their marriage vows. I can't follow my child through life and shield him or her from sin. I can't lift up by name every single person who has ever asked for my prayers. But in the novena of chaplets, our merciful Jesus offers me the opportunity to use the Chaplet of The Divine Mercy to intercede for everyone: to help satisfy His yearning for souls.

When we use this gift, the whole world has a reason to heed St. Faustina's words and "rejoice," knowing that because we are all enfolded in the Lord's "most compassionate heart," we "are closer to God in His infinite mercy than a baby to its mother's heart." We can never hope — for ourselves, for our loved ones, or for any of Jesus' lost sheep — to find a more secure shelter than this.

Learn how to pray The Divine Mercy Novena of Chaplets.