Endorsed by EWTN hosts Fr. Mitch Pacwa, SJ, and Fr. Benedict Groeschel, CFR... Read more
$14.95
Buy Now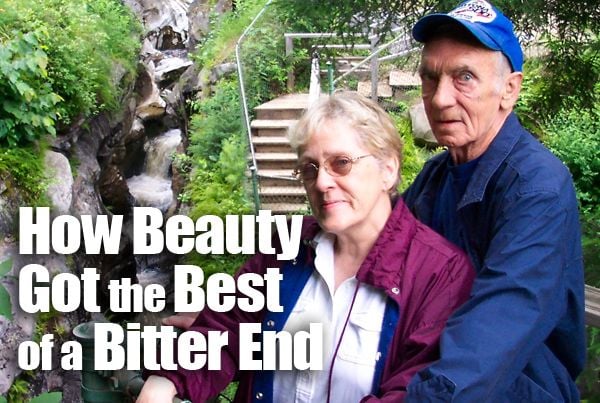 How Beauty Got the Best of a Bitter End
By Carolyn R. McMahon

For the longest time our family didn't know what was going on with my husband's behavior. James — "Mac" or "Dad" or "Jim" as he was called by different folks — retired from General Electric in 1991 when he was 55 years old. Decades before his retirement, he had talked about having a small engine shop. He even had some business cards printed up. As he was a man of many talents, this was no surprise, but upon retirement, his love for these things had waned.

In his younger years, my husband did experience some rough times. He had been in two motor vehicle accidents in his twenties that included head injuries. Also, he had an addiction to alcohol until he was in his thirties. (He had 40 years of sobriety, a feat that his family was extremely proud of.)

But by the time I retired in 1996, I noticed some changes in his behavior that others weren't seeing. Mostly they had to do with mood swings and logic. He put up a good front in fooling folks. He would even pass the memory tests the doctors gave him. But what we were seeing in him was dementia increasingly taking hold of him.

Until his heart attack and a quadruple bypass surgery in 2004, he continued to be somewhat independent and in good physical condition most of his life (maintaining his weight at 160-165 in spite of his love of ice cream). But as signs of his dementia increased, so did my relying on my faith and prayers to help us get through this. This is how the rest of our family responded as well.

In 2012 Mac was becoming increasingly aggressive Finding placement for him was the dreaded next step. Between Aug. 27, 2012 and Jan. 4, 2013, he was admitted into and discharged from four different care facilities; had made four visits to the emergency room; and he was brought back home twice. In August, we finally received a diagnosis of Frontal Lobe and Vascular Dementias, which affect personality, emotions, behavior and circulation. The memory of identifying people in his life was pretty much intact. This made so much sense.

In October 2012 something very important happened when he came home the third time.

A new caregiver arrived named Bonnie. She ended up being a great advocate for Mac. He was always happy to see her. Moreover, she had a devotion to St. Faustina. So at that time I gratefully added St. Faustina to my prayers for intercession. Somehow I had forgotten about Divine Mercy, although Divine Mercy had not forgotten me.

I brought Mac home on Dec. 22, 2012, with assistance from the agency Home Instead, Bonnie, and Hospice. Family from both near and far visited him through Christmas and New Year's, even though he rapidly became dysphasic and infirmed. Together, on Jan. 1, 2013, we prayed to St. Faustina at the 3 o'clock hour, asking her for her intercession on behalf of Mac. Our pastor, Rev. Peter Gregory, led us in the Divine Mercy Novena. There was so much love present in that room.

The next few days were pretty rough on all. Mac was never left alone. On Friday, Jan 4, 2013, as the 3 o'clock hour approached, I had a feeling Mac was about to leave us. All the family gathered in his room to say their goodbyes. I hugged him, and I told him I loved him and that I was still there. My daughter thought he wanted to say something to me. She had her hand on his chest and felt his heart give one last noticeable beat. I wondered if he was in awe of what he was seeing.

I truly believe St. Faustina was there with the angels to guide him home. Mac's suffering was over.

Carolyn R. McMahon lives in Pittsfield, Mass.