See how you can help the Holy Souls with this pocket-sized booklet, Purgatory:... Read more
$3.99
Buy Now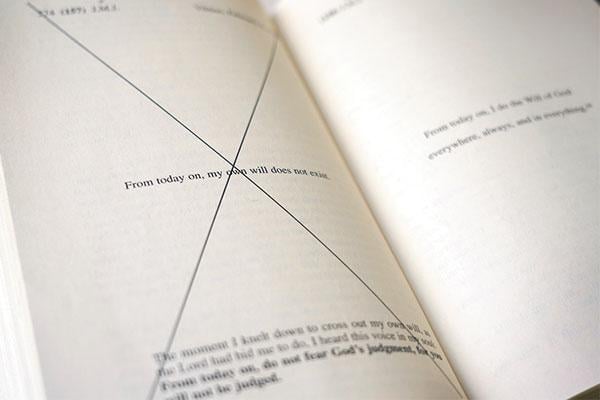 How 'X' Marks the Spot
By Marc Massery (Apr 7, 2019)
I often hear from Marian Helpers who, in an attempt to be helpful or perhaps out of sheer confusion, point to entry 374 in the Diary of Saint Maria Faustina Kowalska and say, "Father, I think I found a typo."

We Marian Fathers are the publishers of the Diary, so presumably, I'd be in a position to do something about this alleged typo. The only thing is, that's no typo.

Maybe you know the entry in question. It's the page that includes a huge X across it. When you see it for the first time, it can be a bit jarring. But that's the intention.

During a retreat in 1935, the Lord gave St. Faustina the strength to make an act of total abandonment to His will. He then instructed her to write on a blank page of her Diary, "From now on, my own will does not exist" and then to cross out the page. She did just that.

In response, Jesus said to her, "From today on, do not fear God's judgment, for you will not be judged."

Saint Faustina then wrote, "From today on, I do the Will of God everywhere, always, and in everything."

This marks an extraordinary moment, a turning point, in St. Faustina's life. When the Marian Fathers were preparing the Diary for publication back in the 1980s, we knew we needed to replicate St. Faustina's X, and so we did just that.

I bring this up because, as you know, we members of the Holy Souls Sodality are celebrating 2019 as our own little Year of St. Joseph. We cannot celebrate St. Joseph without discussing the exemplary way he himself sought to do the will of God. Had he kept a diary, St. Joseph would have been the original "X-er outer" of self-will.

In St. Joseph, as in St. Faustina, God provides us with the spiritual blueprints to sanctification and everlasting life. Such a life can only be built when we surrender our will to God, when we X out our egos, our vices, and all the distractions that pull us away from serving God and serving others in His name.

I imagine Joseph wished only to lead a quiet life, raise a family, work hard, and practice his faith without much fuss. Well, surprise! He was pulled in to play a key role in the salvation of mankind. The kinship I feel with Joseph centers on the fact that, at each step, God didn't reveal to Joseph the ultimate plan. Rather, He revealed only what St. Joseph needed to do next.

Isn't that how our lives seem to play out? We live in linear time, one moment to the next. We can't always see the big picture, the masterful mosaic within which God has created us and placed us into motion.

For Joseph, it was a step-by-step process of prayerful purpose, of choosing each day to do the will of God, of living for others, of doing all things for the greater glory of the Good Shepherd, for whom he served as foster father.

As we read in the Gospel of Matthew, chapter 1, when Joseph learned that Mary was with Child, he was bewildered and likely fearful. But when an angel of the Lord revealed to Joseph that he was to protect and provide for the Virgin Mary and her Child, Joseph undertook what was asked of him.

When Joseph took Mary into his home, he received no indication of the difficult journey that awaited him. Then suddenly, in a dream, the angel of the Lord instructed him to rise at once and flee to Egypt in order to protect the Child Jesus from Herod (see Mt 2:13). He gathered his young family and did as he was told.

Having established the Holy Family in Egypt, again, with little notice, Joseph received instructions in a dream to bring his family back to the land of Israel "so that what had been spoken through the prophets might be fulfilled" (Mt 2:23).

Much like St. Joseph, we are to step forward in faith in the promise of God's providential care for us. We can expect to encounter problems, petty inconveniences, heavy crosses, and even catastrophes. But like St. Joseph, we can embrace difficulties with peace and trust that God has a plan.

I'm reminded of the Catechism of the Catholic Church, which tells us in entry 305:
Jesus asks for childlike abandonment to the providence of our heavenly Father who takes care of his children's smallest needs: "Therefore do not be anxious, saying, 'What shall we eat?' or 'What shall we drink?' ... Your heavenly Father knows that you need them all. But seek first his kingdom and his righteousness, and all these things shall be yours as well" (Mt 6:31-33, cf. 10:29-31).
For we who are devoted to the souls in Purgatory and devoted to bringing ourselves and others to Heaven, remember what Jesus tells St. Faustina after she draws that big X. He tells her, "From today on, do not fear God's judgment, for you will not be judged."

The same follows for us. If we give up our will and instead do the will of God, we will not be judged. We will be counted among the Church Triumphant, united with God in Heaven.

"X" truly marks the spot.