"How can you still be Catholic?" Cradle... Read more
$14.95
Buy Now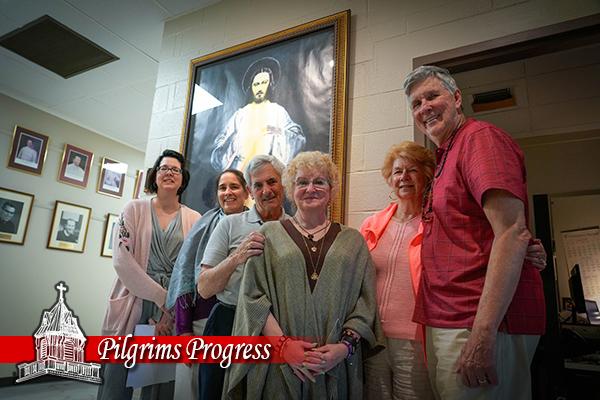 Deacon Fran Phillips (third from left), visiting the Marian Helpers Center in Stockbridge, Massachusetts, along with (from left) Marianne Rahner Krug, Wanda Larrivee, Fran's wife, Janice, and Sally and John Rahner.
In the Battle for His Soul, the Devil Was Dogged
By Felix Carroll (Jun 29, 2018)
Each year the National Shrine of The Divine Mercy receives tens of thousands of pilgrims who are drawn to the Sacraments, the natural beauty, and the fellowship of Catholics who seek God's mercy or who wish to give thanks for graces received.

Meet Deacon Fran Phillips of the Glen Mills area of Pennsylvania:

Here's what helped prevent Fran Phillips from losing hope, from allowing his marriage to fall apart, and from taking his own life: the words of Jesus to St. Faustina, as recorded in her Diary.

Particularly these words:

My mercy is greater than your sins ... (1485).

That comes from the Diary section titled "Conversation of the Merciful God with a Sinful Soul."

To put it into context, Christ descended from Heaven, allowed Himself to be nailed to the Cross and for His Sacred Heart to be pierced with a lance — all as a sacrificial offering for the sake of sinful souls. He reminds the world of this through St. Faustina.

"Come, then, with trust to draw graces from this fountain," Jesus says. "I never reject a contrite heart. Your misery has disappeared in the depths of My mercy" (1485).

These days the once miserable Deacon Fran shares this Diary passage with people all the time, people dwelling in the tomb despite Christ's Resurrection, people unacquainted with the profound and practical implications of having a Father in Heaven whose greatest attribute is mercy.

Deacon Fran and his wife, Janice, visited the Shrine recently with their dear friends John and Sally Rahner and their daughter, Marianne, to give thanks to the Lord. The five of them, each of whom carry crosses made lighter through their faith, are frequent Shrine visitors. For years, they served as volunteers for the Shrine's annual Divine Mercy Sunday celebrations before they decided a couple years back, with the approval of their pastor, that it was time to bring Divine Mercy Sunday programs to their own parish. They are members of Eucharistic Apostles of The Divine Mercy prayer cenacles. They practically devour books by Marian authors Frs. Michael Gaitley, MIC, and Donald Calloway, MIC.

They strive to be true apostles of Jesus whose merciful love — poured out upon us in prayer and in the Eucharist and received by us through repentance and faith — can transform our whole lives, reorder our priorities, remake our relationships, and fashion us into instruments of His mercy in a troubled world.

Deacon Fran, for one, plans to write a book about his experiences. The book will begin by featuring a boy — himself — raised by an alcoholic mother and workaholic father. The boy would often come home from school to discover his mother passed out from drinking. His father, averse to confrontation, would put most of his energies into civic and social endeavors separate and apart from his family. He was a "Mr. Fix-It" for the community but a no-show at home.

When Fran's childhood friends would ask Fran to do things with them, he'd make up excuses as to why he couldn't. The truth was, the task of caring for his mother and his siblings had fallen to him.

"I would cover up my mother's alcoholism and my dad never being around," he says.

A Catholic psychologist would eventually tell him that he had suffered from "parentification," a role reversal whereby a child is obliged to act as parent to their own parent. He would read up on it — how in extreme cases, the child is used to fill the void of the alienating parent's emotional life.

Meanwhile, the boy in this book will grow up to become a man who would habitually bury hard truths under a lush layer of lies. He would put up a good front that all was well. He would avoid conflict with his wife and children at the expense of solving problems that needed to be solved.

He would cover up financial troubles from his wife. A former employer would borrow a large sum of money from him and never pay him back. His home would eventually have a lien put on it. He would absorb it all, bury it, and not talk about it. Meanwhile, inside, he would be at war with himself.

This will all be in the book.

As for his spiritual life, he went through the routines. Prayer would feel perfunctory. He would fail to experience in the Mass a true and transcendent encounter with God the Father. It was as if his heart — which had yearned for the love of his biological father — was Kevlar-coated to resist being pierced by the radical love of his Heavenly Father. Fran, by the way, was studying for the diaconate, at the urging of two priests he was seeking spiritual guidance who saw something in him that he, himself, was blind to.

Fran's life was falling apart. Then came Memorial Day weekend 2010, when he contemplated purchasing a gun.

"I was a fingernail's length away from going and finding some sort of instrument and taking care of my former employer's life and then my life," he recalls. "That's how close I was."

Instead, he called Janice on the phone and told her everything.

"I'm a habitual liar," he said. "You've got to leave me. You don't want me. I'm no good for you."

She was having none of it. She saw to it he got the help he needed. He spent several days in a psychiatric ward. A doctor eventually sorted things out for him from a psychological perspective. The Divine Mercy revelations of St. Faustina eventually sorted out everything else.

"I remember in 2012, I was looking at an Image of Divine Mercy up at the altar, and I just started crying," Deacon Fran recalls. "I just felt something in my heart melt away, and I knew the Blessed Mother was present. For the first time since the age of 12, I knew I had a mother again."

Two years after that, he was ordained to the diaconate.

As he puts it today, "God won."