The Diary of Saint Maria Faustina Kowalska: Divine Mercy in My Soul is... Read more
$29.95
Buy Now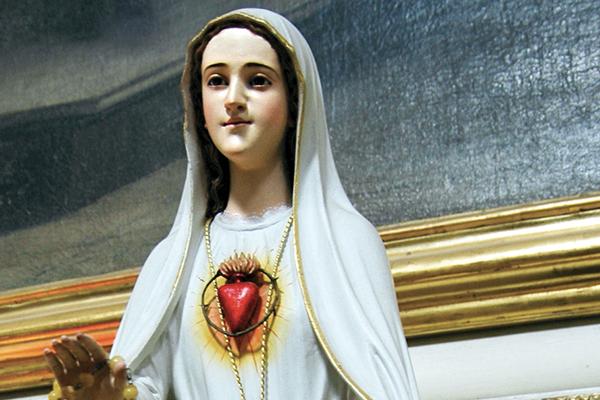 It Rhymes with '-Unk'
By Fr. Dan Cambra, MIC

I recently received a Facebook message that mused how the coronavirus pandemic is changing us all: that we're either becoming "hunks," "chunks," or "drunks."

The "hunks" are those who have spent their pandemic downtime engaged in brisk, at-home exercise regimens. The "chunks" are those who have not only not engaged in such exercise, but who have been overeating. The "drunks" are those who have been tipping back the alcoholic beverages a little too vigorously.

Obsessing with our bodies, or overeating, or drinking too much alcohol may all, in their own way, signal our struggles in dealing with anxiety, right?

But I hereby propose another option. Instead of "hunk," "chunk," or "drunk," you could be a "monk."

I, for one, have embraced the "monk" option. That is to say, early into the coronavirus pandemic, with much of society shutdown, I acquiesced to a more steadfast embrace of contemplative prayer — to the idea that God wants me to pray a lot, to be ever more aligned with the call from Heaven to play my part in appealing for the salvation of souls, both here on earth and in Purgatory.

The monk life beats the hunk, chunk, and drunk life by a heavenly mile.

Even as society begins to open back up, I'm embracing my "monkdom." My intentions each day when I pray the Rosary and the Chaplet of Divine Mercy include specific people alive and deceased whom I suspect need help into Heaven. I visit cemeteries for a healthy walk and a healthy remembrance of the souls in Purgatory. I've greatly reduced my consumption of daily news. In fact, I'll read the headlines, and when I come upon a story that infuriates me, I'll stop right there, put it all down, and pray for all of those associated with it — and that the will of God prevail upon the given situation.

In my "monkdom," the "news" I choose to most closely follow is the "Good News" of Christ. It never gets old. It remains ever startling, ever wondrous, ever challenging, and ever practical.

Our Lady Comes with a Message

With July now upon us, the "news" I'm reminded of today dates back 103 years ago, to July 13, 1917, and concerns another anxious moment in time.

In the third of six apparitions of Our Blessed Mother to the shepherd children of Fatima — Lucia, Francisco, and Jacinta — Our Lady gave a terrifying vision of hell.

Later, in the mid-1930s, upon the request of her bishop, Lucia wrote her memoirs, Lucia's Own Words: Sister Lucia's Memoirs. The book includes details of that vision of hell in a lengthy account that author Dr. Mark Miravalle called "the single most important Marian message of the 20th century."

Lucia wrote:
As Our Lady spoke these last words, she opened her hands once more, as she had done during the two previous months. The rays of light seemed to penetrate the earth, and we saw as it were a sea of fire. Plunged in this fire were demons and souls in human form, like transparent burning embers, all blackened or burnished bronze, floating about in the conflagration, now raised into the air by the flames that issued from within themselves together with great clouds of smoke now falling back on every side like sparks in huge fires, without weight or equilibrium, amid shrieks and groans of pain and despair, which horrified us and made us tremble with fear. (It must have been this sight which caused me to cry out, as people say they heard me.) The demons could be distinguished by their terrifying and repellent likeness to frightful and unknown animals, black and transparent like burning coals. Terrified and as if to plead for succour, we looked up at Our Lady, who said to us, so kindly and so sadly: You have seen hell where the souls of poor sinners go. To save them, God wishes to establish in the world devotion to my Immaculate Heart. If what I say to you is done, many souls will be saved and there will be peace. ...
After the vision, Our Lady gave the children — and us — another essential prayer to help sinners. She said:
When you pray the Rosary, say after each mystery: O my Jesus, forgive us our sins, save us from the fires of hell and lead all souls to heaven, especially those most in need of Thy mercy.
We know that, following this July 13, 1917 vision, the shepherd children fully dedicated themselves to praying the Rosary daily, as Our Lady implored, for the conversion of sinners. Their example can be a lesson for us "monks" — that we, too, are called to lives of Christian virtue and that such lives necessitate action on our part.

That action begins with repenting from sin and turning to Christ with trust in His mercy. As Fr. Robert Fox, a renowned expert on Fatima, explained in a column for the Marian Fathers years ago, "God's mercy is infinite. So is His justice. But for God's mercy through the Precious Blood of Jesus to benefit souls, He requires our faith, repentance, and openness to His merciful love. Otherwise, His justice must prevail."

In this work of salvation, God gives us Mary, the Mother of Mercy, as our spiritual mother and guardian. She came to Fatima with a message geared toward saving her children.

Seeing that star

Along those lines, here's something I've learned in my pandemic downtime. Take a look at the image of Our Lady of Fatima — either in print or statue form — and you'll notice a star toward the bottom of her gown, in the center. The star has been the subject of some speculation since the death on Feb. 13, 2005, of Sr. Lucia.

This isn't something that you necessarily need to care about, but I find it interesting and worth sharing. One common interpretation links the star with Esther, the heroine from the eponymous Old Testament book. How so? Get this: February 13 — the date of Sr. Lucia's death — corresponds in the Hebrew calendar with the day in which Queen Esther protected the Jewish people from extermination in Persia.

Does this particular detail truly have a providential connection? Who knows? In my spiritual life, I prefer to focus on the critical and incontrovertible elements of our faith — those being the Incarnation of our Lord, His ministry, and His Passion, Death, and Resurrection, and the integral role Our Blessed Mother plays in our salvation, as our most powerful intercessor.

Still, the Esther connection may give another glimpse of how God works in the world. Esther (whose Hebrew name, Hadassah, is taken from the name of a certain star-shaped flower, thus the "Star of Esther") was said to have a similar demeanor to that of Our Lady. That is to say, she was calm and quiet, but committed to action when dire conditions demanded it. Both Our Lady and Esther remain hidden until it becomes important for the cause of rescuing God's people.

People of action

In Fatima, Mary came to rescue her people — to turn them from sin and toward God. Her message is as "newsworthy" today as it was in 1917.

We live in a time of pandemic, civil unrest, and political and emotional turmoil. It's enough to make us gasp in horror, as Lucia did during that famous apparition. But let's commit to being people of action. Let's follow the example of the little Fatima shepherd children, two of whom — Francisco and Jacinta — would soon die from the Spanish flu. Prompted by Our Lady of Fatima, they simply wanted to spend as much time as possible praying for the salvation of souls, praying for peace, praying that the Kingdom of God would come upon the world.

The surefire way we as Christians can cope in these anxious times is to trust in Jesus, and that trust grows exponentially through prayer. We're all wondering what's going on in our troubled world. But we know God will bring greater good if we allow Him to.

My advice: Don't get too obsessed about your body image. Eat healthy. If you drink, do so moderately. Importantly: Keep praying. Let your days be guided by the Good News. Otherwise — let's be clear about this — there will be hell to pay.