Journey with St. Therese of Lisieux and discover 33 Days to Merciful... Read more
$14.95
Buy Now
Photo: Marian archives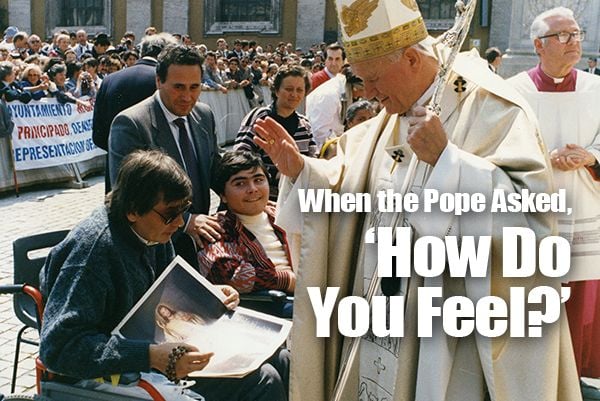 Pope John Paul II blesses Ugo Festa in April 1990 and gives him life-changing advice.
It Took John Paul II to Clinch the Deal
Photo: Ugo, with his friend Fr. Seraphim Michalenko, MIC.
Four months after first meeting Pope John Paul II, Ugo presents himself to the Holy Father to report what transpired since their last meeting.
By Felix Carroll (Jun 25, 2015)
Ten years ago, a 54-year-old Italian man was shot dead whose life — and death — give striking witness to how God works in souls through the Divine Mercy message and devotion.

Here's the story of Ugo Festa. It's a stemwinder.

Ugo was miraculously healed from multiple sclerosis, muscular dystrophy, and epilepsy on Aug. 2, 1990, while praying in front of a Divine Mercy Image.

Ugo, 39 years old at the time of the healing, had for years scoffed at turning to prayer for relief from physical and mental pain and from the medical uncertainty that plagued him since childhood.

"He did not lead a very exemplary life," says Fr. Seraphim Michalenko, MIC, who became close friends with Ugo following the healing. As Fr. Seraphim explains it, Ugo, almost out of spite, visited Lourdes, France, three years prior to his healing. He did so in an effort to prove his mother-in-law wrong about the healing waters in Lourdes and the mercy of God. His plan backfired. Though he wasn't healed at Lourdes, he said he was blessed with the sudden conviction that God exists.

He immediately endeavored to straighten out his life. But it took Pope John Paul II to clinch the deal. Indeed, on April 29, 1990, Ugo was among the tens of thousands of pilgrims in St. Peter's Square for the beatification of Fr. Phillip Rinaldi. In addition to his other ailments, Ugo was suffering from memory loss, incontinence, and deficiency of sight due to nerve damage. In a wheelchair and clearly suffering, Ugo caught the attention of Mother Teresa, who bent down and gave him a hug. Members of Mother Teresa's entourage handed him copies of the Divine Mercy Image and a Divine Mercy medallion. Ugo knew nothing of Divine Mercy and nothing about Sr. Faustina, whose Divine Mercy revelations Pope John Paul II promoted.

After the Mass of Canonization, Ugo was among a group of sick and handicapped people in St. Peter's Square. As Pope John Paul II approached the group, Ugo held out the medallion and the images for the Holy Father to bless. The Pope obliged. He made the Sign of the Cross and then asked Ugo, "How do you feel?" Ugo responded that he felt terrible and was going through a deep moral and spiritual crisis.

The Holy Father asked, "How is it possible that you're in a crisis when you have the Merciful Jesus with you? Go to Trent and entrust yourself to His Merciful Heart and to my Sister Faustina." The Holy Father was referring to the Villa 'O Sanctissima, where the Divine Mercy message and devotion were being propagated.

As Fr. Seraphim explains, Ugo went "out of obedience" to the Pope. "He wasn't expecting anything extraordinary out of it."

Ugo would later tell Fr. Seraphim that he was turned off by the way people prayed there. It was all a bit too much for him, too effusive. Still, for three days he prayed, his head bent down so as to not see what others were doing. Through his prayers, Ugo overcame the cause of his spiritual crisis, which was the bitterness he felt against his mother, who abandoned him at a young age. Extraordinary graces still awaited him. On the fourth day, as he sat in his wheelchair in front of an Image of Divine Mercy, Ugo saw the Lord come out from the image and walk toward him with His hands outstretched. Ugo didn't want to believe it. He turned away, and so Jesus returned to the image.

"This happened five times," Ugo would later tell Fr. Seraphim. "After the fifth time, I expressed what was on my mind: 'If it's really You, lift me up, because I can't move.'" He then heard Jesus say in a clear voice, "Rise up and walk." Ugo felt himself being raised from the wheelchair. His atrophied legs were suddenly of normal size. He began to walk.

"In fact, he ran out of the chapel," Fr. Seraphim says with a laugh. "I don't remember if he was frightened or what."

Ugo settled in a pew in the main chapel. He reports that he had a vision of a nun. She was smiling. He didn't recognize her. When he later saw a picture of Sr. Faustina, he identified her as the nun he saw in his vision.

Doctors declared he was healed and that the healing had no scientific basis. On Aug. 29, 1990, Ugo again found himself before Pope John Paul II in St. Peter's Square. This time Ugo was standing tall. After telling the Holy Father what happened, the Holy Father told him to continue entrusting himself to Jesus and to continue praying to Sr. Faustina.

Ugo dedicated the rest of his life to spreading Divine Mercy, serving the poor and infirm in hospitals and on the streets in Italy and Africa. He would hand out Divine Mercy prayercards and encourage people to pray the Divine Mercy Chaplet and venerate the Divine Mercy Image, as Christ Himself encouraged through St. Faustina in her visions in the 1930s. Christ promises many graces to those who venerate the image (see Diary of Saint Maria Faustina Kowalska, 47, 48).

Ugo would be diagnosed with cancer in 2005. He told his friends he wasn't fearful. He put his trust in Jesus.

Then, on May 22, 2005, in Italy, he was found dead from gunshots to his head. Two individuals were arrested. The motive is not known.

"But he predicted this," Fr. Seraphim says. "He said that his work in the streets was putting his life in danger, but he was willing to die for it."