Photo: Felix Carroll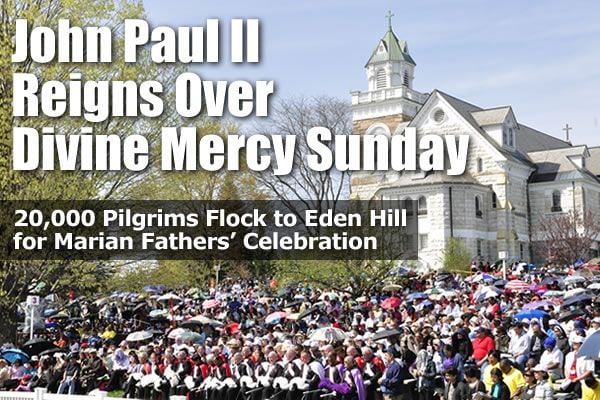 John Paul II Reigns Over Divine Mercy Sunday
By Dan Valenti (May 1, 2011)
The family tableau said much about Divine Mercy Sunday. A husband and wife walked side by side up the steep slope of Pine Street in Stockbridge, which leads to the entrance of Eden Hill, home of the Marian Fathers and The National Shrine of The Divine Mercy.

Walking a couple steps behind, the older couple, bodies moving with decided effort up the challenging grade. Leading her parents and grandparents, a little girl skipped and danced forward.

As this family illustrated in their walk, each of the more than 20,000 pilgrims who visited the National Shrine brought with them their own particular circumstances in life. For some, the pilgrimage was a sacrifice. Others came to explore Divine Mercy further, serious to learn more. There were those, too, who skipped and danced into the celebration of joy.

'God Favored Us Today'
The perfect, 70-degree weather favored pilgrims who, in recent years, have experienced cold, wind, rain, sleet, ice, and snow. As one pilgrim put it, "God favored us today."

Indeed, God did, and no more than through the feast of Divine Mercy Sunday, brought into the calendar of the universal Church by Pope John Paul II, whom the Church honored with beatification on this brilliant day.

On a day of witness and celebration, one theme emerged predominant: a celebration of the gift of God's infinite mercy on humankind. We are sin, but through Jesus, God has conquered sin. That's what pilgrims did today on Eden Hill and the world over. They came to accept The Divine Mercy.

"I wasn't expecting to come here today," said Cecelia Carpio from New York City. "A friend of mine at our parish signed up to make the trip [to Stockbridge today], but she couldn't make it. I took her place. It's my first visit. I'm on my own here, but everyone has been so helpful."

Cecelia said she is learning about The Divine Mercy message and devotion. "To be honest, I'm here to try and figure out how to pray the chaplet and receive the message in a more heartfelt way, so they just aren't words to me. I'm opening up my heart by coming [to Eden Hill]."

Knights on Call for the Day
Some came to Eden Hill on Divine Mercy Sunday to serve. The Knights of Divine Mercy, a Church apostolate based in Madison, Wis., sent 13 of its members to assist the Marian Fathers with a number of tasks, including crowd control, security, and parking. The Knights seek to awaken in Catholic men a quest for holiness and a restoration of the sacred.

"Coming here is an expression of my love for God's people," said Tom Stodola, recently retired comptroller for the University of Wisconsin. "It's also a way to give back to God for all that He does for us." Tom said the Knights arrived Friday and had the chance to spend time on Eden Hill before the weekend crowds arrived. He said the men found the visit spiritually reenergizing. They were taken by the beauty of the Eden Hill grounds and by the National Shrine.

More than 250 busses packed with pilgrims made the journey to the National Shrine to celebrate a holy feast day made more special by Pope Benedict XVI's beatification of his predecessor, Pope John Paul II. Countless more came by car, parking at one of the satellite parking lots in the area and being shuttled to Eden Hill.

'Do You Really Believe?'
"On Mercy Sunday 2000, Pope John Paul II canonized St. Faustina as the first saint of the Third Millennium, and he inaugurated the celebration of the Second Sunday of Easter for the universal Church," said the Very Rev. Dan Cambra, MIC, provincial superior for the Marian Fathers, in his homily. "He said it was for this moment he believed he became Pope. For this MOMENT! Really? What an extraordinary statement from an extraordinary man!"

Later in his homily, Fr. Dan referred to the Gospel reading of the Apostle Thomas, who would not believe in the risen Christ until he could touch Jesus' wounds.

"In today's Gospel, Jesus invited the Apostle Thomas to touch his nail marks and behold the residue of His mercy," Fr. Dan told pilgrims on Eden Hill and watching worldwide on EWTN. "Jesus calls Thomas to place his hand in the wound left by the lance, which cut open the fount of His mercy. Jesus asks Thomas to believe. Do you believe? Do you really believe that Jesus underwent all this suffering to hear you say with ardent faith: 'Jesus, I Trust in You!'"?

Father Dan concluded: "Jesus engages only Thomas because it is only Thomas who has not professed his trust in the risen Savior. And at this Eucharistic celebration, Jesus the Merciful Savior looks to each of us and asks us to respond to Him, 'Jesus, I Trust in You! Jesus, I Trust in You.'

"We read in the Diary of St. Faustina at paragraph 1447 the words of Jesus: 'I love them [each soul] tenderly and sincerely. ... I want to lavish My graces upon them.' Open your heart to Jesus. Tell Him that you do trust Him! When you receive Holy Communion, quietly tell Him that He is the most welcomed guest of your soul. Invite Him to reign in your heart, soul, and mind, that He might govern every action of your life. Give Him your will, your intellect, and your memory. Tell Him that everything you are is His and that all you claim as your own is at His disposal. 'Jesus, I Trust in You!'"

Many Marian Fathers concelebrated with Father Dan, including Shrine Rector Fr. Ken Dos Santos, MIC; Fr. Bob Vennetti, MIC; Fr. Diego Maximino, MIC; Fr. Anthony Gramlich, MIC. Many other Marians — deacons, brothers, and seminarians — assisted as altar servers.

As a final send-off and in what has become tradition on Eden Hill on Divine Mercy Sunday, Fr. Michael Gaitley, MIC, director of the Association of Marian Helpers, blessed the departing busses with holy water and they made their way on the descent. They left the entrance of Eden Hill, rode down Pine Street, and into their holier lives.