"How can you still be Catholic?" Cradle... Read more
$14.95
Buy Now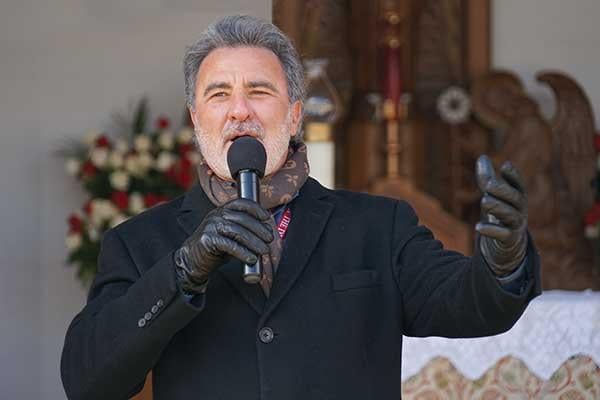 Just an 'Average Joe'
The following first appeared in the Summer issue of Marian Helper magazine. Get a free copy.

He was miraculously healed through the Chaplet of Divine Mercy and has since kept his word to dedicate his life to spreading the news of Christ's promises made to the world through St. Faustina. Meet Joseph Risi, a husband, a father of five, and a real estate developer from Laguna Beach, California, who has helped the Marians build our mission in Rwanda.

OK, Joe, what's your story?
I was raised by a single mother who would always be giving me devotionals. "Say this novena and you'll sell your house or pray the Rosary or wear a scapular," she'd say. In 2000, the year of the canonization of St. Faustina, she gave me a prayercard of the Chaplet of the Divine Mercy and said, "Joey, you've got to say this Chaplet. It's a powerful prayer." I put it on the dashboard of my truck, just one more thing my mom had given to me. It stayed up there probably three months until it blew out the window. I didn't think any more about it. The next year, just after the terrorist attacks of Sept. 11, I was driving home from Phoenix. Along the way, I had to pull over to take a bathroom break. I went behind some bushes, and right there on the ground was a prayercard — the exact iteration of the Chaplet prayercard my mother had given to me, with the image of Jesus, the Divine Mercy, and the promises Jesus makes to those who pray the Chaplet. The hair on the back of my head stood up.

What are the chances?
With God, it's 100 percent. He put it there for me to find.

What was your spiritual life like at the time?
I taught Sunday school. I patted myself on the back for being a good Catholic.

I sense you were about to get spiritually whacked upside the head.
Yes, indeed. A few weeks after finding the prayercard, I was feeling dizzy and wound up going in for blood tests. On Nov. 4, I learned I had hepatitis C. That was before there was any real good treatment for it, and by the time it was diagnosed, the disease had taken hold pretty well. In a month, I lost 25 pounds. I was 46 years old, and I was dying. I fell into a dark depression where you can't think, can't process anything. It was a real pity party. But I prayed the Chaplet, even as I questioned if God was real. I reached out to the Association of Marian Helpers and started ordering the Chaplet prayercard. I sent it everywhere asking for prayers. I sent out more than 100,000 of them, which the Poor Clares helped distribute.

In December, I had missed the daily Mass at my own parish one morning and went to another parish in Santa Barbara. Afterward, I followed the priest back to the sacristy. His name was Fr. Martin Brewer. He was 80 years old at the time. I said, "Father, I'm dying." We talked for awhile, and he gave me the Anointing of the Sick. Afterward, he said, "Joe, I'm a Jesuit. I've been in the Army. I thought I'd experienced everything a priest could see and hear. But something happened to me while I was administering the Sacrament that I've never experienced as a priest." He asked me if I knew what a locution is. I said I did. He said he heard a voice telling him two things regarding me. The first was that I was to spend my life spreading devotion to the Divine Mercy, and the second thing was that I was going to be healed.

And you were.
I was. Five doctors and four blood tests all confirmed my disease. I was preparing to undergo an experimental treatment, but on Jan. 26, I got a call from UCLA Medical Center. They asked me to come back to do yet another blood test because they were confused by what they were seeing. I took another blood test, and the disease was gone. I hadn't had any medical treatment yet. It was just gone, and it's never been back, and doctors cannot explain it.

But you can explain it.
God healed me through the Chaplet.

Why you?
Well, I know it wasn't some sort of honorarium. I didn't "deserve" to be healed. I think He is using me as an example of how His mercy is available to all. I represent your average Joe.

How has it changed you?
Some things haven't changed. I still remain a sinner. But what has happened was, I was the one "leper" out of 10 who was healed, and I continue to talk about it and proclaim it, sometimes to one person, sometimes to crowds of people. He woke up my heart, and so I tell people about Divine Mercy all the time. I would bet that numerous souls' lives have changed as a result of the testimony I've given. But in many ways I'm still the same Joe Risi, maybe a little bit better version.

So what is the most important point you try to get across to people?
Basically, there were times in history when the world had fallen into such disrepair that a devotional had been given to the world to help with its salvation. We're in a time right now where the devil's grasp has gotten stronger, and I see the Divine Mercy message as a last call for acceptance of Christ's mercy. Jesus said to St. Faustina, "Let no soul fear to draw near to Me, even though its sins be as scarlet" (Diary of Saint Maria Faustina Kowalska, 699). He's giving us a choice.