Photo: Mark Fanders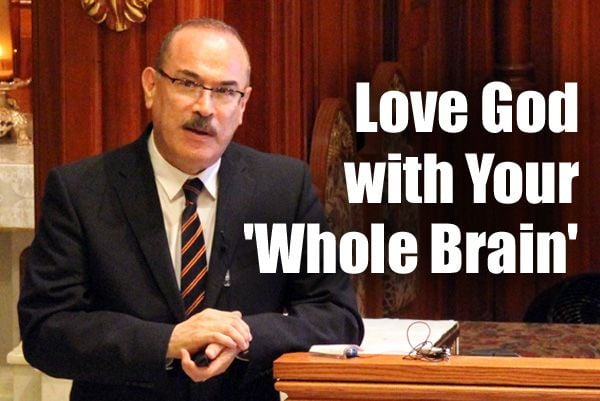 Love God with Your 'Whole Brain'
By Andy Leeco (Jun 10, 2013)
"We must constantly be taking little steps toward God"

"We must love God with our whole brain."

Those were the two key messages famed scientific researcher Ricardo Castañon, Ph.D., gave pilgrims on Friday in his return visit to the National Shrine of The Divine Mercy in Stockbridge, Mass.

"We are still crucifying Jesus," Dr. Castaño said. "The Eucharistic miracles that I have witnessed prove that He is still the living God. He is here for us, but we are not here for Him. Why is He still bleeding from these statues and Hosts? Because He is still wounded. We need to change our lives, we need to live the Word, and we need fight to be holy."

Dr. Castaño is president and researcher of Grupo Internacional para la Paz in Bolivia, a non-profit consisting of self-financed research professionals. His presentation was titled, "Inner Transformation through Human Experience: Why We Are As We Are."

"When I was 44 years old," he said, "I went to examine my first Eucharistic miracle. A statue was bleeding. I went not because of faith but because I was curious. I was an atheist, but as soon as I saw that statue I knew I must change. It was very difficult to change. It has taken me 13 years, but God shows us a way to live better."

Doctor Castañon said those looking to grow closer to God must change their lifestyle. They must ask God for the grace to overcome their weaknesses. He explained that the first change he made was to move out of the place where he was living with a woman without benefit of marriage. He had committed to living a life of chastity. He then told a story about a woman who wanted him to spend the weekend, and the only way he decided he could get away from the temptation was to take the first flight available — to anywhere (which turned out to be Luxembourg).

"Inner transformation is the Holy Spirit calling to you," he said. "We must do something to change our lives. We must commit to growing closer to God. We must have self determination and make real changes. We can't continue to confess the same sins. We have to fight for our sanctity."

Upon the screen was a picture of a long, winding dirt road. Dr. Castañon explained that we needed to keep that image in our mind as the walkway of inner transformation.

"We think we can jump and be closer to God in three jumps, but it takes a lot of little steps," he said. "Jumps don't allow us to change. We have to go little by little."

Dr. Castañon went on to tell another story about a friend of his that ate eight doughnuts for breakfast every morning. He would tell Dr. Castañon that he was trying to change and overcome the sin of gluttony, but he couldn't. Finally one morning, the man called all excited because he had only eaten seven doughnuts that morning.

"People can change," Dr. Castañon said. "We have to have the right intention, remind ourselves to do better, and to stay the course we know is right. But if there is no inner transformation, there is no conversion."

He then told the audience that he had scientific proof that people could change. He showed two models of an alcoholic's brain. One showed a bar chart that was completely red. Doctor Castañon said that the chart showed an alcoholic who was still drinking. The next bar chart had red on the edges but the middle was full of yellow bars. He said this was a chart of a recovering alcoholic. He explained new pathways were being created and that little by little the brain was creating a new model of behavior.

"The aim of life is sanctity," he said. "Do we want to transform ourselves into what God wants us to be? Then we must become aware of everything around us and learn to cope emotionally with all the evil of the world. We must have clean mind, pure thoughts, and the right intention."

Then, Dr. Castañon turned his attentions to the inner workings of the brain. He talked about three main parts of the brain — the neocortex, the limbic system, and the reptilian brain. He said that each section of the brain was key to having a deep love for God.

He then showed two models of the brain side by side. One brain was full of activity and one that only had activity in one part of the brain. He explained that the one full of activity was a person that was completely in love with God. God was their deepest love. He called this a complex brain. The other slide was one of a lukewarm Catholic. He said the individual claimed to love God more than anything, but his brain was not triggering the chemicals that are released when you are in love. He called this a simple brain.

"I can tell when someone has a deep love for God," Dr. Castañon said. "They have an inner peace that shows up in every part of the brain."

First, Dr. Castañon talked about the frontal lobe. It controls the "essence" of our humanity. It controls our emotions and judgments.

"It decides if we take those little steps toward God or not," he said. "If you watch a lot of violence and sex on TV, then your brain gets used to these acts. Your brain is creating paths to carry this information through your brain. You are not easily offended by these things any longer."

But he said we can retrain these paths, just like alcoholics retrain their brain not to drink. We can enrich these pathways, training our brain to go to church and pray for an hour or two; or train our brains to pray the Rosary regularly instead of watching TV. Soon we will want to come to church every day.

Dr. Castañon explained that it's all about self-management. We may act holy when we are in church, but then do we do what we want when we are alone? Do we have the will and discipline to take those little steps toward God? Only if we can train our brain to reject the temptations of this world.

Then he went on to focus on the limbic system. It converts short-term to long-term memory and ties memories together with emotion.

"The more we run to be with God, the more we learn how He is talking to us, the more we show caring and compassion to others, then the more we will enjoy the fruit of the Spirit which is love," he said. "These Eucharistic miracles prove that God is alive. He's working to show us that He is with us."

Finally, he touched on the reptilian brain, which is physical power, motive, drive, and impulse.

"Good motives create good behavior," he said. "We may have an impulse to commit a sin, but if we have trained our frontal lobe, we can overcome the reptilian impulse with self control. We must take the hand of the Holy Spirit. We must have a complex brain. We must have faith, conviction, commitment, conversion, transformation, and prayer."

Dr. Castañon's parting words to the pilgrims were to grow closer to Jesus, to become a friend of God because God talks to His friends. Then, he encouraged everyone to bring others to the Source of the fountain, to bring light to the world, and to continue to take little steps to grow holy.