Divine Mercy Minutes with Jesus is a pocket-sized devotional featuring... Read more
$12.95
Buy Now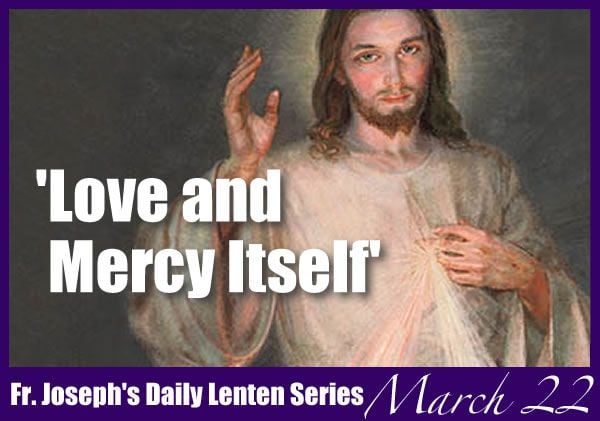 By Fr. Joseph, MIC (Mar 22, 2009)
Readings: 2 Chr 36:14-16, 19-23; Eph 2:4-10; Jn 3:14-21 or 1 Sam 16:1, 6-7, 10-13; Eph 5:8-14; Jn 9:1-41 or 9:1, 6-9, 13-17, 34-38
But God, who is rich in mercy, because of the great love He has for us ... brought us to life with Christ. Eph 2:4-5

The theme in each of the three readings for today is God's mercy toward His people. The first reading tells us of the compassion that God still shows to the Israelites even though they are profaning His Temple. The second reading and the Gospel also speak of the mercy of God in how the Father sent His Son to save us.

In modern times, God's mercy has been highlighted through the Diary of St. Faustina Kowalska, which contains revelations of Divine Mercy given before the outbreak of World War II to a Polish nun, Sr. Faustina. Jesus goes so far as tell her, "I am Love and Mercy itself" (Diary, 1074).

But how do we actually define the word? Mercy refers to one who is moved to come to the aid of another. To come to another's aid, you must have the power or capacity to do so. A homeless man may not have money to buy a meal. So, if you have $10, then you possess the capacity to help him. By offering that money to the homeless man, you are able to fill his lack — filling his empty stomach with nourishing food.

In light of this example, Divine Mercy can be understood as the power of God's love that bends down to aid us in our miseries. Divine Mercy tells us that God's power is ordered to our good. He thus gives of Himself generously, so we may be lifted up. Understanding God in this way can help us respond to Him with trust. Such trust allows God to work to bring about the salvation of our souls. So, open your heart now to Jesus, who is "Love and Mercy itself," and allow Him to lift you up.

Lord Jesus, may I seek to immerse myself in Your fathomless mercy. I want to glorify the greatness of Your mercy now and forever. Amen.