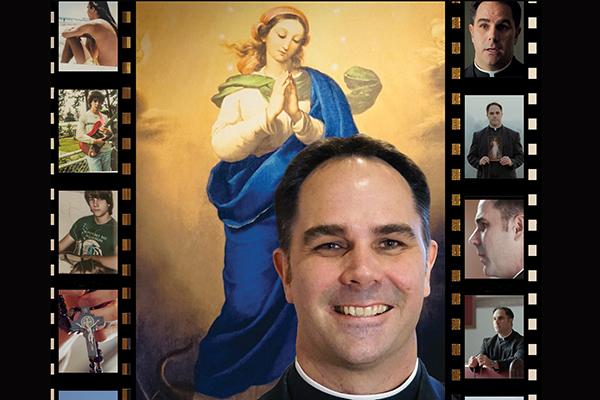 Maybe You've Seen Him on Film?
By Marc Massery (Jun 18, 2018)
The following first appeared in the Summer issue of Marian Helper magazine. Get a free copy.

Two films, one short segment, and an Emmy Award all within the span of two years. The conversion story of Fr. Donald Calloway, MIC, continues to have a powerful impact on the world, reminding us about the Blessed Virgin Mary's knack for bringing people to Christ.

An Emmy on His Mantle
The Emmy for "Outstanding Achievement for Interview/Discussion Programming" at the 2017 Chicago Midwest Emmy Awards (part of the National Academy of Television Arts & Sciences) went to an interview with Fr. Donald called "Poster Child of Divine Mercy: The Testimony of Fr. Donald Calloway." Produced by Spirit Juice Studios, this six-minute interview is part of a larger documentary film narrated by actor Jim Caviezel, called "The Face of Mercy."

In this short, Fr. Donald tells the story of his conversion illustrated by images from his past. In his youth, Donald worked as a drug runner for the Japanese mafia and was wanted by the Japanese and American governments. He lived for pleasure, spending several years of his life "almost perpetually high," according to his interview. At one point, he endured three months in drug rehab, only to relapse the day he got out.

Then, of course, the Blessed Virgin Mary captured his heart. Alone in his parents' house, thinking about taking his own life, he discovered a book on Marian apparitions. It completely turned his life around, eventually leading him to the improbable: ordination as a Catholic priest.

Father Donald's story emerges, of course, in a culture overwhelmed with drug addiction, rampant sexual promiscuity, abortion, euthanasia, and rising suicide rates.

"There are so many people today who are broken and wounded, and they are looking for a way out," he said. "There are many, many parents who are really worried about their children because they are involved in drugs, immorality, and crime. I think my story offers hope."

To the Fundamentals of the Faith
Father Donald's conversion story is also featured in an 80-minute film coming out this year, "Power in My Hands," produced by the Rosary Evangelization Apostolate. This apostolate seeks to "bring the faithful to encounter Jesus Christ through Our Lady and her Rosary," according to Dick Boldon, who founded the apostolate with his wife, Terry.

This film features over a dozen Catholics describing the beauty of the Rosary and its capacity to address the spiritual crisis of our modern world. In addition to Fr. Donald, the film features many other well-known Catholics, including speaker Jeff Cavins and NFL superstar Philip Rivers. Catholic evangelist Deacon Harold Burke-Sivers talks about growing up fatherless, only to meet up with his father late in life and witness his powerful conversion through Our Lady and Divine Mercy.

Also featured is Nancy Salerno, a mother of four who turns to Our Lady for help in caring for one of her children who suffers from a severe disability. Father Donald's conversion story fits nicely into the theme of the film — that Our Lady can take us out of spiritual darkness and lead us to Christ.

"We've kicked God out of everything," said Fr. Donald. "Our schools, the workplace, everybody's got their own agenda and ideology. We're not welcoming of God. We've got so much craziness going on redefining everything, what it means to be a man, what it means to be a woman. Marriage is being redefined. People are just confused, and the world is getting more and more messed up. That's the fruit of not having God in your life — your reality falls apart. That's why we need the Rosary in a big way because it brings back the fundamentals of the faith. It's Christianity 101."

The world premiere of "Power in My Hands" took place in Milwaukee, Wisconsin, on April 12, and the film will be shown selectively across the United States through July. The film will be available on DVD in August.

A Spiritual Sword
Father Donald's remarkable conversion from hedonism to Christ through the Blessed Virgin Mary has created the perfect platform for him to preach about the power of Marian devotion, especially the Rosary. Ever since he wrote his 2016 Marian Press title Champions of the Rosary: The History and Heroes of a Spiritual Weapon, he's traveled the country speaking about this timeless devotion, telling the Catholic world to take up the Rosary as a spiritual sword for the sake of Christ and His Church.

Father Donald said that he sometimes receives two to three invitations every day to give a talk. To meet the demand, he decided to put out a DVD, "The Rosary: Spiritual Sword of Our Lady," produced by the Marian Fathers. In it, he gives a historic overview of the Rosary, explaining its theological significance through the lives of the saints.

"Part of why I did the video is that I can't be everywhere," he said. "This way people can show their prayer groups or their parish. It's the exact same thing: it's just not me live."

This film is based on a talk given by Fr. Donald on Sept. 8, 2017, the birthday of Our Lady, at St. Mary of Pine Bluff in Cross Plains, Wisconsin. "We filmed it in one take, which was a miracle," he said.