Many Catholics may not realize that Divine Mercy, a gift given to us by God... Read more
$49.95
Buy Now
Photo: Fabian Burghardt on Unsplash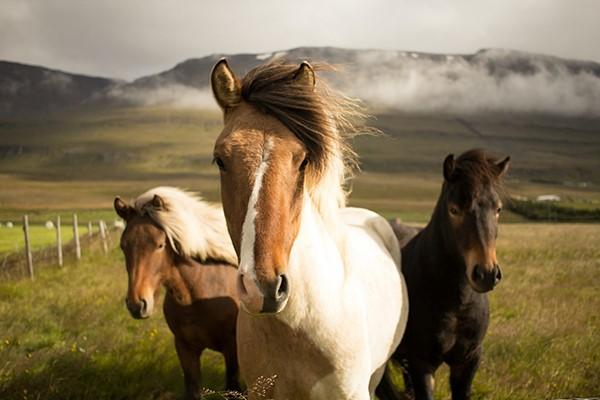 Of Horses and Heaven
By Fr. Andy Davy, MIC (Nov 19, 2021)
Father Andy Davy, MIC, pastor of St. Mary Parish in Plano, Illinois, also writes poetry. Here, we share some of his work and his commentaries on that work in the 11th installment of a weekly series.

The Homecoming: A horse's tale
The Equine Pilgrim soaked in weariness
Walks under the weight of her burden.

Cursed to kill nourishment
From the four-footed gait of her presence,

She sees vanish beneath her
the grass of youth.

Trotting onward,
she trods through
the dung-mixed mud,
Looking for greenery,
Finding none — the result of her own doing.

In barrenness what spurs her on?
A promise ... a simple touch
Upon the shoulder,
The rider—
A burden to be freed of?
And yet, the touch of reassurance

"Almost there ... "
A squeeze upon the mane.

Ascending the hill
Driven on by the promised
Smell of better things
Mud turns to buds,
then to grass.
She sees now the goal of the days work:

Sugar-filled Blades of green brilliance Shooting out from the earth—
Heavenward sunbeams dance across
A hundred acres of that blessed realm.
What eternal feasting she sees and smells!
And yet
Her third sense
Outweighs them all.

Approaching the gate,
Low rumblings from the east are felt.

As if in answer to the entrance of that Equine Traveller,
Ten horses in perfect linear formation
Whizz by her,
Without wind or any other sound to impede their mirth,
A thunderous applause of hoofs
Echoes across the free range.

"Welcome Home!" the Sound cries.
Such Joy!
A glimpse of Heaven's welcome
Now sacramentalized
In the meeting of Equine friends.
The "Welcome Home!"
our loved ones wait to cry to us
One day.

Here is a poem that came from a real life experience of walking with a trusty horse to the pasture to graze. Time stopped when I heard a sound never before graced my ears: A truly thunderous applause of hoofs. This poem is dedicated to all those grieving the loss of loved ones. It is from the perspective of the horse.