Nursing with the Hands of Jesus: A Guide to Nurses for Divine Mercy... Read more
$3.99
Buy Now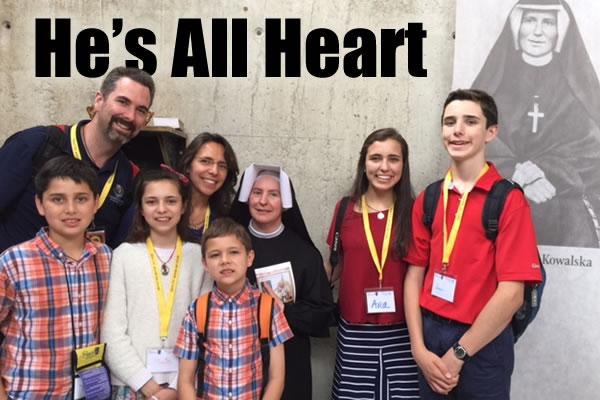 Dr. Sean Tierney and his family recently visited Plock, Poland, where Jesus appeared to St. Faustina. They met members of St. Faustina's congregation, the Sisters of Our Lady of Mercy.
One Doctor's Call to Bring Divine Mercy into Healthcare
By Joan Lamar (Jul 13, 2016)
Dr. Sean Tierney brings his Catholic faith right into the heart of his medical practice by boldly handing out Miraculous Medals to his patients and praying the Divine Mercy Chaplet with them and for them

A cardiologist at Heart Care Centers of Illinois — and among the speakers at the 12th Annual Medicine, Bioethics, and Spirituality Conference last May, sponsored by the Marian Fathers of the Immaculate Conception and Healthcare Professionals for Divine Mercy — Dr. Tierney addresses the urgent cardiac needs of his patients, but that doesn't prevent him from going beyond their heart needs into the realm of their spiritual care. He wants to get to know his patients and understand if there are other things adding to their health problems, so he asks them questions about their lives and about their faith. And he shares his faith.

He makes a habit of saying a prayer before every surgery. And if things are not going well, he says a Memorare during surgery and asks for Our Lady's intercession in that case. In 2008, a priest friend of his, Fr. Jim Kelleher, SOLT, told him, "You have to hand these out." He was referring to Miraculous Medals. Dr. Tierney said, at first, he had to work up the courage to do so, but has since had thousands of Miraculous Medals blessed by popes, and he hands them out to patients, even to those who are not Catholic.

As a cardiologist, he must at times put defibrillators into patients. Sometimes the patient no longer needs the defibrillator because they are dying. In these cases, Dr. Tierney makes a house call to the patient, and he turns off the defibrillator, and then offers to pray the chaplet with them.

"When I can't offer my patients anything more, medically, and they are gearing up for the next life, I can offer them this," he says.

Most of the patients are receptive, he said.

"One of my patients was an evangelical Christian, and I told him Rick Warren prays the Divine Mercy Chaplet. So, I prayed the chaplet with him and 30 evangelical friends of his who were at the house."

Dr. Tierney said he wasn't always faithful though. He was raised a Catholic and was "sacramentilized, but not catechized." Medical training was the most secular thing you can go through, he explained, and the medical school where he trained was a place where abortions were done, and doctors-in-training were so overworked that the humanity of the patients would get lost.

He got married during his third year in medical school to Miriam, another medical student. But their training and eventual practice of medicine kept them both so busy that they were like two ships passing in the night. "Faith," he said, "took a back seat."

But there was a turning point. His wife started listening to Catholic radio and realized her primary job was to get her spouse to Heaven. She started encouraging him to listen to Catholic radio, and she gave him a Matthew Kelley book. "I didn't really know what the book would do for me, but the ideas in the book started to erode all the misconceptions that I had about life. And I began to recognize my humility and went to Confession."

He said, "God just started stepping into our life, a little at a time." The Tierneys began to go to Adoration at a nearby chapel, appropriately named the Adoration Chapel of the Divine Mercy. His wife soon discerned that she wanted to stop practicing medicine so she could homeschool their five children. Dr. Tierney switched from academic medicine to private practice. They started praying the chaplet, and they consecrated themselves to Our Lady.

The Tierney's are "all in" now in terms of their faith journey. But when you say you are "all in," the Lord doesn't stop asking things of you, Dr. Tierney explained. So, they go on medical missions trips with the entire family to Honduras to a house where there are 500 orphans. He and his wife, who is trained in obstetrics and gynecology, assist in the surgery center, and the kids play with the orphans and help with English classes.

"It's great for my children to see children with two shirts to their name, and they're happy," he said.

More recently, in 2015, the Tierneys co-foundeda new Catholic high school in the southwest suburbs of Chicago based on the original Chesterton Academy founded by Dale Alhquist. The school, which started with 30 students but anticipates having 50 students this coming school year, provides an integrated classical curriculum, is faithful to the Magisterium, and begins each school day with Mass. Previously, the Tierneys' oldest daughter went to an all-girls Catholic high school, and "that year we didn't see her. She was so busy," he said.

So they wanted to change that whole approach and make the high school fit more closely to the needs of the family. As they were pulling together the logistics of opening the new school, they were blessed to be able to go to St. John Paul II's canonization. "When Pope Francis said that John Paul II was the pope of the family, we said that's what we need to name this new academy. We are the Chesterton Academy of the Holy Family."

God continues to speak to them — to their hearts — Dr. Tierney said, and they remain on the lookout for the divine.

"God will give you signs," he said. "Sometimes those signs are through other people, like the priest who told me to give out Miraculous Medals. Or sometimes, they are through opportunities. And sometimes it's just spending time in silence or reading the Bible and understanding that it's a living document with the words you need to hear today."