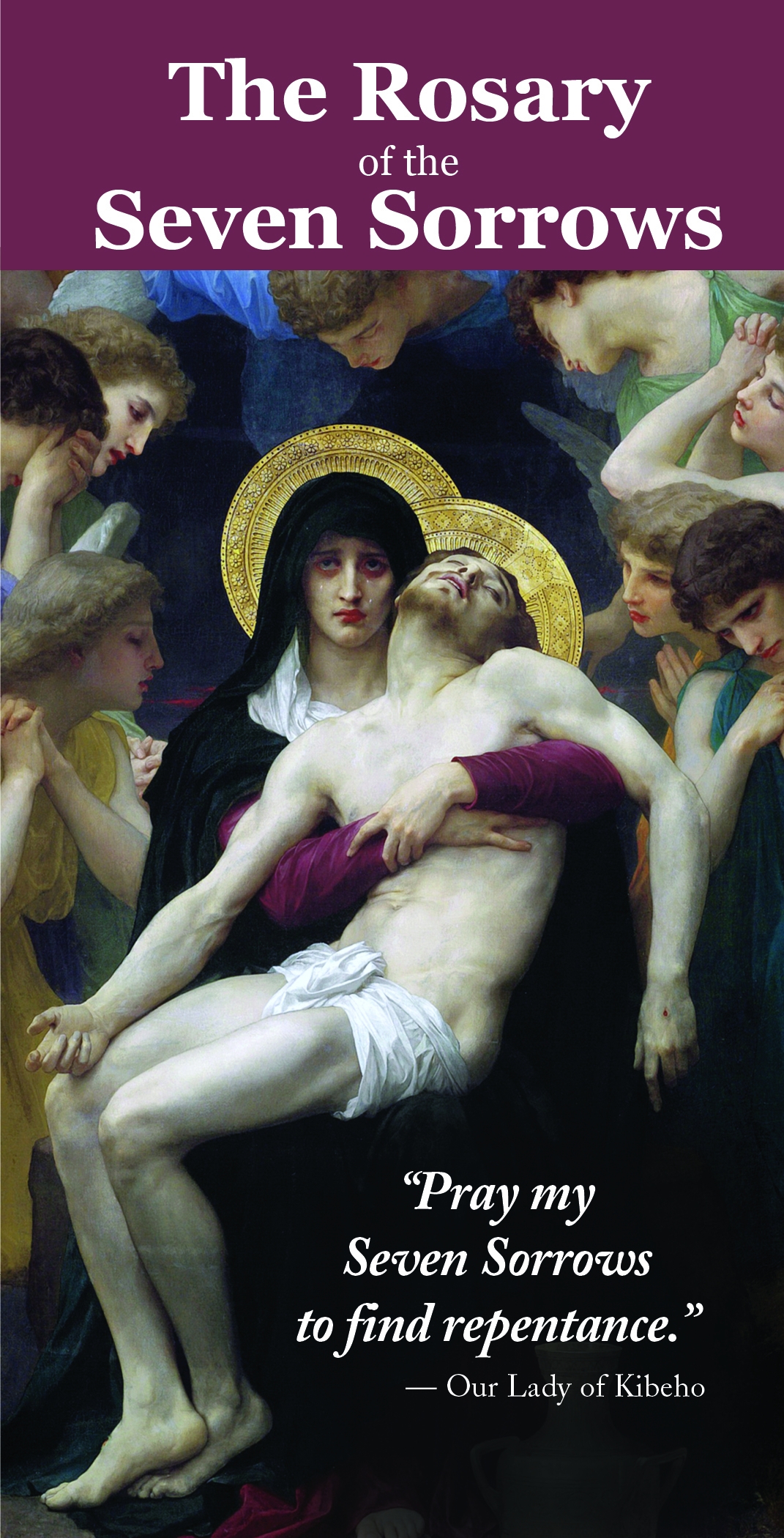 Our Lady asked for us to pray the Seven Sorrows Rosary during her apparitions... Read more
$0.16
Buy Now
Our Lady of Sorrows Shows Us the Way
By Br. Stephen, MIC

It was Friday afternoon, and I was ravenously hungry. With all the appetite of a 12-year-old boy, I opened up the cooler to find ... a few granola bars sitting among the water bottles. Six granola bars for me, my brother, and my mom.

I remembered that this was all that was there. I had packed lunch that morning, mindful of my family's Friday practice of fasting for the end of abortion. (My parents are strongly pro-life, and, although we did little political advocacy, we knew that fasting has great spiritual power.) Now, however, looking into the cooler with a sinking feeling, I wondered how I was going to survive the afternoon.

For half an hour, I struggled with this doubt as we ate our meager lunch and began to set up for our home-school drama club practice. However, when my friends began to arrive, I reached deep into myself and pulled out a little spark of joy. This spark held me up through that difficult afternoon.

I have reflected on this experience many times since then. How, with so little, could I bring out such joy? I gleaned part of the answer in my first year of college, when I read Viktor Frankl's renowned book on psychology, Man's Search for Meaning. Frankl observed, "Between stimulus and response there is a space. In that space is our power to choose our response. In our response lies our growth and our freedom."

In a society obsessed with distractions of pleasure or fear, the ability to make such mental "space" is a rare but powerful secret of growth. Psychological "space," however, is only part of the answer. There was a deeper spiritual reason why I had the power, even at 12, to make sacrifices. Every Friday, Mom took my brothers and me to noon Mass at our parish. Afterward, the pastor, Msgr. Golasinski, would lead the Stations of the Cross, sometimes using those composed by St. Alphonsus Liguori. To this day, I recall the words that conclude each of Liguori's original prayers: "I love You, Jesus, my love, with my whole heart. I repent of ever having offended You. Never permit me to offend You again. Grant that I may love You always, and then do with me what You will." And every station concluded by invoking the Sorrowful Mother with the beautiful chant of the Stabat Mater:
Stabat mater dolorosa
Iuxta crucem lacrymosa
Dum pendebat filius.

At the Cross her Station keeping
Stood the mournful Mother, weeping,
Close to Jesus to the last.
Over the years, these words gradually sank in to my heart, and I perceived (just a little) how Our Lady suffered with her Son. She, the Sorrowful Mother, is a model of compassionate love and suffering for us. And this lesson was reflected by my earthly mother: She fasted with us without complaining, sustained by a little spark within. This spiritual attitude toward suffering stands in vivid contrast to the world. It is a sign of our hope. As St. Paul says, "[W]e rejoice in our sufferings, knowing that suffering produces endurance, and endurance produces character, and character produces hope, and hope does not disappoint" (Rom 5:3-5, NIV). Suffering conforms us to Christ and to His Sorrowful Mother.

Since hearing the prophecy of Simeon that Jesus would be "a sign that will be contradicted," Mary knew that her Child was going to suffer. Indeed, with this knowledge, she prepared Him for His salvific role of suffering. From this, we can surmise that Christian parents have the important duty to teach their children to suffer well, both by word and example. As Mary sorrowed alongside her Son, she can teach us and those in our care not merely how to endure, but even to rejoice when we experience suffering.

As we reflect on our Sorrowful Mother this month, let us ask her to show us the secret of suffering well. As she prepared Jesus for His sorrowful Passion, may she prepare us to accept whatever sacrifices the Lord asks of us. And, as she was "close to Jesus to the last," may she teach us not to flee the sorrows of others, but to remain compassionate with those who suffer.

Most Sorrowful Mother, pray for us!

Brother Stephen, MIC, is serving as the Prayerline Manager at the Marian Helpers Center.