Follow the inspiring stories of a former abortionist, a blind atheist, an... Read more
$14.95
Buy Now
Photo: Mary Kay Volpone
Over-the-Counter Mercy
Now This Is a Family-Friendly Pharmacy!
Photo: Mary Kay Volpone
Carmen and David, behind the counter. "I think that elegance is found in simplicity," says Carmen. "The more spiritual and the simpler you get, the best everyone gets it!"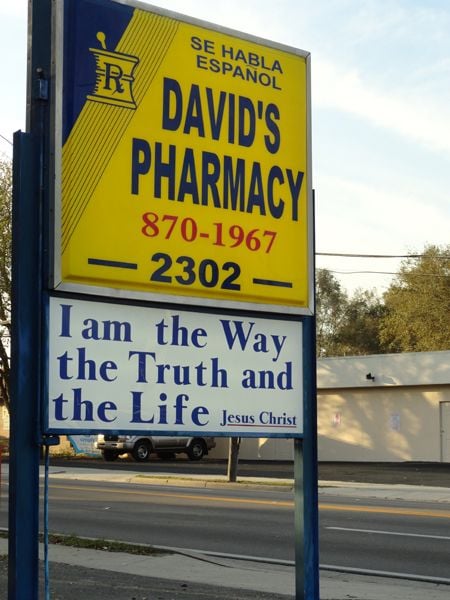 Photo: Mary Kay Volpone
Here's a sign of the Cartaya's faith for sure. The sign was also the focus of some controversy years back. But God sorted things out.
By Felix Carroll (Apr 25, 2013)
You might expect a pharmacy to pitch itself as having the best prices in town, short waiting times, and courteous service. But maybe you wouldn't expect a pharmacy to append to those selling points the motto, "Your Pro-Life Pharmacy."

The owners of David's Pharmacy, in Tampa, Fla., leave no guessing as to their priorities. Step into their business on West Dr. Martin Luther King Blvd., and one of the first things you'll see is a large image of Jesus, the Merciful Savior, and further inside are a large picture of St. Faustina and pro-life posters.

David and his wife, Carmen — married 43 years and members of the Association of Marian Helpers — have been in the pharmacy business since 1975. They serve both rich and poor. They know their customers by name. They know that spiritual health is as essential to people's well-being as physical health.

They acknowledge that through the years, God has provided spiritual essentials for them way beyond the many, many earthly essentials they provide their customers.

"Pharmacies around us have come and gone," says Carmen," but you come to David's Pharmacy, and there we stand: a witness to Christ and His mercy!"

Recently, Carmen shared with us her and her husband's business model and how they came to embrace adherence to the teachings of the Church.

So each morning, when you open the doors to your pharmacy, what motivates you foremost?

Serving God through serving His people. We believe in the sanctity of all human life, from the moment of conception to natural death, and that's how we run our business.

You had been in business for awhile until you grew closer to your faith, evidenced by your decision to no longer sell contraceptives. How did that decision come about?

First, we see our pharmacy as a lighthouse in the darkness because we do not sell birth control of any sort. According to the teachings of our Holy Catholic Church, all forms of contraceptives are against the dignity of marriage. If asked, we are willing to explain natural family planning. When we opened the pharmacy, we sold birth control pills, supposedly for "therapeutic purposes." Then, God sent a lady who told us: "Do you know that birth control pills are abortifacients?" [Abortifacients are substances that induce abortion.] This was in the early 1980s. ... We had to make a decision. What do we do now? We had multiple financial responsibilities, including caring for three young sons in Catholic schools. Christ is Mercy. He gives the grace. We pulled all the birth control pills off the shelves — for good. We became 100 percent pro-life, from the Alpha to the Omega. The results: No one beats God in generosity. God and Our Blessed Mother Mary made our three sons pro-life Roman Catholic physicians!

Did you encounter any opposition when you stopped selling birth control?

Yes, sir. We encountered opposition in the weirdest ways. A salesman from a wholesaler told me to my face, "Not only are you going to lose those customers, you will lose their families, as well!" I responded, "I rather lose everything and not lose my soul." Later, someone placed a complaint that our sign, which preaches religion and says, "Pray to end abortion," was too close to the street. I had to go with a lawyer to the Tampa City Council. The council voted in our favor allowing us to leave the outside sign where it is. The lawyer who helped us did not charge me anything. The whole case was dismissed. But that wasn't the last of the opposition. Pro-abortion women came in the drugstore and threw our literature all over one aisle. I don't want to even recall this. In addition, when David and a very pro-life priest began a pro-life prayer group, each day when they were scheduled to meet, our computer would "freeze" for no reason at all. Yes, there were attacks. But you know, God won every single battle for us. In fact, He has won the war.

Can you give us an example of how God assures you that you are doing the right thing?

Years after we stopped providing contraceptives, a very well dressed and very educated young woman wanted to see the owner of the drugstore. I happened to be there, and I stepped out of my office. The young woman had a basket, a child-carrying seat, and inside it was a baby boy. She said to me: "Months ago, I found myself pregnant. I felt that I had life inside of me, but my friends kept telling me, 'You are crazy.'" They were encouraging her to have an abortion. The woman told me, "Then, all of the sudden, I found myself on this street in front of your sign. I thought, 'There is someone else who does not think I am crazy.' I came to show you the baby!" See, it is God and His Blessed Mother doing all the work. We give the little we have; they supply the rest.

How did you come to embrace the message of Divine Mercy?

Devotion to the Divine Mercy has been the one devotion that has brought us hope — so very necessary in everyone's life. Many, many years ago, a small group gathered at St. Lawrence Catholic Church here in Tampa and celebrated Divine Mercy Sunday. Of course, we promoted the novena before the great feast day. We had everything: confession, the Rosary, Mass, the Chaplet of Divine Mercy, and Stations of the Cross. The devotion spread like wildfire. ... Now, many parishes in Tampa celebrate Divine Mercy Sunday. God chose to send us many graces during these years. Divine Mercy gives us the spiritual strength to face whatever comes our way. We know that those rays of blood and water in the Image of Divine Mercy are covering us every step of the way!

If you had a megaphone and could tell the world something about God's mercy for sinners, what would it be?

The mercy of God is unfathomable. Our human minds cannot even come close to imagining its depth. However, the mercy of Christ cannot be taken for granted. It is wonderful that we may go to confession, behind a screen, confess anything and everything in any Catholic Church and be absolved. However, our Lord Jesus Christ says, "Sin no more." We must have the intention of not sinning. We must also have the humility to get up and return to confession if we fall. We must never give up!