Follow the inspiring stories of a former abortionist, a blind atheist, an... Read more
$14.95
Buy Now
Painting, By the Numbers (2,484, to Be Exact)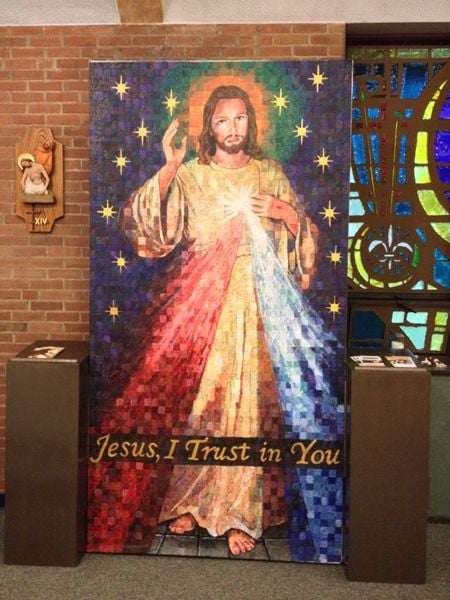 Here's a look at the full image.
By Chris Sparks (Sep 13, 2013)
A Marian Helper sent us a copy of the Pittsburgh Catholic's Aug. 9 story on Nikki Bruni's conversion, pro-life work, and her traveling pro-life art display called "Memorial of Mercy." We contacted Nikki and asked her some questions. The interview follows:

Why did you decide to create a replica of the Divine Mercy image?

I wasn't intending to paint a rendition of the Divine Mercy. I knew I wanted to do a painting to memorialize all the babies who died from abortion at our local Planned Parenthood abortion clinic where we hold our local 40 Days for Life campaigns, which I lead here in Pittsburgh [Pa.]. I had received the abortion numbers for 2012 from Harrisburg [the state capital]: 2,470 abortions. I had planned to paint an image of Jesus' Passion on the cross made up of 2,470 smaller squares, each one representing one baby. I already had the image of Jesus on the cross printed and ready to go.

However, while I was still in RCIA, I had begun to read a book called The 'One Thing' is Three, by Fr. Michael Gaitley, MIC. In that book, he mentioned the Divine Mercy novena, [which is] to be prayed for nine days ending on [the Saturday before] Divine Mercy Sunday. I didn't even know what Divine Mercy Sunday was until I read his book. Father Michael said his father had been converted on Divine Mercy Sunday after he had prayed and done the other requirements (went to confession and received communion.) Well, I have grown children who are far away from God, so I decided that I would pray the novena for my sons' conversion, even though I wasn't even sure what a novena prayer was at that time. I got out my calendar, counted back nine days from Divine Mercy Sunday, and wrote on March 29, 2013, "Begin Divine Mercy Novena."

At that time I was near the end of our Lenten 40 Days for Life, and I was nearing the time of my confirmation into the Catholic Church. It was a busy and exciting time, so I sort of forgot about the novena and the Divine Mercy. But Fr. Gaitley had also mentioned St. Faustina and a little bit of her story in his book, enough that I was intrigued and decided I would like to read her Diary. So, at one of our 40 Days for Life team meetings, I mentioned the Diary and said I was planning to buy it. One of my fellow team members asked if she could buy it for me as a gift for my entrance into the Church. Sure enough, at the next meeting, she gave me the book. I began reading it immediately and could hardly put it down.

While reading the Diary of St. Faustina, I began the novena and was received into the Church on the Easter Vigil — my wedding night with Jesus. My life changed so amazingly on that night. I kept reading the Diary until I was finished. When I had finished, it was spring. The 40 days were over, and I was floating on a cloud, receiving Jesus every day. I was ready to begin the painting of Jesus on the cross, to memorialize the babies that died in 2012 at our Planned Parenthood.

But I had started praying the Divine Mercy Chaplet every day and would look at the framed image of the Divine Mercy Jesus (another "coming home" gift from a friend.) I am not sure how it happened, but at some point I knew that THAT was the image I was supposed to paint, NOT Jesus on the cross! At first I wasn't sure if it was a good idea, because I intended for the painting to travel among the churches here in Pittsburgh (we reach out to all denominations for the 40 Days for Life), and I wasn't sure if the non-Catholic churches would be willing to show a "Catholic" image. But I asked Jesus to give me confirmation if I was to use this image.

So the first thing I did was to call the National Shrine of The Divine Mercy to ask if I was permitted to make a replica of the image. I didn't know if there were copyright laws. I Googled the National Shrine, the number came up, I clicked on it, a real person answered and connected me to a priest who answered, and told me that of course I could make a replica of the image! The whole process took about one minute. That was easy! My first confirmation. But I still wasn't sure if God was leading me to make this painting, or if it was just my own idea. So I asked for further confirmation. He gave it.

I had just begun to figure out how large the canvas would need to be in case I decided to do it. I knew I needed to have 2,470 squares, each one containing a small image of a baby, which would make up the larger image of Jesus. I was just doing the math, figuring each square needed to be about one-and-a-half inches to see what size the painting would need to be. It turned out that there was no way to come up with exactly the number of squares that I needed. The math just didn't work out. If the horizontal rows were 36 squares and the vertical rows were 69, I would end up with 2,484 squares (14 too many). If I took a row off, I didn't have enough squares. I was stumped as to what to do. Having 14 empty squares at the bottom of the painting wouldn't make sense.

Then a thought went through my head. It would work out perfectly if we happened to have 14 babies saved from abortion at our Planned Parenthood in 2012. They could then be part of the image and be represented as stars around Jesus' head. But I knew that we didn't have that many babies saved. We had five saved during the spring 2012 40 Days campaign, and three in the fall, and maybe a couple in between campaigns from our regular sidewalk witnessing, but I knew it couldn't have been that many. Still, I thought I might as well check the log that I keep on my computer. I thought that if it was at least close to 14, I could figure something out.

So I opened up the log on my computer. My log is simply a Word document in which I copy and paste stories that people email to me (usually during our campaigns) when a woman tells them that she has changed her mind. I am usually in a hurry when I do it, and I never think to go back and count. Well, I counted the stories from 2012. Yep, there were exactly 14!

That was the confirmation that I needed. I got to work right away on the painting. It is now completed and traveling from church to church. I deliver it mid-week, and it stays at each church until the middle of the following week. It began traveling in June and is booked every week from now until May. I will keep moving it as long as there are churches that will show it. I don't accept any money from any of the churches.

Tell me about your personal devotion to the Divine Mercy. Do you pray the chaplet, the novena, or some other prayer at 3 o'clock?

I pray the chaplet most days, but not usually at 3. I try to pray it at 3 if I remember and if I can, but I have the app on my phone and pray while driving and listening to it on my phone. I do make sure to pray the Rosary every day.

Has St. Faustina's Diary played a role in your walk with the Lord?

Yes, just as I was getting ready to receive Him for the first time, it helped me to realize that He is really present in the Eucharist. I don't think I really believed this until I read her Diary. As I received Him on the Easter vigil, her words were very much in my head and heart, and I felt a deep connection to her.

How do you see devotion to the Divine Mercy and pro-life ministry affecting each other?

I think Divine Mercy may be the answer to ending abortion. The theme for our upcoming fall 40 Days for Life campaign is "Mercy" and reaching out to post-abortive parents. There are 50 million men and 50 million women who have lost children to abortion in our nation. Can you imagine what it would be like if they were all open to God's mercy and were set free from the bondage of guilt and shame that keeps them silent? What if they all started speaking out about how abortion has devastated them? Young women would be warned about the consequences and would choose life! Abortion would end.

As you take the image around to the churches, what's the response been?

This past weekend I had the privilege of witnessing people's reactions for the first time. The painting was at St. Irenaeus Parish in Oakmont, Pa., my own parish, so I was there to see how people responded. I was very moved to see the effect it seemed to have on people. Many, many people went over to view it. I watched as they looked at it with amazement as they moved closer to it. I saw the expressions on their faces as they noticed the tiny faces inside the squares. Then I saw them look at the literature that explained what the painting represented. Their expressions changed again. The atmosphere seemed reverent, hushed ... sacred. It was so cool. I felt very privileged to be there to see that.

Has the image been blessed?
My pastor has blessed it.

Do you explain the Divine Mercy message and devotion at the different parishes to which you bring the image?

No, I am not there to speak about the artwork. I leave flyers that explain the meaning of the painting, which briefly explains the Divine Mercy message.

Have you seen any miracles of Divine Mercy in your own life and ministry?

Well, on Divine Mercy Sunday, I was absolutely shocked that my two sons, who are about as far away from God as you could imagine, actually went to Mass with me. It just sort of happened, last minute. That Sunday morning, they said they would go. They never have been back since, and I haven't seen any reason to believe that they were affected in any way by attending Mass, but just the fact that they went of their own accord on Divine Mercy Sunday was amazing and I think a miracle.

As for miracles in the pro-life ministry and the parishes that are showing the artwork, I don't know of any yet, but I am sure that God will use it to heal hearts, set captives free, save lives from abortion and change hearts — and, hopefully, will inspire others to begin a devotion as well!

If you would like to schedule a showing of the "Memorial of Mercy" or have questions or comments, contact Nikki Bruni at 412-926-9413 or nbruni@40daysforlifepgh.com.