Who is Mary and why does she matter? Theologian and author Dr. Robert... Read more
$14.95
Buy Now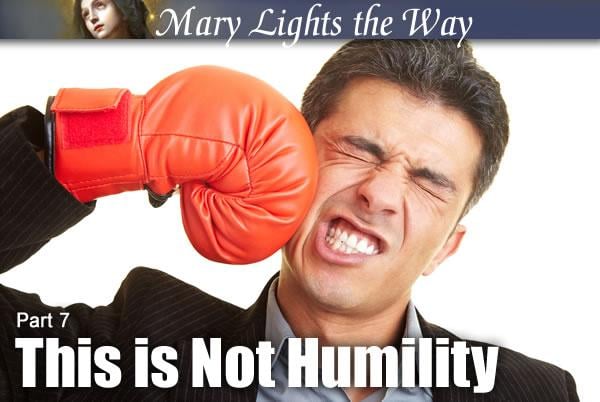 Part 7: Mary, Most Humble
By Dr. Robert Stackpole, STD (Dec 28, 2016)
The following is part 7 of a special series on the role Mary plays in the life of the Church:

Many people have a mistaken idea about Christian "humility." They think it means simply to "beat yourself up all the time": to think badly of yourself, to see yourself only as a wretched sinner. Sometimes the saints seem to confirm this mistaken notion. Saint Bernard of Clairvaux, for example, once wrote: "Humility is a virtue by which man, knowing himself to be exactly as he is, is vile in his own eyes." Some of the saints, such as St. John of the Cross and St. Maria Faustina Kowalska, often referred to themselves as mere "nothingness."

However, we need to bear in mind that when the saints describe themselves as "vile" and mere "nothingness," they are usually speaking of what human beings are apart from God. In other words, on our own, apart from God our Creator, we would certainly be "nothingness," for we would not even exist!

Moreover, apart from the help of his grace, we would be "vile" indeed: completely driven by disordered passions and lusts, our lives full of little more than vanity and empty pleasures. In addition, we have to remember that the saints are passionate lovers of God, and they often use hyperbole to drive home a point (just as Jesus Himself sometimes did, for example: "If your right eye causes you to sin, pluck it out and throw it away," Mt 5:29). After all, even fallen man, apart from God's grace, is still a creature He made in His own "image" (Gen 1:26-27), and that "image" — in other words, that created potential in each of one of us for growth in the divine likeness in ever greater wisdom and love — although wounded by the Fall, was not entirely lost. In other words, even in the worst sinners there is still some "spark" left, some small capacity left for repentance and rescue by the Holy Spirit, as long as this earthly life lasts, if only they will let the Spirit kindle it into flame.

According to St. Francis De Sales, humility does not preclude a thankful awareness of the virtues that God's grace may be fashioning in one's soul. The Blessed Virgin is a prime example for us in this regard:

There is no need to fear that knowledge of His gifts will make us proud if only we remember this truth, that none of the good in us comes from ourselves. ... Thus, the Blessed Virgin proclaims that God has done great things for her (Lk 1:49), but she does so only to humble herself and glorify God.

Of course, whenever we commit sins, authentic humility requires us to acknowledge our faults and accept our need for God's forgiveness and grace. It is the only way we can be restored to the path of salvation. That is why St. John tells us in his first epistle: "If we say we have no sin, we deceive ourselves, and the truth is not in us. If we confess our sins, he is faithful and just to forgive us our sins and cleanse us from all unrighteousness" (I Jn 1:8-9).

If humility means primarily "acknowledging one's own sinfulness," however, then Mary Immaculate could not have attained the virtue of humility, since she was without sin! But the essence of authentic humility is something very different. As the saying goes, it is not so much to think less of yourself, but to think of yourself less. In other words, it is the knowledge and acceptance of one's dependence upon God for everything good, from the gift of life itself, to every natural and supernatural blessing.

Again, Mary is the shining example of gospel humility, for even when she was told by an angel that she had been chosen to be the Mother of the Messiah, the Son of God, she referred to herself as the mere "handmaid of the Lord" (Lk 1:38), and she gave all the praise to God for the privileges she had received, in the words of her Magnificat (Lk 1:46-49):

My soul magnifies the Lord,
And my spirit rejoices in God my Savior,
For he has regarded the low estate of his handmaiden ...
For he that is mighty has done great things for me,
And Holy is his name.

In his book The Glories of Mary, St. Alphonsus Liguori (1696-1787) showed that humility was a virtue that lay at the foundation of Mary's whole life.

First, St. Alphonsus echoes the point made by St. Francis De Sales that the Blessed Virgin's Magnificat clearly manifests her humility of heart:

As a beggar, when clothed with a rich garment which has been bestowed upon her does not pride herself on it in the presence of the giver, but is rather humbled, being reminded thereby of her own poverty, so also the more Mary saw herself enriched, the more did she humble herself, remembering that all was God's gift.

In short, St. Alphonsus states that Mary was truly humble because she gave all the glory to God for everything good in her life: "A soul that is truly humble refuses her own praise, and should praises be bestowed upon her, she refers them all to God."

This is precisely what Mary did when she went to meet her cousin Elizabeth in the Visitation (Lk 1:39-45):

Behold, Mary is disturbed at hearing herself praised by St. Gabriel; and when St. Elizabeth said "Blessed art thou among women ... and whence is this to me, that the Mother of my Lord should come to me? ... Blessed art thou that hast believed," Mary referred all to God and answered in that humble Canticle, "My soul doth magnify the Lord."


Second, St. Alphonsus says, "it is also part of humility to serve others." No sooner had the angel Gabriel declared that Mary was "full of grace" and chosen to be the Mother of the Messiah than Mary "went with haste" to the hill country of Judea to help her elderly cousin Elizabeth (Lk 1:39):

Mary did not refuse to go and serve Elizabeth for three months. Hence, St. Bernard says, "Elizabeth wondered that Mary should come to visit her, but that which is more admirable is that she came not to be ministered to, but to minister."

In this way, too, our Lady is an example for all of us. Humility means always being more eager to serve than be served.

Third, St. Alphonsus points out that Mary did not push herself "into the limelight" during her Son's public ministry, but chose to remain mostly in the background. On one occasion she asked to see Him, but she would not claim her maternal rights and demand to see Him; she would not even go into the house where He was preaching and teaching, lest she disturb Him. Instead she waited outside (Mt 12:46). Here is another sign of humility: Mary was satisfied to pray and serve without public notice, so long as it was in accord with God's will. In The Imitation of Mary, Alexander De Rouville puts these words of counsel on humility into the mouth of the Blessed Virgin:

My child, love to be hidden, ignored, forgotten. As long as you have God's approval, what does the world's approval matter? The world passes away, and with it all the things of the world.

At Nazareth, I had Jesus, I had His love, and He had mine. What more did we need to be happy?

Pope St. John Paul II taught that in the world today, devout and loving mothers almost always care for their families without seeking recognition or acclaim, and they thereby manifest the virtue of humility in a special way:

Mary's awareness that she was carrying out a task entrusted to her gave a higher meaning to her daily life. The simple, humble chores of everyday life took on special value in her eyes, since she performed them as a service to Christ's mission.

Mary's example enlightens and encourages the experience of so many women who carry out their daily tasks exclusively in the home. It is a question of humble, hidden, repetitive effort, and is often not sufficiently appreciated. Nonetheless, the long years Mary spent in the house of Nazareth reveal the enormous potential of genuine love, and thus of salvation. The simplicity of the lives of so many housewives, seen as a mission of service and love, is of extraordinary value in the Lord's eyes. (General Audience, January 27, 1997)

Finally, The Imitation of Mary gives us a dialogue between Mary and a believer that sums up for us her beautiful virtue of humility, and shows us how all of us can deepen our own humility, with the help of divine grace:

Mary
My child, here is a secret way of obtaining great favors from God: regard yourself as unworthy of His grace. "God gives His grace to the humble" (1 Pet 5:5). God finds no room for His favors in a heart that is full of itself ...

Attribute nothing to your own resources: neither the goods you possess nor anything you do. Even when you correspond very faithfully to graces received, remember that it is only grace itself which enables you to be faithful, and that in rewarding your fidelity God is but crowning His own gifts ...
Prayer [the Believer]
Queen of Heaven ... Win for me a heartfelt humility that will keep me convinced of my own weakness; a humility that will make me, like you, refer everything to God, expect all from Him, and depend on Him in everything; a humility that will win me the esteem of God himself who is the only source of greatness and honor.


Prayer
Recite the Chaplet of the 10 Evangelical Virtues of the Blessed Virgin Mary and prayerfully reflect on Mary's virtue of humility.

Questions for Discussion for Part Seven
1. What is the essence of Christian humility?

2. How did the Blessed Virgin Mary manifest the virtue of humility in her life?

3. Tell about times in your life when you have been tempted to forget about the need for humility. When was it hardest for you to be humble? When is it easy for you to be humble?

Suggestions for Further Reading
Edward Sri's Walking with Mary, pp. 67-80, the chapter entitled "Magnify the Lord."

Access the series to date.

Robert Stackpole, STD, is director of the John Paul II Institute of Divine Mercy. His latest book is Mary - Who She Is and Why She Matters (Marian Press).