Who is Mary and why does she matter? Theologian and author Dr. Robert... Read more
$14.95
Buy Now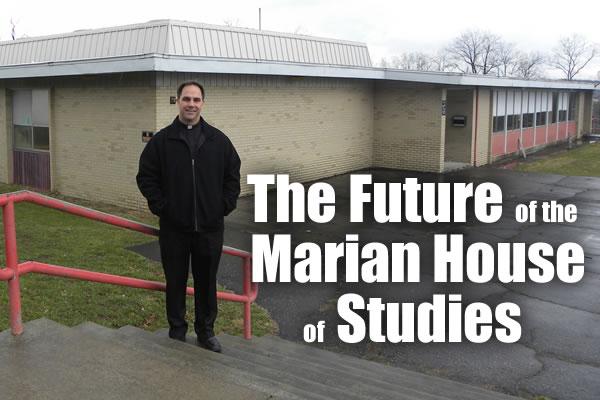 Plans Underway for a New Marian House of Studies
We have excellent news. Because of the generous response of Marian Helpers to our Urgent Appeal last spring, we've been able to purchase a building in Steubenville, Ohio, to meet the needs of our growing seminarian population.

We've raised about $1.6 million to date, which has allowed us to purchase a former public school and begin extensive renovations to transform it into a new Marian House of Studies.

"We're very thankful for all those who have answered our requests for prayers and for financial assistance," said the Very Rev. Fr. Kaz Chwalek, MIC, the Marians' provincial superior. "God has been blessing us with an unprecedented number of vocations, and with the success of the Urgent Appeal, we will be able to make major headway in meeting our growing needs."

In all, more than 30 men are in various stages of formation with the Marians in the United States. Given that the number of priests and perpetually professed brothers
in the U.S. is about 50, that's an astonishing number.

Currently, the Marian House of Studies — where the Marians' yearlong postulancy program takes place — is, in fact, two houses next door to one another in a residential neighborhood near the campus of Franciscan University of Steubenville. Both houses are full.

This isn't merely a quality-of-life issue; it's a quality-of-vocations issue. The Marians' Vocations Director Fr. Donald Calloway, MIC, said that when the Marians in Steubenville host their "come-and-see" vocations retreat weekends, the retreatants have to sleep on couches or air mattresses.

Father Donald says the housing limitations have forced him to turn guys away who seek to attend the retreat weekends. That's no small matter. These retreats, he says, have proven extraordinarily fruitful in attracting what he calls "the Battle Breed" — zealous men wishing to give their lives to God.

Meanwhile, he said, nine additional men have already applied to enter the community beginning in the fall. It's unclear if the renovation work will be completed by then.

The newly purchased building, the former Roosevelt Elementary School on 8.25 acres, is located a mere couple hundred yards from the Marians' current two houses. The purchase price, including groundskeeping equipment, was $115,000. Father Kaz says the remaining money raised through the Urgent Appeal — plus all funds raised through the eventual sale of the two houses — should cover most of the renovation costs, though probably not all the costs for necessary furnishings.

Plans for the 48-year-old building include creating 40 bedrooms, three offices, a library, dining area, recreation room, exercise room, chapel, and classroom space. A gymnasium, which has incurred significant water damage over the years, will be demolished.

"We anticipate this building being used also for retreats, conferences, and other gatherings," says Fr. Kaz, adding, "There's a lot of work ahead, but we're very pleased with how things are shaping up. We ask our Marian Helpers for their continued prayers for the completion of this project and prayers for all the men who are seeking to serve the Lord through a vocation with the Marian Fathers."