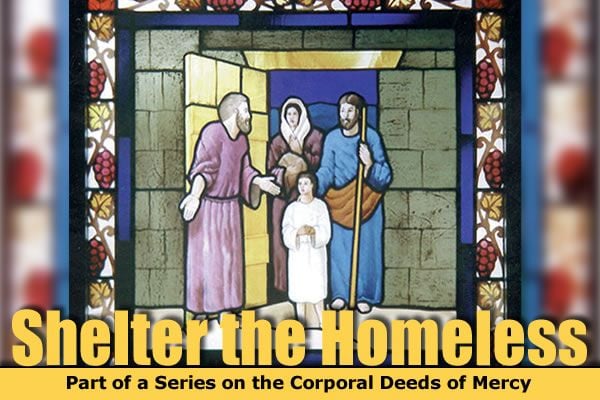 Shelter the Homeless
Photo: Felix Carroll
Jim White, chief operating officer for Covenant House International.
Jesus said to St. Faustina: "... I demand from you deeds of mercy, which are to arise out of love for Me. You are to show mercy to your neighbors always and everywhere. You must not shrink from this or try to excuse or absolve yourself from it" (Diary of St. Faustina, 742). The following is the fourth part of our seven-part series on the corporal deeds of mercy and how we can — and should — incorporate them into our lives.

I was ... a stranger and you welcomed Me.
— Matthew 25:35

What can we do to provide shelter to the homeless?

• We can start with family members. If you have an aging or ill family member, welcome them into your home.
• Come to the aid of families driven from their homes due to fire or eviction.
• Look into helping Habitat for Humanity, which enables volunteers to lend a hand in building homes for the poor and underprivileged.
• Donate time or money to Covenant House, which provides food and shelter to troubled young people in 22 cities throughout the United States, Canada, and Latin America.

Let's meet one such person who devotes his life to homeless youngsters. Jim White is chief operating officer for Covenant House International. Our correspondent Marian Tascio sends us the following report:

The quiet-looking building on West 52nd Street in Manhattan doesn't stand out from the rest of the block. Not even its street number, 427, is prominently displayed. A sheet of yellow printer paper taped to the door displays the address.

I press the buzzer and am invited inside. Beside the reception desk where I let a staff member know who I am and why I've come, a sign above the mouth of a short corridor reads, "Keturah W. Wood Mother and Child Crisis Center."

This center is one of several New York City locations for Covenant House, an international not-for-profit organization that ministers to homeless and runaway youth. The building on 52nd Street primarily serves mothers and pregnant women in crisis, ages 18-21. The homeless moms usually stay here for about 30 days before they move on to transitional living, where they prepare to live independently and care for their children.

I'm greeted by Jim White, chief operating officer for Covenant House International. Jim came to Covenant House in the 1980s as a member of the Faith Community, a program for volunteers who make a commitment for three, six, or 12 months to work with the youth and to "live together and pray together in Christian community."

Jim tells me, "One of the great things about working at Covenant House is meeting extraordinary people." These people come to Covenant House because they "want to change the world," but, Jim stresses, "along with that passion you have to get humility."

Humility, he explains, means Covenant House workers understand that, while they may be able to help many suffering young people improve their lives, sometimes they must simply "stand at the Sixth Station" with the kids, comforting them — as Veronica comforted Jesus with her veil — while they walk their own Calvaries. Other kids may not be ready to accept any of the love and support that Covenant House offers them. It can be hard for a volunteer or staff member to accept this, Jim acknowledges, but mature workers learn that "all we can do is set the table; we can't make them eat. We just make it as attractive, respectful, and loving a table as we can."

Jim introduces me to one such seasoned staff member, Tod Monaghan, who gives me a tour of the center. Tod explains that mothers and pregnant women who come here must be deemed "in crisis" with nowhere else to go. The intake center on 41st Street welcomes the youth who knock on the Covenant House door — some on their own, some by referral — and assesses what they need and where they should be sent. Jim explains that the services offered to each young person vary, but unlike other programs, such as some provided by the city for which homeless teenaged mothers must apply and be approved, "We take any kid any time."

Jim and Tod take me to see the nursery where about seven toddlers play with their mothers. The nursery provides childcare for the women while they participate in the crisis center's Job Readiness Program, but they are also required to spend "bonding time" with their children. "After all," Tod says, "a covenant is an agreement. We tell them, we want you to be here, but you have to do some things."

When kept, the covenant bears fruit. Jim shares that one young mother in the nursery had been seriously suicidal when she first arrived due to her painful relationship with her own mother. Now, however, she is "one of the most active moms during bonding time."

There are other success stories. Rites of Passage, Covenant House's transitional living center, opened in 1985, and Jim White was one of the original staff members. At a recent reunion for Rites of Passage residents and workers, a woman approached Jim and said, "I hope you're not still mad at me." The woman turned out to be a former resident who had been "angry and violent" when Jim had known her in 1991. "If you were a betting person, you wouldn't have bet on her [making it]," Jim confided. At the reunion, however, Jim learned that this woman's child was now a college student and that she worked at a hospital taking care of babies whose mothers have AIDS. "You just never know," Jim reflects. "With God's grace ... she did more than fine. In fact, if you think you know [how a kid will turn out], it might be time to go somewhere else."

Jim walks me out at the end of my visit, and only a few yards up the street we are stopped by a young woman who asks if we know where Covenant House is. "Yes, love," Jim says and points the building out to her. He watches as she finds the door and presses the buzzer. "There's a new one," Jim says, his eyes still following her. "Let's pray for her." I nod, and we turn to continue walking up the street. Jim glances one more time over his shoulder as the door to 427 West 52nd Street opens. "Go get 'em, girl."

The Corporal Works of Mercy:
• Feed the hungry.
• Give drink to the thirsty.
• Clothe the naked.
• Shelter the homeless.
• Comfort the sick.
• Bury the dead.
• Comfort the imprisoned.