"How can you still be Catholic?" Cradle... Read more
$14.95
Buy Now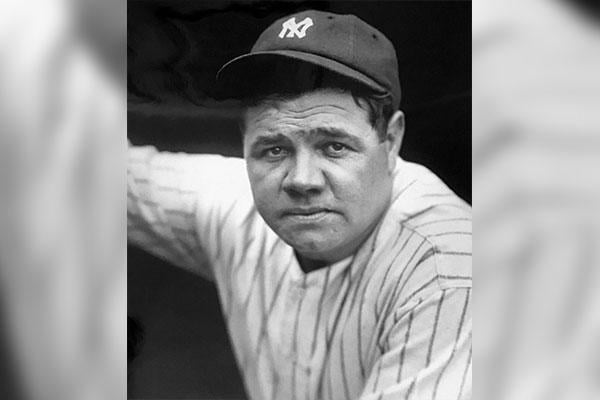 The Catholic Faith of Babe Ruth
By Marc Massery (Jul 7, 2019)
George Herman "Babe" Ruth, Jr., is widely known as the greatest baseball player of all time. But did you know that the Great Bambino was Roman Catholic and died wearing the Miraculous Medal?

Now, the Babe was no saint. He had a reputation for living a rather hedonistic lifestyle throughout his baseball career. But at the end of his life, he wrote a letter to Guideposts magazine revealing how his Catholic faith, instilled in him at a young age, had never left him.

An unusual Catholic upbringing
Babe was born in 1895 in Baltimore, Maryland. On account of his unruly behavior, when Babe was 7 years old, his parents sent him to a nearby reform school, St. Mary's Industrial School for Boys, run by the order of the Xavierian Brothers.

"Don't get the idea that I'm proud of my harum-scarum youth," Babe wrote in his letter. "I'm not. I simply had a rotten start in life, and it took me a long time to get my bearings."

Babe said that when he was growing up, he hardly knew his parents and spent much of his childhood hanging around his father's saloon in Baltimore. "Looking back to my youth, I honestly don't think I knew the difference between right and wrong," he wrote.

At St. Mary's, he started to turn his life around, mostly thanks to Br. Mattias Boutlier, CFX, a 6-foot-6, 250-pound religious who used baseball to get through to the young Babe. "[He was] the greatest man I have ever known," Babe said. "He could have been successful at anything he wanted in life — and he chose the Church."

Brother Mattias taught Babe how to catch, throw, and most importantly, hit a baseball. Consequently, he was the first to recognize this future legend's natural talent. Thanks in large part to Br. Mattias' instruction, in 1914, at just 19 years old, Babe left St. Mary's to begin his professional baseball career. Within a few years, the Babe was making a name for himself and on his way to earning his place as the greatest ever. Unfortunately, the Sultan of Swat said that he let the fame go to his head.

"I strayed from the Church, but don't think I forgot my religious training. I just overlooked it," he wrote to Guideposts. "I prayed often and hard, but ... the swift tempo of living shoved religion into the background."

Even though he lived a prodigal life, the Colossus of Clout always thought back to his Catholic instruction with reverence. "The lads who get religious training get it where it counts — in the roots. They may fail it, but it never fails them," he wrote. The Babe said that even during his years of heavy drinking and womanizing, he frequently knelt to pray before a big window in his apartment overlooking the New York City lights.

"The more I think of it, the more important I feel it is to give kids 'the works' as far as religion is concerned. They'll never want to be holy — they'll act like tough monkeys in contrast, but somewhere inside will be a solid little chapel," Babe said.

Babe's Miraculous Medal
That solid little chapel inside the Babe opened wide in his final days. In December 1946, before undergoing a serious operation, the Babe realized that he might be facing the end. A close friend called a Catholic chaplain for him, and the Great Bambino made a full Confession. The chaplain said he would return in the morning to give Babe Communion. He assured Babe that he didn't need to observe the night-long fast. The Titan of Terror, however, fasted anyway, writing that he didn't consume so much as a drop of water that night.

"As I lay in bed that evening, I thought to myself what a comforting feeling [it was] to be free from fear and worries. I now could simply turn them over to God," the Babe wrote.

Around this time, his wife brought him a letter from a child from Jersey City, New Jersey, which made an impact on him. It read:
Dear Babe,
Everybody in the seventh-grade class is pulling and praying for you. I am enclosing a medal, which if you wear will make you better. Your pal — Mike Quinlan.
P.S. I know this will be your 61st homer. You'll hit it.
Enclosed in the letter was a Miraculous Medal. Babe had it pinned to his pajama coat. "I've worn the medal constantly ever since," he wrote. "I'll wear it to my grave."