Photo: Marian archives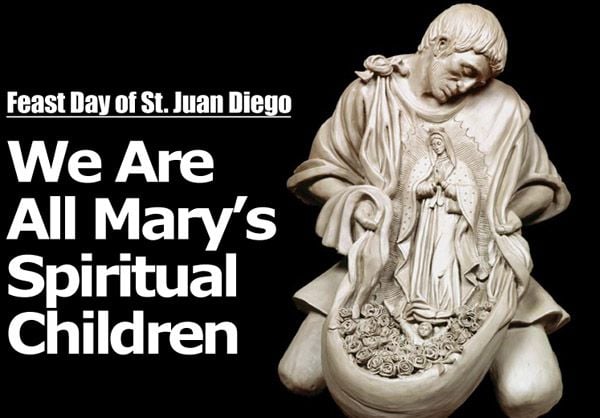 By Fr. Joseph, MIC (Dec 9, 2008)
" ... the kingdom of heaven suffers violence, and the violent are taking it by force."
— Mt 11:12

Our Lady of Guadalupe appeared to St. Juan Diego on this day, Dec. 9, in 1531. After his uncle Bernardo was miraculously cured, Juan went to his Bishop at Our Lady's request bringing fresh roses in December, a sign from heaven to confirm her appearance. When he reached the Bishop an even greater sign became manifest, the miraculous Image of Our Lady of Guadalupe appeared on his cloak.

This image is venerated to this day at the Basilica in Mexico City.

Pope John Paul II canonized Juan Diego in 2002. He pointed to Juan's simplicity, humility, and obedience as wonderful examples for us in conducting ourselves whenever we face adversity.

We need such virtues because, as the Gospels say, "the kingdom of heaven suffers violence" as a result of evil in the world (Mt 11:12). Pope Paul VI spoke about the smoke of Satan infiltrating even the Church. Because of original sin, each of us in the Church is still prone toward evil.

By simply and humbly facing the daily struggle to be holy as Juan did through obedience and perseverance, we can win the battle with God's grace. God doesn't want us to despair but rather, "to wait in joyful hope for the coming of Our Savior," as we pray at every Mass.

When Our Lady appeared to Juan Diego, she said to him, "I, who am your mother, stand before you. You remain always under the shelter of my protection. Be aware of how fortunate you are to have access to my motherly care at all times."

We are all Mary's spiritual children. From the Cross, Christ gave her to us as our Mother (see Jn 19:26-27). We can take comfort in the beautiful words Our Lady spoke to Juan Diego. Each of us always remains under her mantle of protection.

Thank You, Lord, for the examples of holiness You give me in Our Lady and in St. Juan Diego. Help me to trust in Your mercy. Amen.