"In You Did It to Me, Fr. Michael Gaitley [MIC] has a genius for bringing... Read more
$14.95
Buy Now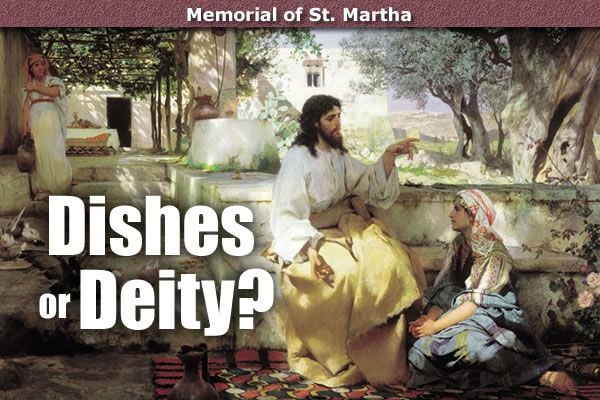 The One Thing Necessary
On July 29, we commemorate St. Martha, a week to the day after the feast of St. Mary Magdalene, the woman traditionally identified as her sister. Martha and Mary are most often remembered for being the siblings of Lazarus who was raised from the dead, and for the "'Get out of the kitchen free' card" incident:
As they continued their journey He entered a village where a woman whose name was Martha welcomed Him. She had a sister named Mary [who] sat beside the Lord at His feet listening to Him speak. Martha, burdened with much serving, came to Him and said, "Lord, do You not care that my sister has left me by myself to do the serving? Tell her to help me."

The Lord said to her in reply, "Martha, Martha, you are anxious and worried about many things. There is need of only one thing. Mary has chosen the better part and it will not be taken from her" — Lk 10:38-42.
My mother has never been able to sit through that Gospel reading about Martha, Mary, and Jesus without commenting on it afterward.

"You know what, I identify with Martha!" she'll say, half-joking, half-miffed. "Someone's got to get the house ready, and cook the food, and entertain!"

And we'll all laugh, and she'll be indignant for a little longer with a smile on her face, and then it recedes until next time.

I'd imagine a lot of people can sympathize, especially the people who do work day in, day out behind the scenes, making sure that the people in the foreground, those in front of the cameras or at the head table, are able to function without concern. A lot happens where the spotlight never shines, behind the scenes and away from the center stage of human life. So why is Martha in the wrong?

Well, she's not wrong, exactly. It's just that her priorities aren't right.

There, present in their house, is the Lord God almighty, and they have some sense of who He is, for Martha calls Jesus "Lord." There's certainly a good precedent for rushing to serve God when He comes calling — look at the example of Abraham in Genesis 18! But Abraham's serving didn't prevent him from spending time with God, talking with the Lord and even interceding on behalf of Sodom and Gomorrah. Martha's serving is burdening her. Rather than ask for help from the One infinitely capable and prepared to give it, she comes and asks God to tell her sister to stop listening to Him, stop spending time with Him, and come join her in the kitchen. Jesus reminds her of what's important, what is ultimate, what will last beyond everything else — He, Himself. The Lord God is the greatest good we will ever receive, and the source of every good and perfect gift. Did food need to be prepared? He can do that, as the loaves and fishes incident had already demonstrated. Has their brother died? He can resurrect Lazarus. Are they in any need whatsoever? God can and will provide.

Does He always behave as they wish, answer their every request with an immediate response, do exactly what they want when they want it? No. They send Him a message that their brother is dying, and He waits four days, then travels to see them. Their brother died in the meantime. Does Martha get her sister's help in the kitchen? Probably not.

And yet Lazarus is raised. And yet the Bread of Life is there, ready to give them everything — ready to give them Himself.

So let us ask St. Martha to pray for us, that we may learn her lesson: service without spending time with Jesus is a burden that will break us. Let us ask for her intercession for help with our tasks, and that we will learn that only one thing is truly necessary: the life and love of God in our lives. All the rest will follow.
... [S]eek first the kingdom (of God) and his righteousness, and all these things will be given you besides. — Mt 6:33