"In Champions of the Rosary, Fr. Calloway has written what is probably... Read more
$16.95
Buy Now
Photo: Photo by Myriam Zilles on Unsplash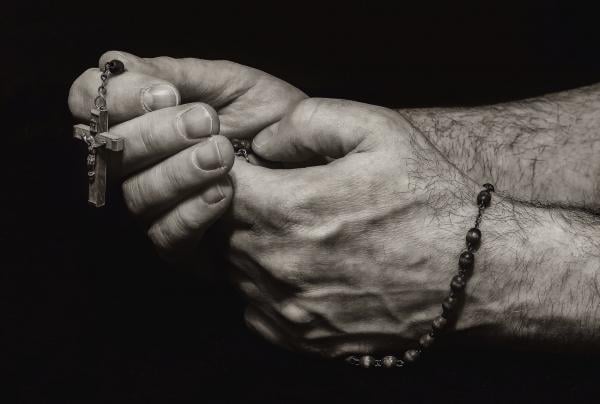 The Power of the Holy Rosary
By Matthew August
"There is no problem, I tell you, no matter how difficult it is, that we cannot solve by the prayer of the Holy Rosary" — Servant of God Lucia dos Santos.
Today's world is filled with so much uncertainty and fear, and it can be so tempting to give in to despair. So many things are out of our control, from novel viruses to evil regimes. It would seem as though individuals like you and I have no power over such overbearing darkness.

But that's not true.

Saints such as Dominic, Louis de Montfort, Padre Pio, Mother Teresa, and John Paul II, had a powerful impact on everyone they touched. Their feet straddled two different realms. While one was planted on the earth, the other was rooted in the supernatural. This gave them the power to change the entire world.

We have the same opportunity. What is the key that unlocks this power to us?

There is a certain practice that these powerful saints stand by. It is an undying devotion to the recitation of the Rosary.

"Never will anyone who says his Rosary every day be led astray. This is a statement that I would gladly sign with my blood," stated St. Louis de Montfort.

The Holy Rosary has been likened to a divine weapon by countless mystics and saints, a certain tool of incredible power. Many have used it to conquer evil and to unlock mystical blessings.

Our Blessed Mother has made her intentions known in several apparitions, each time begging her children to pray this prayer. It is time for the faithful to take another look at this incredible treasure hidden under the veil of a few beads.

Our Lady left 15 promises to those who recite the Rosary, shared in Champions of the Rosary, by Father Donald Calloway, MIC. Among them is our sanctification and attainment of eternal life with God. Not only this, but by remaining faithful to the Holy Rosary, we will have attained high glory in the Kingdom of Heaven.

Although eternal life with God is our goal, the Rosary has been shown to rain incredible blessings in our daily lives while we're on our earthly pilgrimage as well. Our work will become more fruitful, and we will never be overburdened by misfortunes or hardships. In many instances, tasks that were once difficult become effortless. Doors will open and opportunities will come to those who entrust themselves to Mary through the Holy Rosary.

A life consecrated to Mary through the Rosary is a life of adventure. She wants to see her children achieve great things, and we will with her guidance.

Finally, Mary promises that we will obtain all we ask by recitation of the Rosary. Many people pass from this life with buried dreams and broken hearts. So many blessings are hidden behind locked doors. We hold the keys.

One of the greatest miracles in the history of the Rosary took place a little more than 100 years ago. It was the year 1917 when Our Lady appeared to three children in Fatima, Portugal. Jacinta, Francisco, and Lucia had finished praying the Rosary when they suddenly saw the Virgin Mary in their midst, "a Lady dressed in white, more brilliant than the sun," according to the account given by Lucia dos Santos.

Our Lady implored them to dedicate themselves to praying the Rosary each day, for Our Blessed Mother promised that through this prayer she would save the world and bring peace. She promised the children a sign that would appear before tens of thousands. This sign would be so great that no one could deny the reality of the apparitions.

It turned out to be the Miracle of the Sun. More than 70,000 witnesses claimed that the sun "danced" in the sky. It burst through the clouds and dove to the very ground on which the people stood. Many walked away healed from their infirmities and converted.

May the Rosary bring similar incredible graces into our own lives, and the lives of all whom we love.

Our Lady of the Rosary, pray for us.