"How can you still be Catholic?" Cradle... Read more
$14.95
Buy Now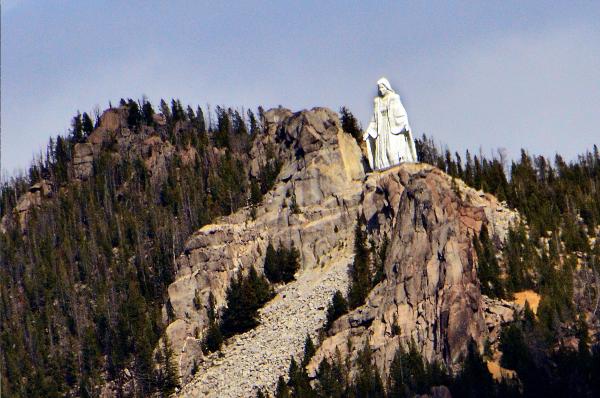 The Wondrous Story of Our Lady of the Rockies
By Richard Bauman

When Bob O'Bill's wife, Joyce, was diagnosed with cancer in 1979, he promised Our Lady that if his wife recovered, he would build a statue to honor the Blessed Mother on a mountain overlooking Butte, Montana. Sure enough, when Joyce was healed, Bob began work to fulfill his promise.

He foresaw a 7- to 9-foot tall statue that he would position on the East Ridge in the mountains above Butte. His friends argued that a statue that tiny at an altitude of about 8,500 feet wouldn't be visible from the city. So after a lot of discussion, it was decided the statue needed to be about 90-feet tall.

O'Bill didn't have the money, materials, or skill to create such a statue. He hoped to finance the project through fundraising. Unfortunately, around this time, the United States was going through a recession. Butte's economy had been hit especially hard.

Still, as O'Bill's idea of putting a 90-foot-tall statue on East Ridge became known, enthusiasm in the community grew. People volunteered to help in any way they could. Among them was John Roberts, who owned Roberts Construction Company. He would ultimately provide the work space to create the statue, as well as much of the heavy equipment needed to carve a nearly seven-mile long road on the mountain to the statue's location on East Ridge.

With an initial contribution of $2,000, a fundraising committee was formed and Our Lady of the Rockies was formally underway. O'Bill hired a welder named Leroy Lee to create the statue. Though Lee had dropped out of high school and had no artistic training, he had plenty of experience forming and welding metal. He believed that with help from Our Blessed Mother, combined with his years of experience, he could build the statue.

With much of Butte's population struggling to make ends meet, donations eventually dwindled, but they never stopped coming in. In fact, a stale economy provided an opportunity for those who were out of work to donate time. They helped build the road to the statue's site, prepare the statue's foundation, and perform numerous other tasks. Meanwhile, other kinds of donations seemed to miraculously materialize. A mining company shutting its doors sold the statue builders several thousand dollars' worth of steel for just a few hundred dollars. This same company made available much needed trucks, full of diesel, oil, and antifreeze. Each night, volunteers would fill 50-gallon drums with fuel for the next day's work. It was a stroke of good fortune some attributed to divine intervention.

Lee built the statue in six sections that would be joined together on the East Ridge. On Dec. 17, 1985, with the help of the Nevada Air National Guard in Reno, Nevada, a CH-54 Sikorsky Sky Crane helicopter airlifted the statue's base to its concrete foundation on the East Ridge. Over the next couple of days, the remaining five sections of Our Lady of the Rockies were lifted into place.

Then, on the afternoon of Dec. 20, 1985, the statue's final section, Mary's head and neck, adorned with an American flag and a Christmas tree, was lifted into place. In Butte, 3,500 feet below the East Ridge, its people watched the huge helicopter put the last piece of the statue in place. The city erupted in cheers. Car horns sounded, sirens wailed, church bells rang out, and people hugged one another. The statue that had brought the financially strained town together was at last a reality.

During an interview with a reporter from the Montana Standard, after the statue was completed, Leroy said, "The Lord and the Blessed Lady guided me [throughout the project]."

Thirty-five years later, Our Lady of the Rockies still catches the attention of visitors to Butte. Between May and October, weather permitting, you can board a bus or van and travel up the mountain to see the statue, touch it, and admire her. You can even go inside the statue and see its supporting superstructure, built as each section of the statue was put in place. And you can't help but notice the hundreds of Rosaries of all sizes, colors, and materials hanging throughout the statue's interior. Our Lady of the Rockies is visible from most of Butte, day and night, but especially so at night when massive floodlights at her base make the statue nearly as bright as the full moon. And whether it's day or night, Our Lady of the Rockies is a sight to behold.