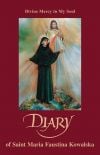 The Book That Sparked the Divine Mercy Movement... Read more
$15.95
Buy Now
Trust: This Has Been My Journey
By Fr. Thaddaeus Lancton, MIC (Aug 5, 2017)
This October, Marian Press will publish the first book by Fr. Thaddaeus Lancton, MIC, titled Stepping on the Serpent: The Journey of Trust with Mary. Below, Fr. Thaddaeus shares his first encounters with the challenge of trusting in God.


I learned about the Divine Mercy message and devotion as teenager. Its call to trust in the Father's mercy poses quite the challenge. My forthcoming book doesn't come only from research; it comes, first and foremost, from my own journey of trust in the Lord — a journey I've walked with Mary.

I was born and raised in Houston, Texas, the youngest of five children in a Catholic family. When I was 2 years old, our pastor gave us a statue of Our Lady of Fatima shortly before my mother died of melanoma. My dad put Our Lady in the center of the living room in place of the TV, and on Sunday mornings, we would pray the Rosary. That had a great effect on me.

I didn't know my mother personally. The first mother I related to was Mary, and she has been walking with me and teaching me how to trust in the Father as she did.

In the last month of my senior year of high school, my dad went to the hospital with a headache that wouldn't go away. The doctors found increased pressure in his brain because he had lung cancer. The cancer had spread.

He was dying.

After my high school graduation ceremony, my dad and I pulled back into our carport and sat there for a moment. We both knew he would die soon. He reminded me of an incident when I was in seventh grade. I was lonely at the time and very unpopular. I was devoted to the Lord. I had recently read St. Thérèse's Story of a Soul, and one day, in the midst of lots of tears and complaints to my dad, I said, "There's nothing else I can do with my life, so I'm going to become a saint."

That's what my dad reminded me of the night of my graduation. "Thaddaeus," he said, "I want you to fulfill your promise. I want you to become a saint." That was his dying wish for me. This is why I write about trusting in the Lord with Mary — because that's been the project of my life. That's been the Father's will for me. Trusting in Him is the only way to become a saint.

Nine days after our conversation, I watched my dad die in the hospital. It was in those final moments of his life that I really had to learn what "Jesus, I trust in You" means. To have to watch someone I love, someone who was my last anchor in this world, leave me — I felt I was totally losing control. I dealt with a lot of anger, rebellion, and bitterness after his death, and the serpent of distrust — Satan — attempted to provoke me to give in and reject the Lord. At one point, the temptation became clear: I either choose Jesus — and I trust in Him that my life has meaning — or I choose nothing, because life has no meaning at all. Mary took my hand and led me along the path of trust.

A year later, I was still struggling with my dad's death and still struggling to trust. One day I was weeping, and I took the Divine Mercy Image off the wall because I wanted to be close to the Lord. I held Him to my heart and just wept. I prayed over and over, "Jesus, I trust in You." It's all I could get out from all that pain and confusion. Days later, I asked Him, "Why did You do this?" The answer came back almost immediately: "Because I want you to believe that I'm your Father, too."

We, as Christians, are made unique by the fact that we believe God is Father. We are called to trust in the Father, to stake our whole lives on the Father, just as Jesus did.

Later, I found out the Father hadn't taken away my biological father without any thought given to me. Quite the contrary. It turns out that when my dad had had a heart attack and a stroke when I was 12 (which he had survived without too much of a problem). He had prayed that he would live to see me graduate high school. The Father answered that prayer.

So what seemed, in one sense, a terrible event, was, in fact, the Lord orchestrating everything. The Lord asks for patience and trust — that even during difficult moments when everything seems dark and we don't understand, we simply should say, "I trust You ... I don't understand, but I trust You, and I trust that You will see me through this."

Jesus, in the Diary of Saint Maria Faustina Kowalska, said that distrust pains Him the most (see Diary, 50). Why is the world not changing for the better? Because we distrust, because we don't let the power of God enter our lives in those moments of suffering and pain. Trust is powerful. Trust is that door that allows the Lord to enter into our hearts in the most difficult moments, in the most critical moments, and in the most ordinary moments. He enters into our hearts and transforms us.

So I come to you not just as a teacher and priest, but as a fellow Christian who walks this path of trust with you, holding Mary's hand. The path of trust is the way of the Cross. That's the way that we learn trust. Satan is very happy to offer us different paths around the Cross, but Mary teaches us how to crush his head and trust in the Lord like she did every moment of her life. My hope is to accompany you along this path!