Photo: Diocese of Brownsville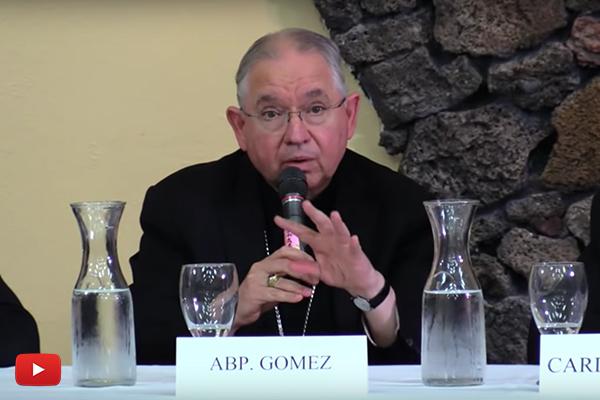 Archbishop Jose Gomez of Los Angeles answers questions regarding current immigration policy and the role of the Church and its members in helping immigrants.
U.S. Bishops Visit the Border
"[Immigration] is not just a matter of politics. It's a matter of humanity," Los Angeles Archbishop José H. Gomez, vice-president of the United States Conference of Catholic Bishops (USCCB), said at a press conference on July 2, in McAllen, Texas.

Five U.S. bishops, including Cardinal Daniel DiNardo of Houston, president of the USCCB, visited the southern border of the United States on July 1-2, to meet with U.S. government officials, members of the Catholic community, and families who have been processed by the Department of Homeland Security. The bishops' stated focus was on family unity.

Here they share their experiences getting to know the families and children who have crossed the border, and the government officials who they report have been very helpful in the process.

* Press Conference begins at 6:51 into the video.


*Video courtesy of the Diocese of Brownsville.