"How can you still be Catholic?" Cradle... Read more
$14.95
Buy Now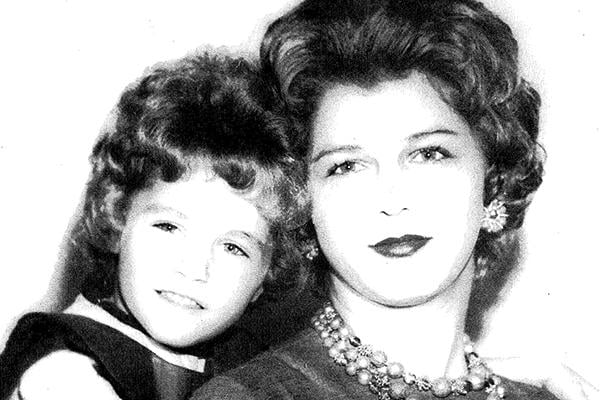 My mother-in-law and her daughter in 1963.
Unexpected Mercy
This article first appeared in our July 2018 issue of the Friends of Mercy newsletter.

By Maricela Navarro Svoboda

The Lord's mercy is beyond the understanding of my human heart. I have been a witness of this mercy and would like to share my story with you.

My mother-in-law died last year in the heat of summer. She lived alone, and her body was not found until a few days later.

She had been a beautiful young woman, but over the years alcohol abuse changed her. She hurt her family as she fell more and more into the demon hands of addiction. She had pushed away her son, even though he tried for more than a year to reach out to her, and she was not on speaking terms with her daughter.

Her untimely death shocked us. She had not been ill. We later learned she had died of a coronary valve blockage. We were all deeply saddened by her death — sad we were not able to reach her and sad she had not reconciled with the family.

As I reflected on the past, I knew my mother-in-law had not cared for me much. Prior to our marriage ceremony she told my husband she would not celebrate our wedding because she was not pleased her son was marrying a Mexican. Her negative comments saddened me, but somehow I knew it was the Lord who brought my husband and I together. I forgave my mother-in-law for her unkind words. Soon she was visiting us every Christmas and would attend Christmas Mass with us.

I never saw her intoxicated, but I heard my husband and sister-in-law say, "She was a mean drunk." What I knew were the good things about her.

She loved to garden and to share her garden with others. She loved making costumes for her children when they were young and enjoyed making clothes for her granddaughter. She also loved animals. Dogs were her favorite.

After the death of her second husband, my mother-in-law began to travel. She talked the most about her trips to Jerusalem and would always light up when she spoke about the Holy Land. She even gave me several Rosaries from the various countries she had visited.

On the day of her funeral, few people attended. I was shocked to hear her relatives say negative things about her. I had been taught that no matter how bad a person may have been, when they die, you don't speak badly about them.

When I told one relative I was praying for my mother-in-law, he gave a sarcastic response, saying, "Why bother? She is in a better place." Without saying "hell," I knew they did not mean Heaven.

Each time these relatives said an unkind word about my mother-in-law, I felt a stabbing at my heart, but I did not understand why. I put my hand on my chest and silently asked God, "Why? What are you trying to tell me, Lord?"

Then an amazing thing happened. I went to sit underneath a tree on a bench at my mother-in-law's home. From where I sat I could see the kitchen. Suddenly, for a few moments, I saw my mother-in-law's transparent image. I could not see her face, just her silhouette. Then, I felt as if the Lord had transported me to another place, another time. I could hear a lady crying. I knew it was our Blessed Mother Mary. I smelled fresh blood all around me. Then I heard more people crying. I kept wanting to look up. Somehow, I knew I was at the foot of the Cross. I kept saying, "I want to see You, Jesus...I want to see You." I could not lift my head up immediately, but I was slowly given the ability to lift my head up. The smell of death was all around me. Then, as I looked up to see Jesus on the Cross, I saw and heard the Good Thief. "Jesus, remember me when You come in Your kingdom!" And then I heard Jesus say to him, "Truly I say to you, today you shall be with Me in Paradise" (Lk 23:42).

With these words, I was reminded of two passages from St. Faustina's Diary where the Lord gives the promise of graces from praying the Chaplet, especially for the conversion of sinners and those struggling at the hour of death:

Say unceasingly the chaplet that I have taught you. Whoever will recite it will receive great mercy at the hour of death. Priests will recommend it to sinners as their last hope of salvation. Even if there were a sinner most hardened, if he were to recite this chaplet only once, he would receive grace from My infinite mercy. I desire that the whole world know my infinite mercy. I desire to grant unimaginable graces to those souls who trust in My mercy (687).

At the hour of their death, I defend as My own glory every soul that will say this chaplet; or when others say it for a dying person, the pardon is the same. When this chaplet is said by the bedside of a dying person, God's anger is placated, unfathomable mercy envelops the soul, and the very depths of My tender mercy are moved for the sake of the sorrowful Passion of My Son (811).

Weeks after experiencing this visual grace and remembering these Diary passages, I had a feeling the Lord was speaking to me about my mother-in-law. The Lord gave me confirmation that this was, indeed, the case.

Several weeks after the funeral, we went to my mother-in-law's home to clean and to get the house ready to sell. Throughout the house I found Divine Mercy pamphlets, prayers, and small cards with the Divine Mercy Image. But most surprising was finding a Divine Mercy CD. It was not the popular recording of the Chaplet in song; rather it was a beautiful recording of the history of the Divine Mercy story of St. Faustina. The CD also contains Diary passages and includes the Divine Mercy Chaplet prayed and chanted in Polish and English.

I truly believe after finding all these Divine Mercy pamphlets and the CD, and most especially after what I experienced under the tree, that God was sending me a message to share with others — a message of His endless mercy and love. Today there are many who do not understand or believe in His merciful love. We experience God's endless and unfathomable love for us through Divine Mercy. Let us share that message of mercy with others.