"How can you still be Catholic?" Cradle... Read more
$14.95
Buy Now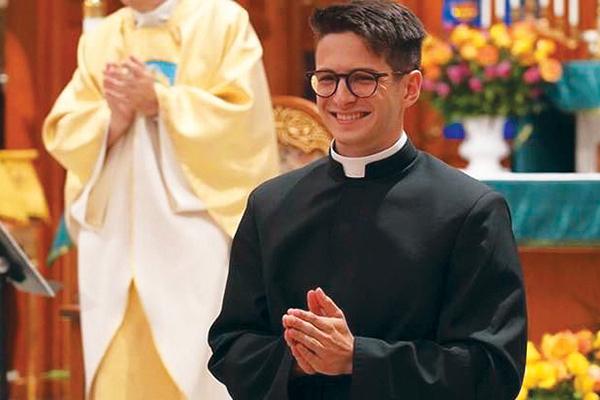 Vocation Orchestrated by God
By Marc Massery (Apr 10, 2020)
Growing up in the farmlands of Angola, Indiana, Br. John Patrick, MIC, known as "Br. JP," had never experienced Eucharistic Adoration. Then his freshman year of high school he went on a retreat with his youth group. Sitting before the presence of the Eucharistic Lord, his life would change forever. "I heard the lyrics, 'There's no place I'd rather be than here in Your love.' I felt God's peace and realized deeply that's what I wanted."

After his freshman year of high school, JP felt a tug toward discerning the priesthood. "I was about to ask a girl out. But I felt this tug in my heart, this resistance. I felt God saying to me, 'No this is not for you. This is not where I want you.'" He struggled with his conflicted feelings until he decided to give into what he believed the Lord was calling Him to do. "I just said, 'OK, Lord, whatever you want from me.' That was the first moment I started following the Lord's will like that."

During his senior year of high school, JP began discerning whether he would enter diocesan seminary or join a religious order. "My mom had heard about the Marian Fathers through the book 33 Days to Morning Glory by Fr. Michael Gaitley, MIC. We had just completed the consecration together. My mom encouraged me to check them out."

So, JP called Fr. Donald Calloway, MIC, the Marians' vocation director as well as the spiritual director of the Thirteenth of the Month Club. JP asked if he could attend a "come and see" retreat, only to realize that he was too young to attend, being 17 years old at the time. "We worked something out with Fr. Calloway where I could sleep in a hotel room and still be present for the retreat conferences."

Right before his meeting with Fr. Donald, JP was sitting in Adoration when he experienced what he would later call a pivotal moment. "I felt like I heard the words spoken to me in my soul, 'This is your home.' So, I took that and thought, 'OK, Lord. If this is where You want me, I will do that. I'll follow You.'"

One of JP's priorities was finding a religious order that would allow him to pursue what he believes is his secondary vocation: music. JP fell in love with music in sixth grade when he joined band. He can play the clarinet, saxophone, percussion, guitar, piano, and he sings.

"I was trying to see if the Marians would let me pursue music, too. Gracefully, they offered to allow me to do whatever God was calling me to do. They wanted to support me and my gifts."

Still, JP was too young to join the Marians right away. "My 18th birthday was two months after the Marians' initial application deadline," he said. So for his freshman and sophomore year of college, he went to Franciscan University and entered the priestly discernment program. He joined the Marian Fathers in 2019.

At Franciscan University, Br. JP is studying both voice and philosophy. He's also started a pep band, which consists of about 20 students. They play at basketball games. "In all humility, that was another call that came from the Lord. I could not have made it happen on my own."

Through his formation with the Marian Fathers, Br. JP has grown in his relationship with the Blessed Mother. "Mary takes care of everything," he said. "She's most certainly the one who called me and brought me here. I can't say that emphatically enough."