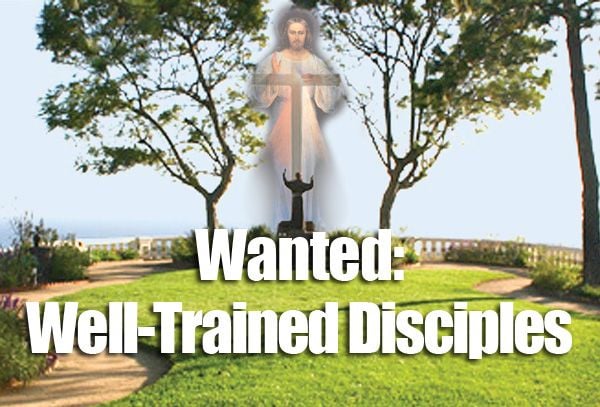 Wanted: Well-Trained Disciples
By Marian Staff (Apr 15, 2011)
If you're reading this website then you know that the Divine Mercy message and devotion continue to spread throughout the Church and the world, nourishing us with the healing waters of God's compassionate love. All this is happening in fulfillment of Christ's charge to St. Faustina: "My daughter, tell the whole world about My inconceivable mercy. ... I pour out a whole ocean of graces upon souls who approach the fount of My mercy" (Diary of St. Faustina, 699).

Divine Mercy has spread from an unknown nun in Poland to the Marian Fathers and out to the world. But there is still much to be done to bring the message of Divine Mercy to all our brothers and sisters, to families, parishes, and communities everywhere. This Divine Mercy mission needs you. It needs well-trained disciples and evangelists who can teach others. A surface knowledge of the mystery of Divine Mercy is no longer enough: We need Catholics who are willing to make the effort to "go to the head of the class" and learn about Divine Mercy at the next level.

The John Paul II Institute of Divine Mercy, an apostolate of the Marian Fathers in Stockbridge, Mass., is excited to announce a new program designed to inform and inspire Divine Mercy leaders and devotees from all over the world: a spiritual formation and training seminar entitled "Tell the Whole World About My Mercy." The seminar will be held at the Serra Retreat Center in Malibu, Calif., from July 10-16.

What's the seminar all about? Dr. Stackpole, author of our Divine Mercy Q&A column puts on his "answer cap" to explain the upcoming seminar:

Dr. Stackpole, who is this seminar designed for?
This seminar is specifically designed for anyone seeking to deepen their knowledge and appreciation of the merciful love of God and to be equipped to share that message with others. In other words, this seminar is for present and future Divine Mercy disciples and evangelists, and present and future Divine Mercy leaders. A Certificate of Participation will be awarded to attendees who successfully complete the seven-day training seminar. Certificate holders are then eligible to apply for certification as official "Divine Mercy Promoters," or to renew their status as promoters.

Who will be speaking at this seminar?
The Institute is sending some of the leading experts on Divine Mercy to this seminar as presenters, including Fr. Seraphim Michalenko, MIC, vice-postulator of the Cause for the Canonization of Sister Faustina, former rector of the National Shrine of The Divine Mercy, and founding director of the Institute itself; Fr. Michael Gaitley, MIC, director of the Association of Marian Helpers and author of the bestselling book Consoling the Heart of Jesus; and me, the director of the John Paul II Institute of Divine Mercy and author of Divine Mercy: A Guide from Genesis to Benedict XVI. In addition, there will be special presentations by Angel and Estrelle Mijares, co-founders of the Divine Mercy Evangelization Movement (co-sponsors of the seminar) and music by Ms. Donna Lee, a three-time Unity Awards recipient. In other words, the seminar is a combination conference, workshop, and retreat all rolled into one, with both light for the mind and fire for the heart.

And what topics will be covered?
Among the topics will be:

• Divine Mercy as a Preparation for the Second Coming of Christ
• The Life of St. Maria Faustina Kowalska and Blessed Michael Sopocko
• The Meaning of Trust
• The Image of The Divine Mercy
• The Feast of The Divine Mercy
• The Chaplet and the Hour of Great Mercy
• The Novena and Consoling the Heart of Jesus
• Reconciliation as a Sacrament of Healing
• Sharing Divine Mercy with Children
• The Eucharist as a Mystery of Mercy
• Mary's Role in God's Merciful Plan of Salvation
• The Works of Mercy: Corporal and Spiritual
• The Eucharistic Apostles of The Divine Mercy
• Difficult Passages to Understand in the Diary of St. Faustina
• The Most Common Struggles Faced by Divine Mercy Apostolates
• Saint Faustina and Redemptive Suffering
• How to Make It Through the Dark Night of the Soul
• The Sacred Heart and The Divine Mercy
• Divine Mercy and the Passion of Christ
• Consecration to Mary, Mother of Mercy


How much does it cost, and how may people register?
The cost for a private room is $962, which includes room and meals for seven days, and the entire seven-day teaching and formation seminar (that's less than $140 per day, all-inclusive). Travel is not included.

The cost of a shared room is $782 per person (all-inclusive).

We are accepting deposits now. You can register online or call the Association of Marian Helpers' customer service line at 1-800-462-7426. Alternatively, you can pay the deposit by cashier's check or money order and mailing your payment to:


DMEM
321 North Vallejo Street
La Habra, CA 90631


Make check payable to AngelitoMijares/DMEM

(Please note that the $250-per-person deposit is non-refundable, and that the balance is due on April 30. The last day to register is May 31. No refunds can be given after this date.)

This sounds like a great opportunity to learn from the Divine Mercy experts.
Yes, and to equip yourself with the knowledge and understanding you need to become a more effective Divine Mercy leader, evangelist, or simply a more devout disciple of God's compassionate love — and it all happens at a beautiful retreat center, in an atmosphere of prayer, daily Eucharist, Eucharistic Adoration, and concluding with a special consecration to Mary, our Mother of Mercy.

And remember what Jesus told St. Faustina:


My beloved daughter, write down these words.... Tell the whole world about My mercy and My love.

The Flames of mercy are burning Me. I desire to pour them out upon human souls. Oh, what pain they cause Me when they do not want to accept them!

My daughter, do whatever is in your power to spread devotion to My mercy. I will make up for what you lack. Tell aching mankind to snuggle close to My merciful Heart, and I will fill it with peace. (Diary of St. Faustina, 1074).