Follow the path of Faustina on her journey to sainthood! Discover new details... Read more
$19.95
Buy Now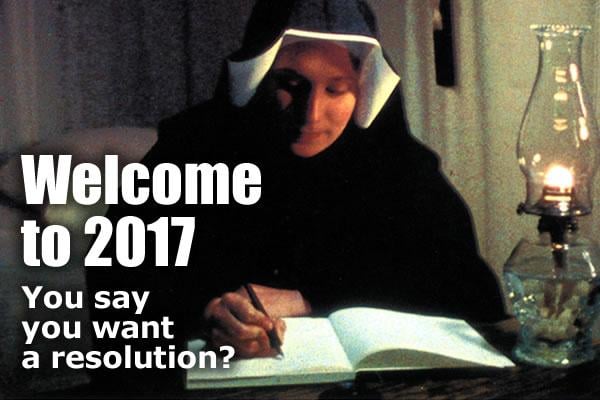 Welcome to 2017
You Say You Want a Resolution?
Have you made your New Year's resolutions list yet? You may be interested to know that St. Faustina made her own list that she recorded in her Diary on Jan. 1, 1937. Take a look at them below in their entirety. Clearly, not all of her resolutions can be applied to our own lives (after all, she was a nun, and she worked with troubled women from the streets). But there are enough items on her list we can draw from to ensure for ourselves a healthy, happy, holy 2017!

1. Strict observance of silence — interior silence.

2. To see the image of God in every sister; all love of neighbor must flow from this motive.

3. To do the will of God faithfully at every moment of my life and to live by this.

4. To give a faithful account of everything to the spiritual director and not to undertake anything of importance without a clear understanding with him. I shall try to clearly lay bare to him the most secret depths of my soul, bearing in mind that I am dealing with God Himself, and that His representative is just a human being, and so I must pray daily that he be given light.

5. During the evening examination of conscience, I am to ask myself the question: What if He were to call me today?

6. Not to look for God far away, but within my own being to abide with Him alone.

7. In sufferings and torments, to take refuge in the tabernacle and to be silent.

8. To join all sufferings, prayers, works and mortifications to the merits of Jesus in order to obtain mercy for the world.

9. To use free moments, however short, for prayers for the dying.

10. There must not be a day in my life when I do not recommend to the Lord the works of our Congregation. Never have regard for what others think of you [for human respect].

Have no familiar relationships with anyone [referring to the troubled girls who were in the care of the Congregation]. Gentle firmness toward the girls, boundless patience; punish them severely but with such punishments as these: prayer and self-sacrifice. The strength that is in the emptying of myself for their sake is for them a [source of] constant remorse and the softening of their obdurate hearts.

12. The presence of God is the basis of all my thoughts, words and deeds.

13. To take advantage of all spiritual help. To always put self-love in its proper place; namely, the last. To perform my spiritual exercises as though I were doing them for the last time in my life, and in like manner to carry out all my duties.

As you begin this New Year, ask St. Faustina for her help. Make 2017 a year when you seek first the Kingdom of God by loving God above all else, and reaching out to your brothers and sisters in need.