Explore a stunning tapestry with a Blessed Virgin Mary as the central thread... Read more
$19.95
Buy Now
Photo: Ileana E. Salazar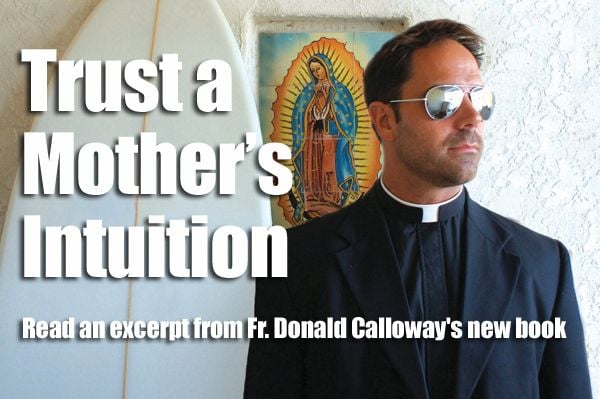 'Whoever Glorifies His Mother ...'
The following is an excerpt from the new Marian Press title, Under the Mantle: Marian Thoughts from a 21st Century Priest, by Fr. Donald Calloway:

Motherhood is special and brings about great blessings. God's Word tells us, "Whoever glorifies his mother is like one who lays up treasure" (Sir 3:4). Thus, it's no wonder Satan hates motherhood so much. The devil doesn't want us having treasure, and he knows very well that it is through motherhood that he is defeated. The child in Mary's womb conquers darkness and death itself.

Therefore, all mothers and children in the womb are a perpetual reminder to Satan that he has been conquered by motherhood.

Motherhood is a blessing and brings about great blessings to the world and women. Again, the Word of God tells us that "woman will be saved through bearing children" (1 Tim 2:15). Remember: Salvation translates as eternal health. Indeed, motherhood is a great source of healing for a woman. Even science now affirms this.

Have you ever heard of fetal microchimerism, sometimes also called fetomaternal microchimerism? It's a long, complicated word, I know. But it's amazing stuff. Fetal microchimerism basically describes the process by which the fetal cells of a child remain in the mother after her pregnancy. Science has recently discovered that when a woman becomes pregnant, there are many cells from the baby that remain in the mother's body, and some of these living cells even remain with her for the rest of her life. Science has also discovered that cells of the mother are also exchanged with her children and remain with her children for life. And in something that is sure to bring tears to the face of every mother, it has been scientifically verified by the Department of Obstetrics and Gynecology at the University of Washington that even if a mother experiences a miscarriage or has an abortion, living cells of those children, too, remain in her body. Isn't that amazing!

This gives a whole new understanding of a "mother's intuition." Indeed, in one article I read, a scientist quipped about how science has now come to understand how a mother intuitively knows things about her children, not because she is looking over their shoulder, but because she is in their shoulder!

But there's more!

It has also been scientifically verified that when a mother experiences certain illnesses, the living cells of her children that remain in her body have been found in the area of illness. Initially, the researchers thought that the cells might be the cause of the mother's illness, but now they are of the belief that the cells of a mother's children that are in the area of her illness are trying to fight off the illness and protect the life of the mother. That's incredible! Thus, having babies really is healing for a woman. Ironically, even if a woman killed the child in her womb through having an abortion, the child she killed fights for the life of the mother when she is sick.

Motherhood is such an incredible mystery!

And the Blessed Virgin Mary, the masterpiece of motherhood, experienced all of its blessings. After having been courted by God and swept off her feet in the divine romance, she becomes the Theotokos (the God-bearer) and the New Eve and mother of all the living. Never was there a mother so fruitful. Theologically, Mary is even the spiritual mother of Eve and the spiritual mother of the Old Testament prophets! Yes, even Adam and Eve call her mother. Mary's spiritual maternity is elastic, stretching all the way back to the beginning of time, because God made her the spiritual mother of all in light of the fact that she is the original intention of motherhood in the divine plan.

Can you imagine the joy her heart must have experienced at the announcement of her cousin Elizabeth: "And why is this granted me, that the mother of my Lord should come to me?" (Lk 1:43). Mary is blest among all women (cf. Lk 1:42) because she has been called to be the Mother of God and the spiritual mother of men. And she delights in her maternity, treasuring it with every beat of her heart. She loves her femininity and her motherhood, and her heart is free to sing the Magnificat of praise — she has been created to be the most fruitful human person who ever lived! She is the model of fruitful Christianity.

But, once again, there's more.

Remember fetal mircrochimerism? Let's consider this scientifically verifiable reality in light of the divine maternity of Mary. What we learn is what the Church has always said about the complementarity of faith and science. Namely, faith and science are not opposed. It's just that faith is way ahead of science, and science is racing to catch up with, and will eventually affirm, everything the Church dogmatically teaches.

Here's what I mean: Did you know that the Church has never dogmatically stated that Mary died? There have been many theories put forth by saints and theologians about the possibility of Mary dying. There have even been personal statements by Popes on the matter, but the Church has never held an official position. Catholics are free to speculate about whether Mary died or not. I, personally, do not believe Mary died.

The basic reasoning for the argument that Mary did not experience death is because death is the result of sin (cf. Rom 5:12; 6:23), and Mary was not a sinner.

Theologically and anthropologically, there really is no solid reason, in light of Mary's not being a sinner, for why she would experience death.

On the other hand, for those who think that Mary did experience death, their argument rests solely on the basis of "fittingness." That is, since Jesus died, it was fitting that she experience death also. But it's important to make the distinction that Jesus experienced death because he was killed; he died because he was murdered.

What would have happened had he not been crucified? We simply do not know. And the same logic applies to Our Lady. Though not God, Mary had the privilege of being the Immaculate Conception (she was not a sinner). But, unlike Jesus, she was not physically killed. She underwent a mystical and spiritual crucifixion, but she was not murdered. Therefore, any theory, even in ancient writings, about how her life on earth ended, is purely speculative.

However, in light of the recent discoveries in science put forth through fetal microchimerism, the argument in favor of Mary not experiencing death has a new theological and biological foundation.

Think about it: If Mary has in her body living cells of her divine Son all throughout her life, cells that fight for a mother's life and protect her against sickness, illness, and disease, how could she ever die? The cells of her Son inside her are divine cells! She is a living monstrance, a walking tabernacle. No wonder demons flee at her presence — she doesn't come alone! God lives in her. She is, in fact, the terror of demons and the conqueror of all heresies.

Don't get me wrong, though, most certainly she experienced some passage from this life to the next, but it was not a death like you and I will experience. To illustrate this, the early Church called Mary's passage to heaven the Transitus Mariae (the transition of Mary), and the Eastern Church has always called it the Dormition (falling asleep) of Mary. As a matter of fact, the Western Church has never celebrated a feast of the resurrection of Mary because resurrection implies death.

Rather, the Church celebrates the Assumption of Mary. A resurrection implies death, while an assumption does not. And according to the ancient theological principle of lex orandi, lex credenda (the law of prayer is the law of belief) on August 15th every year, we liturgically celebrate a mother who never experienced death.

Long live our mother who never dies!

Father Donald Calloway, MIC, is the vocations director for the Marian Fathers of the Immaculate Conception.