St. Joseph Gems: Daily Wisdom on Our Spiritual Father by Fr. Donald Calloway... Read more
$12.95
Buy Now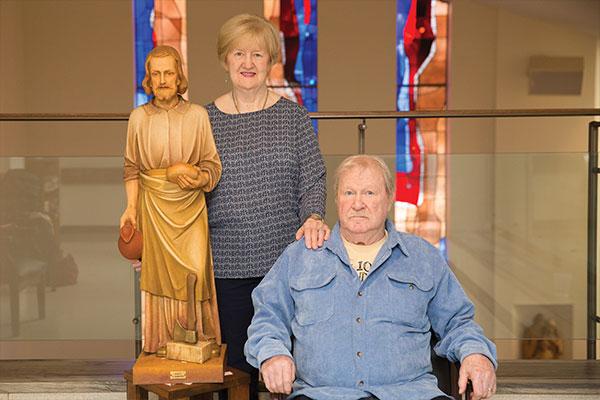 You Gotta Hand it to St. Joseph
By Marc Massery (Mar 18, 2019)
Divine Providence has tasked Marian Helper Judy Studer of Pawtucket, Rhode Island, with a role not unlike St. Joseph's: protecting the Blessed Virgin Mary. She guards the Blessed Virgin Mary in the form of a more than 70-year-old, wood-carved statue no taller than three feet, known famously as the International Pilgrim Virgin Statue of Our Lady of Fatima.

Eighteen years ago, before Judy became Our Lady of Fatima's keeper, she went to her local cathedral, where Mary happened to be visiting, with a desperate plea. She knelt before the statue and prayed, promising that if she were healed of her terminal cancer, she would promote devotion to the Rosary for the rest of her life.

Sure enough, within a couple weeks, doctors determined that she was suddenly, miraculously healed of cancer. "Our Lady did it," Judy said. "Our Blessed Mother — the power of Mary's intercession. And I've been cancer-free all these years."

A couple years later, the World Apostolate of Fatima got word of Judy's healing. They called and asked if she would take the statue for one month and speak about her miracle. They said they'd get in touch with her when they wanted the statue back. "It's been 16 years, and they haven't called to say they want it back," Judy said.

Safeguarding Our Lady
For the past 16 years, Judy has been traveling around the country with the Pilgrim Virgin Statue, going as far as India and the Philippines, promoting devotion to the Rosary and Our Lady of Fatima, as well as testifying to her miraculous healing. Judy said, "It's an honor to travel with [Mary]. It's not a job; it's a joy."

Judy, of course, cherishes this statue, going so far in her effort to revere and protect Mary that she never stows her away when she flies. "I keep her on the seat next to me," she said.

So about four years ago, when this antique statue suffered a minor fall through no fault of her own, Judy was more than distressed. She brought Mary home. She went to her husband of 54 years, Dave, and lamented, "What am I going to do? I have to leave in three days to travel to another state."

Dave asked to take a look at the damage. Mary's hands were in splinters. As a former mechanic, naturally good with his hands, he believed he could fix it. Unfortunately, ever since being diagnosed with Parkinson's disease, his hands constantly tremor, making it hard to hold anything stable.

But Dave knew the power of prayer. He said to his wife, "We're going to have to both pray to St. Joseph that he helps me control my tremors so I can fix the hands. He's helped me before."

After all, St. Joseph, patron of the Universal Church, and whose feast we celebrate on March 19, was a carpenter. He even appeared in Fatima during the Miracle of the Sun on Oct. 13, 1917, holding the Child Jesus, blessing the world. And as the one to whom God entrusted care of the Blessed Virgin Mary on earth, who better to turn to for prayer?

Furthermore, St. Joseph had interceded for Dave numerous times throughout his life. Once, he was driving in a snowstorm, worried he wouldn't make it home in time to take his Parkinson's medication. "If he didn't have it soon, it wouldn't have been a good thing. Complications happen if you don't take the meds," Judy said. But St. Joseph protected him. "I was able to drive safely in the horrible snow storm. Saint Joseph drove the car, not me," Dave said.

Saint Joseph, patron saint of families, also came through to help Judy and Dave's grandson Matthew, who suffers from autism. "He has had problems which we call meltdowns," Judy said. "Dave would always call on St. Joseph [for Matthew. He would say], 'St, Joseph, help our Matthew that things won't get worse for him, that he's on the right medication.' And Matthew is doing well." Matthew's conduct improved. He now attends junior college.

Both Studers have also called on St. Joseph to protect Dave when Judy leaves him alone to travel with Our Lady. "When I leave, I say to St. Joseph, 'You take care of him every moment of every day,'" Judy said. "Dave doesn't want to stay with my daughter when I'm away. Instead, he just says, 'St. Joseph will be good to me.' Dave loves St. Joseph. He just treasures him."

Unshakeable Devotion

So after praying to St. Joseph to help steady his hands, for three days, Dave worked relentlessly on putting the Pilgrim Virgin Statue's hands back together.

And St. Joseph, patron saint of workers, came through. "The time he was fixing the statue, he had no tremors," Judy said. "I don't know if you know this, but anyone with Parkinson's disease, their tremors can be pretty bad at times. How he ever put her hands together. ... They're beautiful."

Not only did he reattach the fractured fingers, but he also repainted them, mixing just the right colors to make it look seamless. "He had the patience of a saint that he did that," Judy said.

Judy was able to take her next trip with the Blessed Mother, and she continues to travel with her today. Her husband, Dave, and his hope in St. Joseph's protection and intercession, came to Our Lady's aid.