Home / News & Events / Mary Immaculate
Why is the heart of St. Vincent de Paul kept near where Our Lady appeared to St. Catherine Laboure? Father Joe Roesch, MIC, explains!
Heavy hitters Pope St. John Paul II, St. Maximillian Kolbe, St. Edith Stein, and Fr. Joseph Kentenich developed this branch of theological study. Learn how theological anthropology and the person of Mary help us understand who we are as men and women.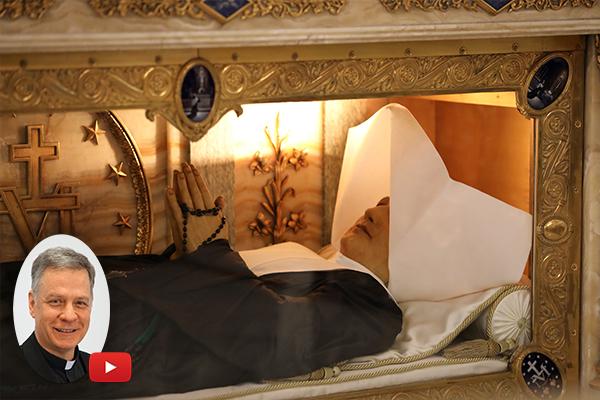 Father Joseph Roesch, MIC, shares the account of the apparition of Our Lady to St. Catherine LaBoure in 1830.
Why is the Blessed Virgin Mary the best person to turn to when we have a problem? How can we call her "the Mother of Our Creator"? Did Jesus look like Mary? Father Donald Calloway, MIC, has the answers.
Before Seamus Kettner gave up on God, he decided to try praying the Rosary. And his life was never the same. Find out how the Blessed Mother revealed the power of God to a 20-something-year-old college student.
The Very Rev. Fr. Joseph Roesch, MIC, takes us on a Marian pilgrimage through France. We begin in Paris at the Shrine of the Miraculous Medal where St. Catherine LaBoure received the devotion of the Miraculous Medal in 1830.
"He will wipe every tear from their eyes, and there shall be no more death or mourning, wailing or pain, [for] the old order has passed away" (Rev 21:4).
Club member Thomas Hogan used to tell his parents he was going to Mass and then sneak off to go play golf. After he begrudgingly consecrated himself to Blessed Virgin Mary to please his mother, his life was never the same.
A group called the St. Agnes Rosary Makers in Dalton, Massachusetts, has been making Rosary Beads every week for 42 years. Find out how they got their start and what keeps them going.
Did Mary ever treat anyone unkindly? Did she always have a stern pious look on her face? Or was she the type of person you might like to have dinner with? Find out from Fr. Donald Calloway, MIC, as he continues to unpack the Litany of Loreto.
December 8 is the Solemnity of the Immaculate Conception of the Blessed Virgin Mary — a key piece in God's plan for our salvation.
Marian Fr. Donald Calloway's book Champions of the Rosary inspired Sr. M. Gerard O'Donnell, OSF, of Rome, Italy, to pen a beautiful poem about the Battle of Lepanto. She reminds us that the evils the Church faced centuries ago continue to afflict her today.
Nothing quite distinguishes this time of the year like the music that surrounds us day and night. In the stores, in the streets, and on the radio, countless Christmas jingles and carols emanate around us. Perhaps add this one song to your playlist this year.
Today, we are invited to ask ourselves: How do you treat yourself and others as temples of the living God?
A Friend of Mercy shares how she believes she became the intercessor for a Divine Mercy miracle involving a man suffering from Alzheimer's disease
Next Page | Last Page