Home / News & Events / Mary Immaculate
In this time of sexual abuse scandals in the Church, revelations of coverup and corruption amongst the clergy, and general loss of faith, we need to go to the people we can trust to sort this whole thing out.
"The evil deeds that gave us the present crisis are the fruit of the efforts of hell. Their exposure looks awfully like Our Lady cleaning house, bringing light, truth, and justice where there had been silence, lies, and crimes." Chris Sparks, editor emeritus of the Thirteenth of the Month Club Newsletter, explains...
The veneration of Our Lady of "Ausros Vartu" or "Ostrabrama" crossed the borders of Lithuania and Poland long ago.
Why does Mary have the power to offer us so many graces? Why could she see God better than any of us? What does her chastity have to tell married couples? Find out from Fr. Donald Calloway, MIC, as he continues to unpack the Litany of Loreto.
Brother Tyler, MIC, was in a dating relationship discerning marriage when he realized he needed to consider the priesthood more seriously. Then it took three years of diocesan seminary until he discovered a call within a call to the Marian Fathers of the Immaculate Conception.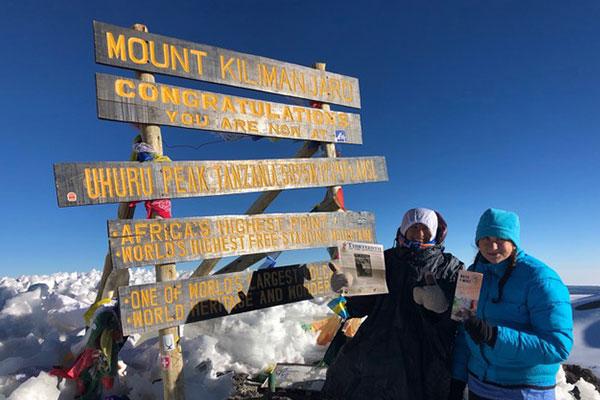 This Thirteenth of the Month Club member's life changed dramatically after she consecrated herself to the Blessed Virgin Mary. Find out what inspired her to travel to Africa, start her own non-profit, and climb Mount Kilimanjaro with her newsletter in hand!
Why do we call Mary "Holy Mother of God?" "Holy Virgin of virgins?" "Mother of Christ?" Find out from Fr. Donald Calloway, MIC, in his second article on the Litany of Loreto.
Reacquaint yourself with the timeless story of Juan Diego, Our Lady of Guadalupe, and her miraculous image.
We would be missing so much without St. Luke!
Jesse Ross of Fern Park, Florida, expected that making a retreat with his wife, Angie, would build his marriage. He didn't expect that it would lead him to start his own Marian-themed jewelry business
Wounded in battle, far from home on foreign soil, a humble soldier prayed to the Blessed Mother for help. Read about the dramatic way in which she intervened.
October 7 is the anniversary of a decisive battle. Father Donald Calloway tells how the Rosary helped save Christianity and Western Civilization.
Ever wondered where the Blessed Virgin Mary got all her titles from? In this new series by Fr. Donald Calloway, MIC, on the Litany of Loreto, you'll begin to find out about the many names given to Our Lady throughout the centuries and learn what they mean.
We're venturing out on a limb here to say that the First Saturdays devotion is the most obvious remedy for the state of the world today — and the most neglected.
Why does our religious Congregation — named for the Immaculate Conception — put so much emphasis on the Holy Souls in Purgatory? It's elementary. Father Dan Cambra, MIC, explains.
Next Page | Last Page