Bunnies, eggs, candy, oh my! Watch Fr. Dan Cambra, MIC, make sense of all this.
Like many young people, when Ryan Asensio of Lisle, Illinois, went away to college, he stopped practicing his Catholic faith. "For a time, I was searching. But basically, for about four or five years, I was doing nothing to help my faith," Ryan said.
The man who smuggled photographic images of the pages of St. Faustina's Diary out of Communist-occupied Poland in the 1970s and later documented her beatification and canonization miracles — died Thursday, Feb. 11, from illness related to COVID-19.
Brother Nicholas, MIC, of South Brunswick, New Jersey, has an older sister who had always reminded him that he was going to become a priest one day.
How does this sound: The largest spiritual consecration in history? What an incredible opportunity! So let's do it.
The decision brings huge momentum to the Marian Fathers' yearlong effort promoting consecration to St. Joseph.
"I desire that my whole life be but one act of thanksgiving to You, O God."
The arrow points to a young priest — none other than Blessed Michael Sopocko (1888-1975).
Against the backdrop of a worldwide pandemic, crisis in the Church, political and economic uncertainty, and cultural upheaval, something extraordinary is underway, and it has to do with St. Joseph.
To the delight of Fr. Walter Gurgul, MIC, his 90th birthday on Monday, Sept. 28, was noted by several Marians and their staff who delivered a birthday celebration to him at Kimble Farms Nursing Home in Lenox, Massachusetts.
When Marian Press began work on a book on Fatima in 2017, Sr. Marta was a huge help. This past Feast of Our Lady of Fatima, she suffered a brain hemorrhage. May her soul rest in peace
Looking for a patron saint for those sick and hospitalized with COVID-19? 
The new book by Fr. Donald Calloway, MIC, has inspired a new Catholic movement focused on the foster father of Jesus.
When Consecration to St. Joseph by Fr. Donald Calloway, MIC, was published in January, Jennifer Angelle bought several cases of books. Why?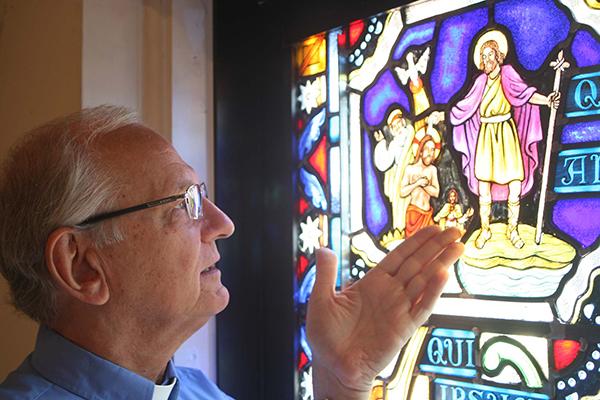 "Service is what I came here for, to be like our Lord," he would say.
Next Page | Last Page