We have a patron saint for those sick and hospitalized with COVID-19.
Watch the homily of Fr. Donald Calloway, MIC, from EWTN on Feb. 12.
Just two hours before kick-off of Super Bowl LIV on Sunday evening, the Marian Fathers celebrated a different sort of game plan.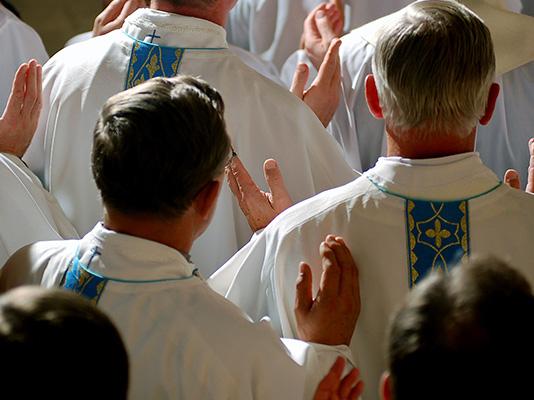 The Marian Fathers' Jubilee will include a pilgrimage, events, and indulgences.
The theme for this year's March for Life was "Life Empowers: Pro-Life is Pro-Woman," in honor of the 100th anniversary of the 19th amendment, securing women's right to vote.
A former prisoner of war during World War II, he is remembered for his faith, his discipline, and as a walking and talking storehouse of Marian history and spirituality.
"I got here because of Him," said Deacon David, "so I can continue to rely on Jesus going forward."
On Oct. 19, 2019, Fr. David Gunter, MIC, professed perpetual vows to the Marian Fathers of the Immaculate Conception. Why was his call to the Marians so unordinary?
The Marian Fathers continue to have more men in formation than most dioceses in the United States. Find out how many joined the Marian Fathers in 2019, and learn about the two newest brothers to have professed their perpetual vows of poverty, chastity, and obedience.
The Blessed Virgin Mary guided his life, and he in turn made a "covenant of love" with her.
Father Martin is remembered as a gentle shepherd of souls, a polyglot, and an avid gardener and birder.
Why a book on suicide? Watch the trailer for "After Suicide: There's Hope for Them and for You" by Fr. Chris Alar, MIC, and Jason Lewis, MIC.
Marian seminarian Br. David has a special message for our Marian Helpers.
Marian seminarian Br. Stephen has a special message for our Marian Helpers.
Marian seminarian Br. Patrick has a special message for our Marian Helpers.
Next Page | Last Page