Home / News & Events / Marian Helpers
Hackers, whackers, and, yes, a few proficient golfers, too, gathered Friday, July 11, for the Marians of the Immaculate Conception's annual Slice of Heaven Charity Golf Tournament. • View photo gallery.
While three of Judy's grandchildren visited during the summer of 2007, the tornado sirens sounded.
God's grace and Our Lady of Fatima straighten out a marriage.
"It strengthened my faith. It's like, I was hungry before I left and now I'm full."
After three failed marriages and years of alcohol and drug abuse, Lee was ready to die. He needed a miracle to turn his life around.
I fell in love with the Divine Mercy devotion.
Marians and Marian Helpers provide the gift of mercy in action.
I looked at my watch, and it was exactly 3 p.m. A cry came out of me from my soul, and I broke down and sobbed.
"God's mercy is here today. He longs for us to long for Him. Conversions are happening today. Graces are touching people's hearts. God goes into their souls, and He brings about an awareness of His presence. It's an amazing thing when you come to realize that His peace is your life."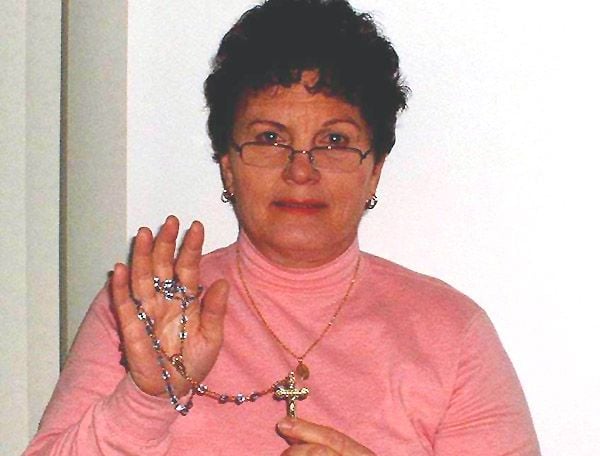 Burnished through prayer, a set of old rosary beads prompts Anita Cugini to turn to Our Lady in deeper faith.
Ten-year-old Christopher Thatcher weighs in.
Church club raises $500 for the Mother of Mercy Outdoor Shrine.
On Feb. 11, Lourdes observed the 150th anniversary of the world's most famous Marian apparition. Marian Helper Marie Romagnano, our foreign correspondent, was on hand to report.
I would like to express my heartfelt gratitude to you for your ministry and share with you an incredible experience my family and I witnessed as a result of praying the Chaplet of The Divine Mercy.
Divine Mercy heals long-strained father-daughter relationship.
First Page | Previous Page