Cardinal Christoph Schönborn made it clear that the legacies of Pope John Paul II and St. Faustina were central to the historic gathering.
An interview with Dr. Robert Stackpole, whose new book, Divine Mercy: A Guide from Genesis to Benedict XVI, takes the big perspective on mercy.
Today, we begin the first in an occasional series that shares recent correspondence from people who have turned to the Marians' Divine Mercy Intercessory Prayerline. Hint: Prayer works!
The all-day gathering will have the theme "Healing and Forgiveness Through God's Mercy."
Saint Paul writes, "Put on the armor of God so that you may be able to stand firm against the tactics of the devil."
"Then He smiled at me ... me and my drum." We, too, can trust Baby Jesus to smile at every gift we bring to Him.
Our Lord came as a child because, by being human like us, He could begin to take on Himself the whole experience of our human condition, except for sin.
If the World Apostolic Congress on Mercy succeeds, humanity will eventually undergo a radical change for the good.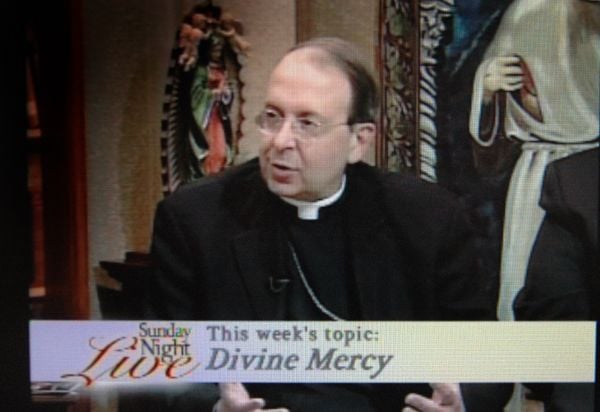 The topic: arguably the most exciting news story involving the Divine Mercy movement since the canonization of St. Faustina in 2000.
"Great ... a statue ... so what?" you ask. If you have a devotion to The Divine Mercy, so everything!
Use St. Faustina's Diary to find prayers for the Hour of Great Mercy, to thank God, to honor Our Lady, and for the grace to be merciful.
Christ begs us to ask for His mercy on the whole world by pausing at the 3 o'clock hour — the hour that recalls His death on the cross.
There's an important ingredient to the Divine Mercy message besides placing the Image in our homes, praying the Chaplet, and celebrating Divine Mercy Sunday. Putting mercy into action is not just an option — it's a requirement!
When it comes to the essentials, it's OK to be a "block head." We can call to mind the message of Divine Mercy simply by remembering our ABCs.
First Page | Previous Page